Tuscaloosa Babypalooza Baby & Maternity Expo

Mar 31, 2013 02:09PM, Published by Kitty, Categories: Family, Today, Community
---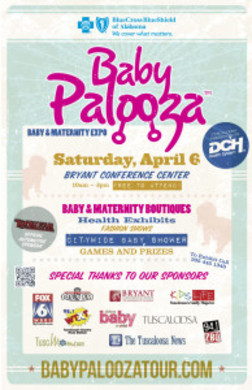 ---
---
April 6, 2013
Bryant Conference Center
10 am – 3 pm
FREE to Attend
New, expectant, and hopeful parents don't miss the Blue Cross & Blue Shield of Alabama Babypalooza Tour as it comes to Tuscaloosa.
Presented in Tuscaloosa by DCH Health System, Babypalooza provides a high-energy, family-friendly environment for parents to discover the plethora of resources available to them in the community.
The expo will feature baby and maternity exhibitors, interactive entertainment, shopping for the latest and greatest products and services and education and information.
Special attractions at Babypalooza include:
-       DCH Health Systems Pre/Postnatal Health Seminars and Information
-       Citywide Baby Shower
-       Diaper Derby
-       Maternity and Children's Fashion Shows
-       Nursery Design Center
2013 TUSCALOOSA EXHIBITORS
---
---
---