Tuscaloosa Children's Triathlon

Apr 20, 2013 09:07AM, Published by Kitty, Categories: Health+Wellness, In Print, Family, Today
---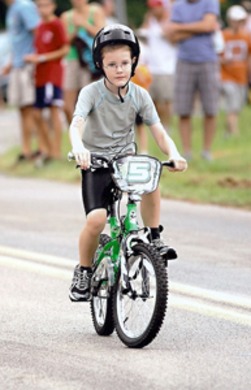 ---
---
      The 2012 Olympics have come and gone, but up and coming Tuscaloosa athletes will display their athletic talents this spring at the first Tuscaloosa Children's Triathlon hosted by Spiller Furniture, benefiting Secret Meals For Hungry Children. Secret Meals For Hungry Children, along with Alabama Credit Union, is working to feed Alabama's neediest children by providing weekend food packs to children identified as going without food.
Children from across the state will be competing at The University of Alabama's Student Recreation Center in Tuscaloosa, Alabama on May 18. Participants will be split into four age groups to test their skills in swimming, biking and running. Ages 5 to 7 will swim 25 yards, bike one mile and run a quarter of a mile. These distances will double for the 8 to 10 age group. Ages 11 to 13 will swim 100 yards, bike three miles and run one mile. The distances will be 150 yards for swimming, 4 miles for biking and one mile for running, for the 14 to 16 age group. Medals will be awarded to all finishers. The top three boys and top three girls in each age group will be recognized in an awards ceremony following the triathlon.  "This event is great for kids of all ages and all athletic abilities," says Kelley Jones, Secret Meals program coordinator, "the most important thing is that these kids have a great time and know that they are helping other children just like themselves."
Alabama Credit Union's Secret Meals For Hungry Children provides healthy food packs for elementary school children living in poverty across Alabama. For many of these children, receiving free or reduced breakfast and lunch from their schools is the only way for them to receive steady meals. This means that many of the children will not go hungry over the weekend. The food packs that Secret Meals For Hungry Children provides are discretely slipped into children's backpacks on Friday afternoons. Each food pack contains child-friendly items that are non-perishable and can be easily consumed by young children. With the help of Alabama Credit Union and local business sponsors, all proceeds from the Tuscaloosa Children's Triathlon will benefit Secret Meals For Hungry Children.
David Williams, Chief Operating Officer for Spiller Furniture, is passionate about bringing the budding trend of youth triathlons to the Tuscaloosa community. "Our goal is to strengthen our community by addressing the health of our youth," says David, "we hope that through this triathlon we can encourage children to maintain active lifestyles and provide the financial support that Secret Meals needs to feed children in our community who are going hungry over the weekends."
Registration for the Tuscaloosa Children's Triathlon opens March 4 and applications can be found at SecretMeals.org. The registration fee is $35 until April 15 when the registration fee will go up to $40 until April 30. For registration between May1 and May 15, the cost is $45. There will be no "day-of" registration. The registration fee will include a t-shirt, sports bag and water bottle for each participant. To register your child for the Tuscaloosa Children's Triathlon or to become a sponsor, please visit SecretMeals.org.
---
---
---