SwimKids - Alabama's Premier Swim Lesson Provider

May 10, 2013 10:48AM, Published by Kitty, Categories: In Print, Family, Today, Community
---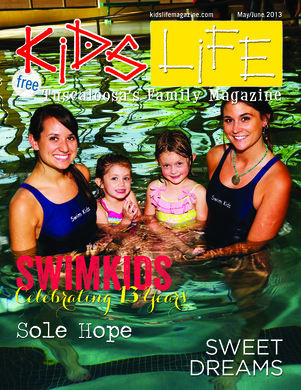 ---
By Vance Rose, owner
Early in your child's life the thought of Swim Lessons will enter your mind. Mother, Father, Grandparent or whoever will think about getting their child or Grandchild safe and comfortable in the water.
 SwimKids is in their 13th year of providing West Alabama with swim lessons that are second to none. Swim Lessons and getting your child comfortable in the water is ALL that SwimKids does. Unlike a lot of other entities that do a myriad of children's activities, SwimKids teaches Swim Lessons! SwimKids does Baby & Me, Tot & Me, Group, Private, Semi Private, Adults, Tri Athletes, and competitive private lessons.
 As you approach the thought of Swim Lessons for your child you need to understand that you are going to provide your child with a gift of being safe in the water, comfortable in the water, along with a love for the water that will last a lifetime. That being said, Swim Lessons are a commitment for both the parent and the child. Making getting your child comfortable in the water at an early age (SwimKids starts lessons at 12 months) is something that a parent has to put on their priority list as well, because unless the parent brings that child physically to any pool they can never learn.
SwimKids teaches lessons year round in a beautiful, centrally located facility (On the campus of DCH Northport), where the water is kept at 90 degrees and the environment for teaching your child this important skill is a great one. SwimKids teaches lessons Monday through Thursday. We offer morning, afternoon, and evening classes, making it very easy to schedule your child's lessons around preschool, school, or work.
  SwimKids understands that we are dealing with your most valuable possession and we take that responsibility very seriously. You have several choices for Swim Lessons, and we strive hard to make sure that you think of SwimKids when you set your goal and priority to put your child in Swim Lessons. We look at every child as an individual and schedule and group their lesson according to both age and ability. Our SwimKids office does a great job of placing your child in the correct group from the outset of their lessons. With Swim Lessons being all we do, we can make changes in groups and make changes in times, if the situation arises.
 SwimKids instructors go through a lengthy interview process to make sure that they are consistent with what SwimKids is all about, not only getting your child safe and comfortable in the water, but doing it in a fun, nurturing way that will make your child want to come back. We want your child to wake up every morning and ask you, "Is this a SwimKids day?".
QUOTE from a SWIMKIDS PARENT:

"I have several wonderful things I could say about SwimKids! But the one thing I can say is my children LOVE going to swimming at SwimKids to see Vance and their instructor!"
Jamie Evans, whose children have been taking lessons at SwimKids since they were 12 months old and now are ages 5 and 2.
---
---
---