Sweet Dreams - Pillowcases for Children with Cancer

May 19, 2013 07:41AM, Published by Kitty, Categories: Health+Wellness, Teens & Tweens, In Print, Today, Community
---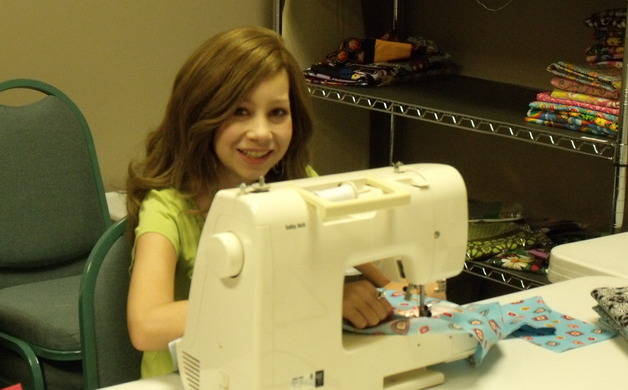 Gallery: Sweet Dreams Ministry [4 Images] Click any image to expand.
---
---
By Sammie Jo Barstow 
Every Wednesday afternoon, Michelle, 17, and her mother, Cathy, can be found with several friends in the sewing room at First Baptist Church, Tuscaloosa, Alabama. Laughter and conversation set the background for a ministry that has touched thousands of children battling cancer.
            In a few hours, stacks of fabric are transformed into beautiful pillowcases for children from infants to teenagers. "There are not many happy things going on in a children's oncology ward," Cathy said. "The surroundings are drab, but when a child is given a beautiful pillowcase, that is a happy moment."
One Pillowcase of Hope
The road to Sweet Dreams Ministry was not an easy one, however. In June 2005, the Dye family received devastating news. Nine-year-old Michelle was diagnosed with medulloblastoma, a malignant brain tumor. Surgery and 15 months of intensive chemotherapy and radiation followed.
            Shortly after the diagnosis, Michelle received a unique gift that became her constant companion through treatment. A family friend, Lisa Fitzgerald, made a colorful pillowcase using three coordinating fabrics and took it to Michelle in the hospital.
            "It made me feel really special when I received my pillowcase from Miss Lisa while I was getting chemo. It was so cheerful that it made my room seem brighter. I had a friend who was going through chemo, too, and I asked my mom if she thought Miss Lisa would make a pillowcase for her. I knew it would make her feel special, too," Michelle said.
            Little did Michelle, Cathy, and Lisa know that pillowcases would become such a huge part of their lives!
Evolution of Pillowcase Parties
"I was in a Bible study class at that time, and our leader mentioned that we needed ideas for a missions project for the class. God just directed me to mention the pillowcases to them," Lisa said.
            The women responded enthusiastically, and Lisa invited them, as well as Michelle and Cathy, to her house for a "pillowcase party." Because Michelle loved her pillowcase so much, she was thrilled to learn to sew pillowcases for other children, but she didn't have a sewing machine.
            No problem! In one morning, enough money was contributed through the women's Bible study classes to buy Michelle a sewing machine. 
            Linda Humber, director of First Ladies Ministry and Missions, saw the potential for an ongoing ministry, and Sweet Dreams Ministry was born. "I didn't want us to do this once or twice and let it go. I knew we needed to really make this a major part of our ministry," Linda said.
            Soon the pillowcase parties started meeting at the church, where participants set up tables and ironing boards and made as many as one hundred pillowcases in a day. The pillowcases were packaged in cellophane bags and tied with colorful ribbons. Several GA®s joined the women in making, packaging, and delivering pillowcases.
            Because the main purpose of Sweet Dreams Ministry is to assure children and their families of God's peace and protection during their illness, each pillowcase has a label that includes Psalm 4:8, "In peace I will lie down and sleep, for you alone, Lord, make me dwell in safety."
Pillowcases Make Their Rounds
Now, seven years later, Michelle is in remission and is a happy, homeschooled senior who enjoys making jewelry, going to movies, eating out with friends, and working with young children at church. She still treasures the flowered pillowcase that Lisa gave her.
            Sweet Dreams Ministry occupies a room at the church where fabric and equipment is stored, eliminating the need to set up for each work day, and Wednesday afternoons are designated as time for producing pillowcases. Donations and money from the women's ministry and missions budget have been used to buy more sewing machines, fabric, and other supplies.
            Most of the pillowcases have been taken to Children's Hospital in Birmingham, Alabama, but some have also been donated to St. Jude Children's Research Hospital in Memphis, Tennessee and Monroe Carell Jr. Children's Hospital at Vanderbilt in Nashville. Recently, high school and college students helped make 150 pillowcases, which were distributed to an orphanage in Honduras during a missions trip.
            "We asked church members to sponsor a pillowcase for ten dollars each to help buy the fabric. They wrote a note and included it inside the bag, so the children in the orphanage received the pillowcases and a personal note from someone at our church," Cathy said.
            Although the pillowcases bring much joy to children, Cathy remembers some especially poignant moments. She and Michelle met one 15-year-old boy who was extremely ill. They offered him a pillowcase, but at that time, they didn't have one that was age appropriate for him.
            Cathy discovered that he was a University of Alabama football fan, so she immediately went home, made a pillowcase with team-themed fabric, and took it back to the hospital. By that time, the boy was in an isolation ward. The nurses disinfected the package and allowed his father to take the pillowcase to him. Cathy stood outside the room. "I was listening! It was the neatest thing to hear him get so excited about that pillowcase. He loved it!"
            Sadly, he lost his battle with cancer a few months later, but his parents told Cathy that he was buried with that pillowcase beneath his head.
Take Up the Challenge
"Our desire is to be able to hand a beautiful pillowcase to every child diagnosed with cancer. Of course, we can't do that everywhere ourselves, but if Women on Mission® groups or individuals would take on similar ministries and supply pillowcases to their local children's oncology wards, what a blessing that would be! We just want God to get the glory," Cathy said.
            The Dye family is still amazed at the impact Sweet Dreams Ministry has had on so many children. Linda agreed: "This is a demonstration of how God can take an idea of a kindness intended for one person and multiply it to touch thousands of other people."
            Women on Mission groups, will you take up the challenge? Go to wmu.com/adults/projects to access the simple pillowcase pattern; contact the child life specialist or other administrator at your local hospital for permission and instructions about how they want the pillowcases delivered; and start sewing! You can bring "sweet dreams" to many children!
"Sweet Dreams is one of the most unique and meaningful ministries of First Baptist Church. Our women have the privilege of bringing joy and comfort to children facing life-threatening illnesses. Through something as simple as pillowcases, they have a way to share Christ's love with those children and their families—and that's what it's all about!"
—Dr. Gil McKee, Senior Pastor, First Baptist Church, Tuscaloosa, Alabama.
Sammie Jo Barstow lives in Tuscaloosa, Alabama and loves Sweet Dreams Ministry. Sweet Dreams by Sammie Jo Barston first appeared in Mission Mosaic.

---
---
---