Sole Hope

May 24, 2013 08:54AM, Published by Kitty, Categories: In Print, Family, Today
---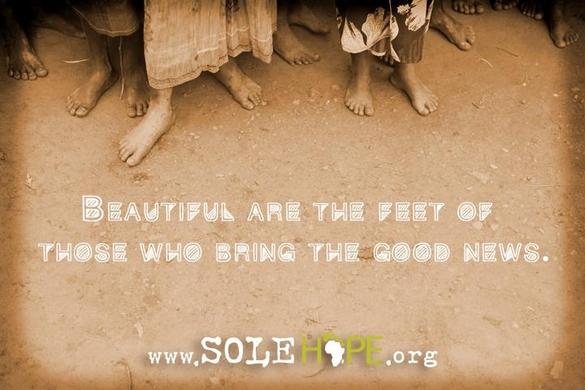 ---
What do an empty milk jug, an old pair of jeans, and an old tire mean to you? For most of us, these are garbage. For a child in Uganda, they mean a new pair of shoes. And, for some widows in Uganda, they mean a way to earn an income for their families. For both, they are a way to survive. Enter the work of Sole Hope.
In Uganda, Africa, the African sand flea (aka a jigger, not to be confused with a chigger) is a huge problem. The female jiggers get on skin that comes in contact with the ground (tender little feet) and lay eggs under the skin and creates a painful sore. Bad cases can lead to infection and sometimes paralysis. This means because of a bug bite, there are children who become unable to jump, run, and even walk. They are unable to go to school and do things children should be free to do. It is an epidemic in this part of the world. The solution? Medical care and closed toed shoes. The fun part? It starts here in the home...and even the kids can be a huge part!
Sole Hope provides medical relief from these nasty jiggers through foot washings and jigger removals with medical supplies collected here in the US. These supplies are things most people in America have in their own bathrooms: items like cotton balls, Bandaids, antibiotic ointment. The removals are performed with safety pins. All it takes is a sharp object, but even those with the tool find it hard to manage given the lack of clean water. Sharing of the sharp objects can also spread other serious diseases.
Then they provide close toed shoes to protect the feet. Each pair of shoes is made of 96% recycled materials, from...old milk jugs, old jeans and scrap cotton fabric, and old tires. The jugs and fabric are cut into patterns at shoe parties held in homes all over the nation. The patterns are shipped to Uganda where the women there assemble them. Sole Hope also provides education on jiggers and helps with spraying in homes to rid of jiggers.
The efforts of Sole Hope are both environmentally and kid friendly. In an effort to put others before themselves, kids across the country have been foregoing traditional birthday parties for Sole Hope shoe parties.  They are learning both the importance and the rewards of giving back. Some inspired young souls have even begun to take part in Sole Hope's Junior Ambassador Program.
So, what goes into a shoe party? Items to be used for the shoes (old denim and quilter's cotton and clean, empty milk jugs) are collected ahead of time. Each party will be designated a shoe pattern and party attendees will trace, cut, and assemble the shoe pieces based on the size pattern they are given. The patterns are then shipped to Sole Hope's headquarters in Asheville, North Carolina, where they will be packed in the next shipments for Uganda. Each party is also encouraged to collect medical supplies and donations. (It takes $10 to get each pair to the feet of a child in Uganda.) Shoe party kits can be ordered from Sole Hope's online store or scheduled with a Sole Hope Ambassador, if there is one in your area.
No matter the age or the income, the opportunity to be involved with Sole Hope is there. The message and the mission remain the same: putting others first and serving those in need.
To find out more about this awesome ministry, visit www.solehope.org. To schedule a shoe party, make donations, or to answer any other questions, you can also contact Sole Hope's local ambassador Amy Vick at amymichellevick@gmail.com.
---
---
---