God Has A Reason for Everything

Jun 02, 2013 08:12AM, Published by Kitty, Categories: Family, Today
---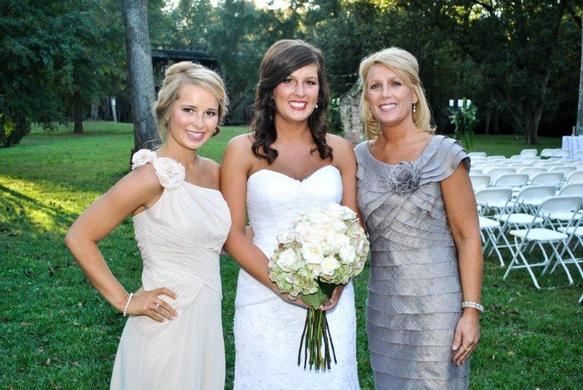 ---
By Mary Davis and her daughters, Haley Davis and Rachael Kelly
Life as a single parent is no simple task.  It is a 24 hours a day, seven days a week job.  I wake up at 5:40 every week day, feed the cat, take the dog out, get my  17 year old up and going for school, get myself ready for work, all while trying to drink some coffee before I am out the door at 7:30.  It is not an easy life, but I thank the Lord for it every day.
However, my life has not always been this way. I was married to Keith Davis for 26 years, and they were some of the happiest years of my life.  He was my absolute best friend. With two beautiful daughters, a nice home, a job I enjoy going to daily and a firm relationship with God, I thought our life was close to perfect.  My thoughts quickly changed when reality set in later.  In 2009, my husband contracted Pulmonary Fibrosis and desperately needed a lung transplant. After months of trying to make the transplant list, he was finally accepted, but it was too late.  His sickness was too strong for his weak body, and he passed away on December 21 of that same year.
It was then that I realized I am not only a mother but now I must also take on the role as the father.  At that point I had a freshman in high school, a sophomore in college, a house, a yard and cars to maintain, and I was the sole person in charge of it all.  I have never been the type to use a weed eater, spray the wasp's nests outside, or search for cars for my soon to be 16 year old, but I had to learn. Thankfully, I have been very blessed with family and friends that made the transition easier.
Unfortunately, there was no one that could have prepared me for one of the biggest tasks I would have to do: walking my daughter Rachael down the aisle at her wedding last October.  I would have never thought that I would be the one to walk by her side but it was one of the most rewarding and memorable moments of my life. As I was waiting to lead my daughter down the aisle, I imagined Keith would have said something hilarious to Rachael in that moment to deter her tears and keep her calm. He was with us on that special day, however, and he made it known.  His best friend was missing Keith so much that day, as we all were. When he took his seat, he felt something in his suit pocket.  He pulled it out to see that it was the program from Keith's funeral service.  That program making an appearance on that day gave us a peace and understanding that he is always with us.  Another thoughtful gift that day was made by some very special friends.  Without our knowledge, they gathered roses from the gravesite. They then dipped and adhered them to various size candles, and they turned out beautifully.  One was used at the wedding ceremony next to a picture of Keith.  Every girl dreams of the moment when their father walks them down the aisle so as a mother filling in that position I was nervous. But all of those special reminders that Keith was with us just gave me the confidence and the strength I needed to make my daughter's day special even without her father being there.
There were times when I broke down and wondered why; why was my husband taken from me, why must I now act as a mother and a father to our girls?  But I know God has a reason for everything.  Once I stopped asking why, I realized what the answer was.  While Keith was struggling with his illness, he did not spend his time talking to others about how sick he was.  He spent it witnessing to others. Keith becoming sick brought others to accept Jesus as their Savior, including our daughter Haley. Therefore, as her mother, I found peace through this.  Throughout the Bible it talks about how the father of the household is supposed to be the one to teach his family and to help guide them in the ways of the Lord. Keith started this while he was still with us, but now I must be the one to continue doing the work of my husband in order to help my family grow spiritually.
The role of being a single parent will never be an easy one. I am sure there will be more occasions when I am overwhelmed with the obstacles life throws at me, but I would not trade being a mother for anything.   I continue to learn every day how to perform the role of both mother and father.  Even though these have been some of the hardest years of my life, these circumstances have made my relationship with my girls incredibly strong, which has made the journey God has placed me on so much easier.
---
---
---