10 Ways We Sabotage Our Fitness Goals

Jun 15, 2013 04:54PM, Published by Kitty, Categories: Health+Wellness, In Print, Today
---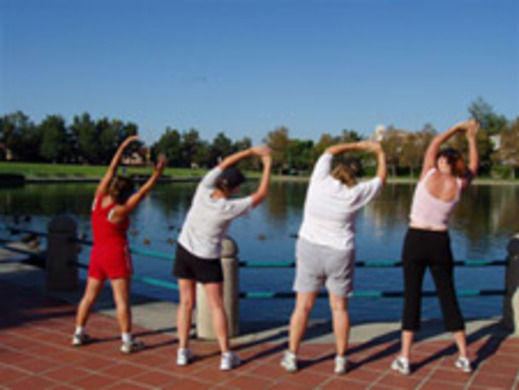 ---
FOR THE HEALTH OF IT!
We all want to be healthy and fit.  Sometimes we try really hard, don't see the results we want, and then we give up.  Check out these 10 things we have all done at one time or another that can really prevent us from reaching our health and fitness goals.
1)  We exercise and then think we deserve to reward ourselves with food.  We are not dogs.  We don't deserve a "treat" for our hard work.  Say you worked out hard one morning for an hour and burned 600 calories.  Job well done!  But then you swing through Starbucks to reward yourself with a venti cafe mocha.  There goes 410 calories.  You have almost canceled out all of your hard work just from a drink!  Be sure to have the opposite attitude.  "I am not going to burn 600 calories and then blow it on empty calories!"  Choose your nutrition wisely.
2)  We exercise but we don't strength train.  Focusing only on cardiovascular exercise is much better than sitting on the couch!  But to get where you want to be faster and to maintain it, you have to strength train.  This does not mean heavy weights or bulking up.  Using body weight moves such as squats, lunges, and push ups along with using hand weights most days of the week in addition to your cardio will not only get you toned for summer but will also boost your metabolism! 
3)  We don't drink our water.  A good daily goal is to take half your body weight and drink that many oz of water daily.  Walk around with a reusable bottle with measurements on the side to keep track.  If you drink sodas all day or you don't start getting your water until 3 pm, you will never hit this number.  Make sure it's your drink of choice, and if you don't reach this number every day, you will get close.  Studies show that as much as 65% of Americans are chronically dehydrated, which leads to many problems including zapping our energy. 
4)  We don't have a PLAN!  As the old saying goes, if you fail to plan, you are planning to fail!  Such a true statement.  Make goals and write them down where you will see them daily!  Make time to plan your meals and your exercise!  If you don't make the time, it won't happen.  You can sit down and plan healthy meals for the week while watching Dancing with the Stars, and you can make time to exercise while your family is still asleep or on your lunch break.  If you know you will not have time to make dinner, it's crock pot time, baby (see recipe to the left).  Make it happen!
5)  We don't surround ourselves with positive people.  Support systems can make you or break you.  Be sure to tell your famliy and friends what your goals are and ask them to support you.  Tell them HOW they can support you.  If your spouse brings home candy bars every week, tell him to cut it out.  If your friends aren't being supportive, then maybe you need new friends.  You know it's true!
6)  We fall for marketing!  There are way too many food companies advertising their product as "healthy" when it's far from it.  The one that comes to mind is the Nutella commercial where the mom talks about how it's made with hazelnuts that are good for you.  Nuts ARE good for you!  But not when you combine them with sugar, chocolate, and preservatives.  Read your labels in the grocery store, and know what the words mean.  Knowledge is power!
7)  We justify our bad behavior.  How many times have you said you will start again tomorrow or start again on Monday?  How many times have you made excuses for skipping a workout?  We have all done it!  We must stop justifying our bad behavior!  Nothing is ever going to change unless YOU make a change!
8)  We go to the gym but have no clue what to do when we get there.  No plan.  No idea what that machine does over there.  So we end up doing the same things every time we go.  How boring!  No wonder we get out of the habit of even going!  Not only do we need to vary our workouts to keep us interested, but we also need to keep our muscles guessing.  If you don't know what exercises to do or how to do them properly, hire a trainer. 
9)  We don't get enough sleep.  Life gets crazy for all of us.  It feels even crazier when we are sleep-deprived. So set your DVR to record whatever you are watching and GO TO BED! 
10)  Sometimes we get sleep, we are making changes in our nutrition and exercise, and we still aren't seeing results.  We don't have the energy that was promised.  It is so common for women to be deficient on essential vitamins such as Vitamin D and Vitamin B12.  If you feel low on energy, and it's keeping you from feeling your best, get your levels checked! 
Let this year be your best and healthiest year ever!  If you ever have questions or need some motivation, please don't hesitate to email me at mallory@tuscaloosabootcamp.com.  I am here to help!
Mallory Cargile is the owner of Tuscaloosa Adventure Boot Camp for Women, which offers classes at 5:30 AM, 8:30 AM, and 5:30 PM, and Centreville Get Fit.  She is a certified fitness trainer, fitness nutrition coach, and food psychology coach.  To register for her camp, visit www.tuscaloosabootcamp.com.  You can order Mallory's book, The Wellness Code, and download a grocery shopping tour at www.mallorycargile.com.
---
---
Mallory Cargile health fitness
---