THEATRE TUSCALOOSA'S NEW SEASON CELEBRATES 15 YEARS!

Jul 05, 2013 02:39PM, Published by Kitty, Categories: Today, Community
---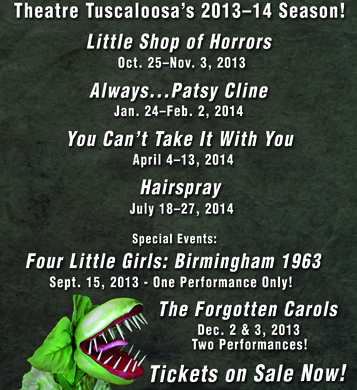 ---
Theatre Tuscaloosa's 2013-2014 season, themed "Cheers to 15 Years!,"  features three musicals, two special events, a comedy and a renewed commitment to providing quality live theatre to the West Alabama Community.
"This season promises to be filled with amazing entertainment from start to finish," Theatre Tuscaloosa Executive Producer Tina Turley said.  "There's nothing like the experience of live theatre, and we couldn't be more thankful to have such a wonderful space in which to do it. Cheers to 15 years in the Bean Brown Theatre! We hope everyone will help us celebrate this milestone."
The 2013-2014 main-stage season opens with Little Shop of Horrors by Howard Ashman and Alan Menken. Based on the film by Roger Corman and Charles Griffith, Little Shop of Horrors tells the story of a down-and-out skid row floral assistant who becomes an overnight sensation when he discovers an exotic plant with a mysterious craving for fresh blood. This musical comedy is an affectionate spoof of 1950s sci-fi movies. Little Shop of Horrors will run Oct. 25 – Nov. 3, 2013.
Back by popular demand,  Always… Patsy Cline, written and originally directed by Ted Swindley, will return on Jan. 24, 2014 and run through Feb. 2, 2014. This heart-warming tale is the true story of the friendship that blossomed between country music legend Patsy Cline and her most devoted fan, Louise Seger. Packed with Cline's signature hits like "Crazy," "Walkin' After Midnight," and "I Fall to Pieces," this show is a funny, musical stroll down memory lane. Both Sara Catherine Wheatly (Patsy Cline) and Lauren Wilson (Louise Seger) will be reprising their roles in one of Theatre Tuscaloosa's most beloved productions.
You Can't Take It With You, a comedy by Moss Hart and George S. Kaufmann, will run April 4-13, 2014. When the quirky, free-spirited Sycamore family unexpectedly receives a visit from the straight-laced Kirby family, sparks literally fly! From homemade fireworks to communist candy, everything that can go wrong does. In this Pulitzer Prize winner, an impromptu dinner between the soon-to-be-in-laws becomes a funny, touching lesson on the power of love and laughter.
The themes of love and laughter spill over into the big summer musical, Hairspray (by Mark O'Donnell and Thomas Meehan with music and lyrics by Marc Shaiman and Scott Wittman), which runs July 18-27, 2014. This winner of eight Tony Awards including Best Musical is family-friendly and piled bouffant-high with comedy, romance and deliriously tuneful songs. It's 1962 in Baltimore, and the lovable teen Tracy Turnblad has only one desire — to dance on the popular Corny Collins show. When her dreams come true, Tracy is transformed from social outcast to sudden star. She must use her newfound power to dethrone the reigning Teen Queen, win the affections of heartthrob Link Larkin, and integrate a TV network, all without denting her 'do.
Theatre Tuscaloosa's 2013-14 season will feature two special events: Four Little Girls: Birmingham 1963 and The Forgotten Carols. For the first special event, Four Little Girls: Birmingham 1963, Theatre Tuscaloosa joins Project1Voice and 50 theatres across the nation (including the Kennedy Center) in honoring the lives of Denise McNair, Carole Robertson, Cynthia Wesley and Addie Mae Collins, on the 50th anniversary of the bombing of the Sixteenth Street Baptist Church in Birmingham, which claimed their lives.  At 2 p.m. on Sept. 15, 2013, this staged reading will take a look at what every child imagines they want to be when they grow up and dares to examine what it's like to be a child in the most extreme conditions.
Our second special event, The Forgotten Carols, will be presented Dec. 2 and 3, 2013. This magical family musical is about the hope and promise of Christmas. Constance, a rigid yet competent nurse, is too practical to be bothered by Christmas. She is assigned to care for John who has been labeled senile and crazy. With warmth and kindness, John eventually breaks through Constance's iron-clad exterior and takes her on a journey to find the Christmas carol waiting to be sung inside her own heart.
The 2013-14 season, presented in cooperation with Shelton State Community College, will be presented in the Bean-Brown Theatre on Shelton State Community College's Martin Campus (9500 Old Greensboro Road).  Season tickets are discounted 15 percent over individual ticket prices and can be purchased for $71 for adults; $59 for seniors (60+), Shelton State employees, and military personnel; and $46 for students and children.  Season tickets may be purchased as either traditional subscriptions (same night and seat(s) for every show) or as Flex Passes that can be redeemed in any order to any 2013-14 main-stage production.  To order season tickets or learn more, visit www.theatretusc.com or call 205.391.2277.
Theatre Tuscaloosa is a 501c3 not-for-profit community theatre located on the Martin Campus of Shelton State Community College.  Theatre Tuscaloosa has been enriching the greater Tuscaloosa community since 1972 through quality theatrical productions and educational outreach.
---
---
---