What is Bricks 4 Kidz®?

Jul 13, 2013 09:10AM, Published by Kitty, Categories: In Print, Today, Community
---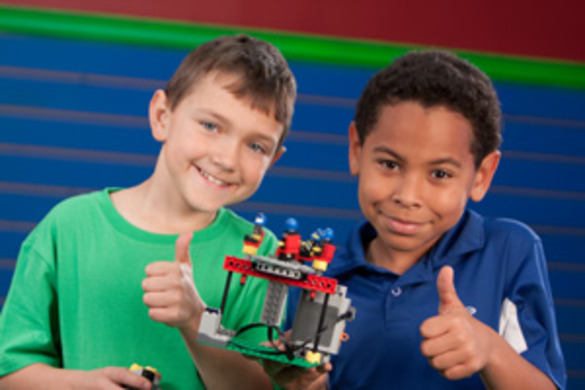 ---
By Kim Lawson in collaboration with Bricks 4 Kidz Corporate Office
Bricks 4 Kidz® is designed and created by teachers, architects and engineering professionals.  Bricks 4 Kidz® programs are designed to provide a hands-on atmosphere where children will learn science, technology, engineering, and math (STEM) using LEGO® bricks.  Children will learn about gears, motion, force, and more using Bricks 4 Kidz® proprietary models.  Themes such as Transportation, Space, Inventions and Machines, Robotics and more provide variety and ensure a high level of interest and enthusiasm amongst our students. 
The Bricks 4 Kidz® program is based on a unique curriculum and instructional content.   Students work in a lab-type setting using LEGO® components such as gears, axles, beams, and motors.  Instructional content is multi-disciplinary and designed by educators to increase student's general knowledge and introduce STEM concepts related to the day's model.  Lessons are designed around students' interests, with themes like animals, space, transportation and sports.  The material covered each session will vary depending on the students' ages, experience, and skill level.  All materials are provided.
Bricks 4 Kidz® is beneficial to all children in many ways.  Kids already know how to build with LEGO® bricks, but with a little coaching they can learn about engineering, architecture, physics and math using specialized components.  When lessons are related to something kids enjoy, like building with LEGO® bricks, kids are motivated and retain more of what they learn.  Students follow step-by-step directions to complete a task.
The Bricks 4 Kidz® program was developed with several goals in mind:  for children to play and socialize with friends while learning fundamentals of engineering and architecture in a non-competitive setting, to build problem-solving skills, provide an opportunity for creative expression, foster an appreciation of how things work, and to help students understand that architecture and engineering are viable career choices. 
The Bricks 4 Kidz® after school program runs throughout the school year and follows the school calendar.  Classes meet one hour per week for 4-12 week sessions depending on the school.  Each session is competitively priced per student.  Students may join in at the beginning of each session.  During Bricks 4 Kidz® classes, we implement our motto, "We learn, We build, We play".  During our after school classes, our trained Bricks 4 Kidz® teachers lead a discussion related to that day's model, using materials designed by educators to teach concepts across a variety of subject areas.  Kids will learn about everything from gears, torque and friction, to geography, space exploration, weather and MORE!  Working with a partner, kids experience the hands-on fun of model building, from concept to completion.  All of our models are designed by Bricks 4 Kidz® model designers, so you won't find them on the shelves of your local toy store.  Free-play time rounds out the hour, giving kids an opportunity to develop their creativity and expand on the lessons. 
A Bricks 4 Kidz® in-school field trip uses LEGO® bricks kids love to deliver hands-on lessons correlated to cross-disciplinary curriculum objectives.  The Bricks 4 Kidz® approach to learning is imaginative, multi-sensory and fun, creating a dynamic learning experience for your students.  Many field trips are available, from ancient history to space exploration, covering subjects like simple machines and laws of motion.  We can even design a program specifically tailored to your curriculum. 
During the summer months, Bricks 4 Kidz® offers summer camps so just because school is out for the summer doesn't mean the learning and fun has to stop!  Bricks 4 Kidz® camps provide a unique setting where kids discover, explore, invent, and create using LEGO® bricks.  Camps are varied with guided projects and challenges, as well as time for free play!  Camps are designed specially for ages 6 – 12 and are built around themes they love, like space, robotics, remote control, movie making, and super hero. 
In addition to model building, Bricks 4 Kidz® also offers Robotics classes.  We bring everything needed to teach intermediate and middle school students how to build and program models using LEGO® Mindstorms products.  Robotics can be taught as an in-school field trip, after school enrichment, or during summer camps.  Classes are usually 90 minutes per day, and can be a single or multiple week session.  Special pricing is available for large groups and multiple weeks. 
Bricks 4 Kidz® also offers preschool classes.  Watch your preschooler's eyes light up as they dig into a pile of brightly colored DUPLO® bricks! Engaging models based on the ABCs are the building blocks of our Bricks 4 Kidz preschool curriculum. Each week children build a simple model based on the letter of the week, while practicing essential preschool skills including:  letter recognition, patterning, colors, counting, fine motor skills, and position and ordering. 
Although Bricks 4 Kidz® has been around and growing rapidly in the United States and abroad, it is new to Tuscaloosa County.  We are very excited to bring this unique program to this area.  Look for Bricks 4 Kidz® in your schools, preschools, day camps, and other local organizations.   If you are interested in having Bricks 4 Kidz® classes in your school or organization, please contact Kim Lawson at 205-310-9694 or klawson@bricks4kidz.com.
---
---
---