YUM! CHOCOLATE MINT HERB!

Jul 23, 2013 09:10PM, Published by Kitty, Categories: Family, Today
---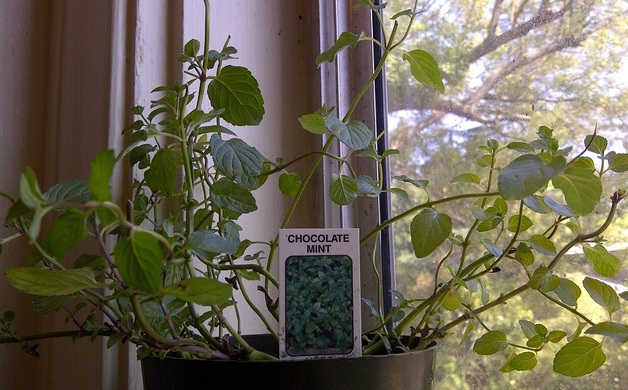 ---
By Romi N. Andrews
     Did you know that herbs were cool even back in the days of King Tutankhamen?  A sprig of wild thyme was found in his tomb!  And way back in the Twentieth Dynasty (1570 – 525 B.C.) peppermint was discovered in a wreath!
     Even Shakespeare mentioned herbs in his plays: "Here's flowers for you; hot lavender, mints savory, marjoram."  (The Winter's Tale).
     Want another awesome piece of history? One hundred years ago (whoa!) almost every household in the United States had a kitchen with an apothecary section.  This apothecary part of the kitchen was designated for healing plants. 
     What's an apothecary?  An apothecary is a drugstore or pharmacy.   So basically, almost everyone in America had their own little "herb pharmacy"!
     So that brings us to our "celebrity": the chocolate mint herb.  It tastes fresh and minty.  It smells like chocolate mint ice-cream!  It's a little crunchy when you chew it and has a bit of a rough texture. 
     With over thirty species of mint and many uses, this fine herb has super star status!  Did you know that you can seep it in a chilled fruit drink, it tastes great in cooked carrots, rice even yogurt.
     So how can we grow this popular, Middle Eastern herb?
     YOU WILL NEED
·       Chocolate mint herbs (you can find these at garden centers,  supermarkets or farmers' markets)
·       A watering can
·       A window box, flowerpot , or patch of backyard that's sunny
·       Potting soil (if you are using a window box or flowerpot)
·       A trowel
     THIS IS WHAT YOU DO
     Measure about three-quarters of your potting soil and fill your window box or flowerpot.  If you choose to plant your chocolate mint in your backyard, choose a spot.  Just make sure it's okay with your parents first before you start digging away!
     Take your trowel and dig a hole wide and deep enough to retain the roots of your herb. Make sure your flowerpot has enough room for the roots to grow.  Position the chocolate mint
     in the hole, and then place dirt around the roots to fill it in.  Pat the dirt down carefully, and be sure to not pack it down too tightly.

     Be sure to water your herbs right away after planting.  Just use a little bit of water. If you are using a window box or flowerpot, place your herbs near a window where it can get sun. Water it if the soil is dry or every few days.
     Congratulations on beginning your very own little herb garden!
© Romi Natasha Andrews 2013
     References
     Lawton, Barbara Perry.  Mints: A Family of Herbs and Ornamentals.  Oregon: Timber Press, 2002.
     Gilletz, Norene.  Healthy Helpings.  Canada: Whitecap Books Ltd, 2010.
     Gladstar, Rosemary. Medicinal Herbs: A Beginner's Guide: 33 Healing Herbs to Know, Grow, and Use.  Massachusetts: Storey Publishing, LLC, 2012.
     Zeglin, Sara. Plant a Garden.  http://kids.nationalgeographic.com/kids/activities/moreactivities/garden/.  National Geographic Kids, Date of article unknown.
---
---
---