Fall Afterschool Blues Camp

Aug 13, 2013 08:41AM, Published by Kitty, Categories: Today, Community
---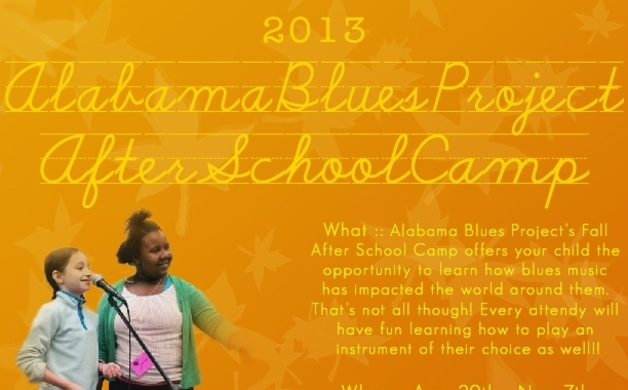 Gallery: Blue Camp [1 Image] Click any image to expand.
---
---
The Alabama Blues Project is seeking out west central Alabama 's future musicians and artists for our 2013 ABP Fall Afterschool Blues Camp. This after school program is one day a week and it's an exciting opportunity for students who want to learn how to play blues on harmonica, drums, guitar or vocals at a variety of skill levels.
Fall Blues Camp will be held after school every Thursday from August 29-November 7 at Tuscaloosa Magnet School . For more information please contact Paula Demonbreun or Molly McQuitty at (205) 752-6263 OR paula@alabamablues.org // molly@alabamablues.org.
Our students are taught by some of the best professional blues musicians of our state, and they also learn blues history and life skills. In addition to music lessons, our Fall Blues Camp gives students the chance to take history lessons and express themselves in a variety of artistic mediums.
There are many educational benefits of attending blues camp. Musical skills and group performance improves students' self esteem and teamwork and can further their goals in becoming more involved at school and in their community. At the end of Blues Camp a performance will be open to the public, this helps introduce a wider audience to Alabama living blues culture. Plus, Fall Blues Camp is loads of fun and many students make lasting friendships.
The Alabama Blues Project is sponsored by National Endowment for the Arts, Alabama State Council on the Arts, D'Addario, Puffin Foundation, and many other kind organizations, businesses and individuals.
Blues Camps bring a diverse mix of children, from all walks of life, together for a positive learning experience. The ABP has been awarded the national Coming Up Taller Award by the President's Committee on the Arts and the Humanities and a Keeping the Blues Alive (KBA) award from the prestigious Blues Foundation.
---
---
---