10 Household Chores for Preschoolers

Aug 13, 2013 09:22PM, Published by Kitty, Categories: Family, Today
---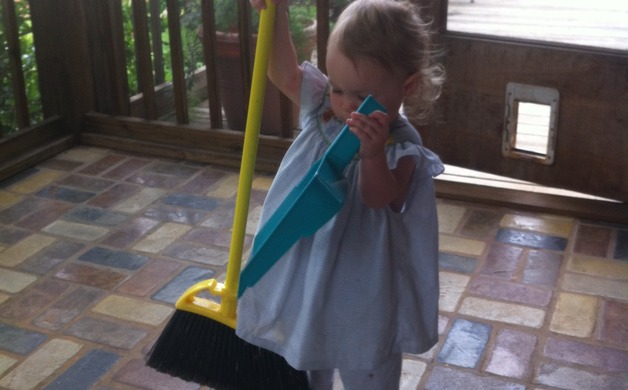 Gallery: Mary Brooks Sweeping [1 Image] Click any image to expand.
---
---
It is never too early to get kids started doing chores and helping out around the house. Preschoolers in particular have a special love of helping out around the house, so it's a good idea to get them acclimated to a regular chore schedule at this time. Doing this early will help create a lifelong sense of pride and enjoyment in regards to work and cooperation. It is much more difficult to begin assigning chores for the first time to older children, who often bemoan household tasks, and cooperation throughout childhood is more likely when chores are always part of the routine. These are ten of the chores your little one can contribute to around the house, even before she starts kindergarten.
Feeding Pets – Children love to take care of animals, so this chore barely feels like work at all to them. Sprinkling some fish food in the tank or scooping some dry food into a bowl for a dog or cat are wonderful ways kids can learn to nurture others. It also feels very rewarding to kids to be able to take care of someone the way Mom and Dad take care of them.
Vacuuming – Most preschoolers can handle today's lightweight vacuum cleaners, and they find using them to be great fun. There is something magical about watching dirt and dust disappear under the vacuum and using a loud machine on wheels is right up almost every child's alley. If you have hard wood or laminate flooring, allow your child to use a dust mop. Pushing those mops around is equally as amusing. If you can, use the kind with the disposable pads, because kids take a lot of pride in seeing how dirty the pads are afterwards.
Dust – Feather dusters are bright and tickly. More than that, they get the job done. Allow your preschooler to go through the house using their feather duster like a magic wand, going over all the surfaces and picture frames.
Ice Skate Mopping – If you want to get those tile floors clean, here is a fun way of doing just that while keeping kids entertained: Fill a spray bottle with a cleaning solution that is non-toxic and natural, like a mixture of white vinegar and dish or castile soap. Allow your child to put each foot on one of the following: a paper towel, a disposable mopping pad or even a pad used for housetraining puppies. After spraying the floor, your child can "ice skate" over it. It won't be perfect, but it will be much cleaner than before and will impress upon your child the importance of cleanliness without making the task seem like a chore.
Pick Up Toys – This may be the toughest one to get your kids to do, so you have to make it easy and fun. To make it easy, make sure the kids know clearly where each toy belongs. For example, cars have their own labeled box while doll clothes have another. Also, have a big toy box that holds everything that does not belong to a specific category. Don't get too hung up if things end up in the wrong box. You can always take an hour each week to re-sort the toys. For now, at least they are picked up. To make it fun, try having the kids pick up toys in a certain order and see how fast they can do it. You can tell them to pick up as many cars as they can before an alarm sounds. Then, pick up as many stuffed animals as they can. Doing it this way will also help to get things in the right containers.
Laundry Sorting – Having kids sort laundry by color is both useful and educational. The children will feel great because they will be putting a newly learned skill to good use, and you'll have one less thing to manage on your own.
Put Away Dishes – For preschoolers, it's best to keep this to silverware or sturdy plastic dishware. First, remove the knives from the dish drainer or silverware caddy of the dishwasher. Then, show your child which section of the silverware drawer is for forks, spoons, etc. This is good practice for sorting and builds math skills for the future.
Wash Windows – Fill a spray bottle with white vinegar. White vinegar is excellent for cleaning windows and also is nontoxic in case of accidental ingestion. Kids love to spray the windows, so you shouldn't encounter too much resistance. Just make sure they also wipe them afterwards.
Water Plants – Just like they love taking care of animals, kids also love taking care of plants. You can teach your child about photosynthesis as she waters and cares for house plants, and she can observe how the plants grow and change over time.
Make Beds – Yes, kids can make beds. Work with them to show them how it's done. Many parents opt to just have a fitted sheet and comforter on their children's bed in order to make this job easier. Get kids in the habit of doing this each morning and allow them to arrange their pillows and stuffed animals however they see fit.
It's not wise to stress perfection at all costs when you're encouraging young children to help out around the house by completing a set of tasks. If kids do not feel they are good at household chores and it becomes a source of stress for them, they will avoid it altogether, possibly long into adulthood. Remember, things do not have to be perfect; they just have to be better than before. Further, you are doing this as a way to cultivate a skill that will blossom over time, not as something kids need to master from the outset. Before you know it, your child will find chore time to be one of the most enjoyable times of her day and a great source of pride. The only problem you will be left with is wondering what's left around the house for you to do.
This article provided to Kids Life Magazine by
http://www.summernannyjobs.com.
---
---
---