Getting Children to Bed Early is Not Impossible

Aug 26, 2013 08:35AM, Published by Kitty, Categories: Health+Wellness, Family, Today
---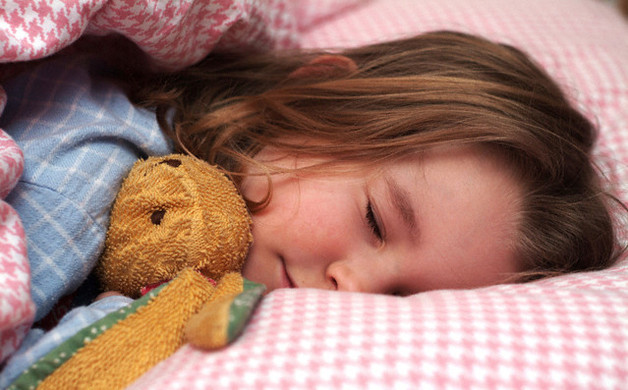 ---
If you've ever experienced guilt because your children are still rocketing around the house at 11 p.m., know that you're not alone. An estimated 70 percent of children under the age of 10 experience problems with either going to sleep or staying asleep, according to the National Sleep Foundation.
If your household falls into this stressful statistic, you're well-acquainted with the increasing tension that builds as night beckons. Nightly routines such as tooth-brushing and face-washing are drawn out into lengthy sessions. Small tummies are suddenly starving, and for whatever reason, a cold glass of water becomes the deciding factor in whether your child's heart will continue to beat for another day.
Strategies for an Early Bedtime
Getting kids to bed early enough that they get the recommended hours of sleep for their age might seem impossible, but there are strategies you can use throughout the day to ease them into it:
Monitor your child's diet. Certain additives and dyes can cause excitability and loss of concentration, especially in children, says the Feingold Association of America. Artificial additives such as BHT, BHA and dyes such as Red 40 or Lake Blue are present in many packaged foods marketed toward children. Sugar and caffeine are two more suspect offenders that have the potential of wrecking your child's sleep schedule. Steer clear of foods that contain these additives, especially at bedtime.
Follow a nightly routine. A warm bath or shower, followed by a bedtime story or silent reading time has a soothing effect on many children. Turning off the television a good half-hour before settling down for the night can also help your child relax enough to fall asleep. Sticking to the same bedtime night after night is also beneficial as it helps your child's body acclimate to an expected sleep cycle.
Ensure your child gets adequate exercise each day. According to experts at the Mayo Clinic, following a regular exercise regimen each day helps you fall asleep faster and improves the quality of your sleep.
Avoid over-scheduling your child's day. Older kids, especially, too often become the unwitting victims of football practices that run over or club activities that take place at night. Limit your youngster's participation in extracurricular activities that will keep him up and active after 8 p.m..
Provide a comfortable, appealing bedroom for your child. Being surrounded by the things which they like creates a feeling of tranquillity. Investing money into a themed or trendy bed that your child loves and can't wait to get back to at the end of a busy day. The great thing about Scallywag Beds is that they are comfortable and they hold storage underneath. For more information click here.
 Consequences of Sleep Deprivation
The amount of sleep your child needs nightly depends upon his age. Preschoolers ages 3 to 5 need around 13 hours of sleep nightly. This figure decreases with age. Children 5 to 10 should get at least 10 hours of sleep nightly, while teenagers can make do with between 8 and 9. 
Chronically getting too-little sleep night after night can lead to poor school performance, increased incidents of colds and illness, trouble concentrating, irritation and even depression. As your child's body sleeps, it heals itself and recharges depleted energy. Without enough time to perform these necessary tasks, his body might never be able to perform to its full potential.
While an early bedtime can be a challenge to enforce, your child's overall health and performance depends upon it.
Author Bio: Livvy loves spending time with her children, but she doesn't think there is anything better than chilling out with a book and a cup of tea when the children are in bed.
---
---
---