Benefits of Eating Organic Vegetables!

Aug 30, 2013 01:21PM, Published by Kitty, Categories: Health+Wellness, Today
---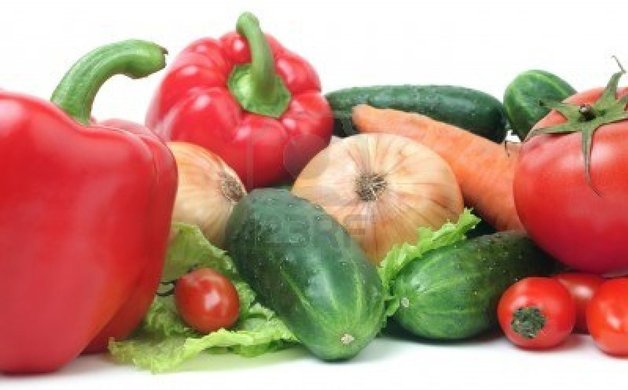 ---
If you are already eating your vegetables willingly, that's excellent for your health. However, by eating organic vegetables, you stand to enjoy even greater benefits while avoiding many of the dangers of eating inorganic produce. Here are some benefits of eating organic vegetables.

Organic vegetables are free from toxins produced by synthetic chemicals
One of the worst things about eating inorganic vegetables is the possibility of ingesting harmful synthetic pesticides, weed killers and other chemicals used in conventional farming methods. As organic vegetables are grown without the use of such chemicals, you will be able to avoid the health risks associated with taking in such toxins. Certain vegetables such as bell peppers, cucumbers and potatoes are particularly susceptible to retaining such toxins and are best bought organic.
Organic vegetables taste better
Organic vegetables tend to taste better for various reasons. An absence of synthetic preservatives means they tend to be fresher. Buying locally grown organic produce will ensure you get in-season vegetables that are as fresh as can be. Anything that encourages you to eat more vegetables can only be a good thing.
Organic vegetables are not genetically modified
Numerous health advisories have cautioned against eating foods derived from genetically modified organisms, which can bring a whole host of health problems, many of which are still being discovered. Organic vegetables are not genetically modified and are thus safer.
Organic farming is better for the environment
Organic farming is more ethical, more environmentally friendly and more sustainable than conventional industrial farming practices, and choosing to buy organic is a commitment to saving the earth we live in. Organic farming practices also benefit the health of farmers, who themselves are not exposed to dangerous synthetic pesticides.
Organic vegetables are more nutritious
While some studies have shown that organic vegetables contain higher concentrations of vitamins and minerals, another factor that is often overlooked is the fact that organic vegetables are free from the toxins contained in synthetic chemicals. This means they are safer to eat with the peel intact. Eating the skin, peel or stalks of many vegetables has been shown to have many health benefits such as a lower risk of cancer.
Organic vegetables can be safely eaten raw
Because they are free from toxins borne of synthetic chemicals, organic vegetables can be eaten raw more safely. Many vegetables are more nutritious when eaten raw, but pesticides can make it dangerous to eat them without peeling and cooking. Buying organic vegetables allows you to enjoy them as nature intended.
Buying organic vegetables can be hugely beneficial to your health and can add on to any health benefits you already enjoy by eating vegetables. More importantly, buying organic vegetables enables you to avoid the health risks of eating inorganic produce, whether cooked or raw. In addition, choosing to buy organic vegetables is better for the earth, too. With so many great reasons to buy organic produce, there's really no excuse not to eat your veggies.
Romayne Warner is a full time self-employed blogging fanatic. Obsessed with finding small ways to save money every day, she enjoys sharing her frugal lifestyle tips and tricks with the world, she regularly writes about healthy living and health insurance related topics.
---
---
---