Theatre Tuscaloosa Presents MAGICAL FAMILY MUSICAL: THE FORGOTTEN CAROLS

Nov 14, 2013 04:03PM, Published by Kitty, Categories: Today, Community
---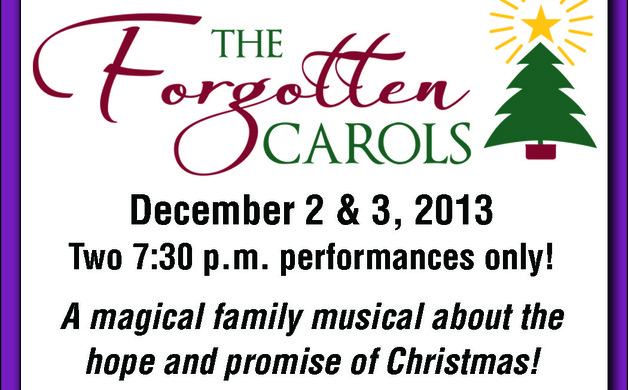 ---
The Southeastern Tour of The Forgotten Carols will make its first stop at Theatre Tuscaloosa on Dec. 2 and 3 in the Bean-Brown Theatre on Shelton State's Martin Campus.
Written by Michael McLean, this magical family musical has played in west coast theatres for more than 20 Christmas seasons. This year marks the third annual Southeastern tour produced by Theos Theatricals.  The producing team includes Emmy Award winning television producer Michael Young and Greg Smith, a minister and pastoral counselor from Auburn, Alabama.
"We are delighted to host the kick-off performance and the Tuscaloosa premier of The Forgotten Carols," Theatre Tuscaloosa Executive Producer Tina Turley said. "We normally produce all our own shows, but The Forgotten Carols is an intriguing show available to us through the Theos Theatrical Southeast tour.  The story is unique, and I felt that it would appeal to our audiences.  It's is a way for us to bring a quality artistic production to our stage while collaborating with other artists and a new production company."
 
The Forgotten Carols features professional actors joined on stage by community choirs and singers. This special event shares  the true meaning of Christmas through the heart-warming story of Constance, a rigid nurse, and John, her very unusual patient. With warmth and kindness, John takes Constance on a journey through the untold carols of Christmases past, eventually breaking through her iron-clad exterior, and guiding the young nurse to the Christmas carol waiting to be sung inside her own heart.
 
The Tuscaloosa performances will feature the Shelton Singers, under the leadership of Shelton State Community College's choral director, Glinda Blackshear.
 
"Our students are enjoying working on The Forgotten Carols music this semester," Blackshear said. "I'm thrilled that we can give them this opportunity to work side-by-side with so many talented and accomplished professionals."

Theatre Tuscaloosa's 2013-14 Season: Cheers to 15 Years! is presented in cooperation with Shelton State Community College and sponsored by Jamison Money Farmer PC . The Forgotten Carols is sponsored by TotalCom Marketing, and produced by Theos Theatricals in cooperation with the Shelton State Music Department.
 
The Forgotten Carols will be presented Dec. 2  and 3 in the Bean-Brown Theatre on Shelton State Community College's Martin Campus, 9500 Old Greensboro Road.  Performances will take place both Monday and Tuesday at 7:30pm.
 
Tickets are $22 for adults, $18 for seniors (60+) and $14 for students and children.  Special rates are available for groups of 10 or more in advance.  For more information about the 2013-14 Season or to purchase tickets visit www.theatretusc.com or call (205) 391-2277.
---
---
---