Unquenchable Faith - Interview with author Carol Kent

Jan 08, 2014 09:31PM, Published by Kitty, Categories: In Print, Today, Community
---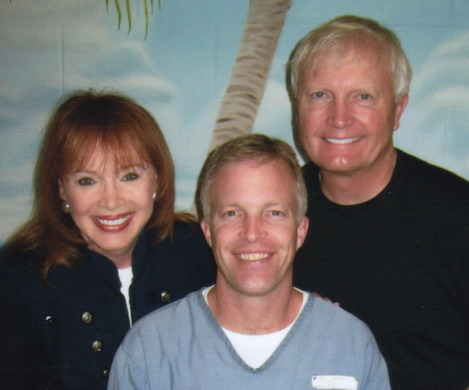 ---
Unquenchable Faith
Interview with author Carol Kent
At 12:35 a.m. on October 24, 1999, the phone rang.
That phone call thrust Carol Kent into a waking nightmare. Her son, 25-year-old Jason, a graduate of the U.S. Naval Academy and a strong Christian, had been charged with the murder of his wife's ex-husband. Even as Carol and her husband Gene reeled with the devastating news, a story of hope and redemption began emerging alongside the despair.
Ten years later, after thousands of tears shed and hundreds of trips to visit her son in prison, Carol's story has made its way across the country through many speaking engagements and three books, When I Lay My Isaac Down, A New Kind of Normal, and Between a Rock and a Grace Place, which offer a surprising account of joy and resilience against a world of loss and incarceration.
In the following interview, you will hear a little more about her journey toward an unshakable faith, the theme of her newest book that will be released early in 2014 and the topic of her upcoming conference at First Baptist Church:  Unquenchable: Grow a Wildfire Faith that Will Endure Anything.
Question: Carol, I'm sure our readers would be interested to know how you get through a day and how you fight the lies that creep in? What are the things you do to keep a smile on your face?
Carol Kent: I would tell anyone in your readership that every day is different. Often if a day is filled with busyness and activities and ministry and opportunities to interact with people, those are the best days because you feel like you're doing something productive in the middle of being in very difficult and impossible circumstances. Often when I have that break day, in between speaking engagements . . . that's when my mind is open to hearing the lies of the enemy, like, "If you had been a better parent, this would not have happened," or, "If you had been less busy, you could have stopped this thing before it took place," or, "If you'd read your Bible more consistently or prayed more intensely this would not have happened."
And I think one of the things that is extremely helpful to me is to realize what I have always known about who God is—that He is still good, He is still trustworthy, and that I know He is not punishing me. I know that my son began to unravel mentally, emotionally, and spiritually because of his obsessive fears for his girls that their biological father, who had multiple allegations of abuse against him, was about to receive unsupervised visitation with his daughters. If you could speak with Jason today, he would tell you that he was wrong, that he had begun to make an idol out of his own ability to protect his step-daughters, instead of trusting in God alone and training his girls to run and to dial 911 if they felt threatened.
When I'm in my right mind, I know it's not because of my bad parenting skills.  I find that by filling my life up with ways to invest in the lives of others and in actively pursuing tangible ways that I can help other people, that's a way that I can really fight those lies of the enemy because I can see some good that has come out of this . . .
There are many creative ways that we can get involved and get our minds off the lies of the enemy. And I think the best way to defeat those lies is to fill our minds with truth. There was a time—and I will be quick to admit it—when my child was arrested, I had trouble reading the Bible. My eyes were blurry with tears, and I could hardly see the words on the page. Then when I could see the words on the page, I was unable to focus. There's that point in time when you just do the next thing. Breathe, and do the next thing. I could read the same passage three different times and still not know what I read because my mind was so preoccupied with shock and with the horror of what had transpired and with the fears for my child's safety in an overcrowded jail in Orlando, Florida, where he had just been beaten severely by 10 inmates. And so there is that time period where you can say, "Fill your mind with truth," but you can't really read it or hear it . . .
And another very important thing for me—as the mother of someone who had been arrested for a very serious crime—was that my natural tendency was to withdraw. I was used to being a leader. I was used to being on platforms and interacting with people on a regular, ongoing way. And I was crushed, so crushed I didn't even want to face the public. And, yet, I didn't have a choice . . .
Five days after Jason's arrest was my next speaking engagement and I didn't know if I was going to live through it, but we needed the money to pay the attorney . . . I wasn't speaking on what had happened . . . so I gave a message based on biblical truth that I had always known to be true. When I began it was the most empowering thing I had ever experienced because I suddenly realized in the middle of speaking truth, that in the dark shadows of my mind I was probably questioning, but I had that sense, as I spoke the truth from God's Word, of stomping on the head of the enemy, saying "You loser. You meant to wipe the parents out with the son, and you lose." And it gave me the courage to do it again, and again, and again.
So I'm one of those people who would say, "Don't take a long break from life when the crisis happens." Involve yourself in appropriate ways in being authentic and real with at least one other person . . . if you have at least one other person who listens and cares, you know you have a support base. And then, as you have the courage, instead of hiding in the middle of your "secret," have the belief that "if I'm real, if I'm authentic, I'm going to help somebody else." And for every person that shuns me, there will be 10 people who will embrace me.
Question: You shared a story about a lady (presumably the wife or mother of another inmate) you met in the bathroom at the prison while you were visiting your son. This lady was crying, and you were able to cry with her. This made you realize how to interact with people differently, having gone through the shame of having a loved one incarcerated yourself. Can you elaborate?
CK: One of the most important things in my whole journey happened to me that day. Because, since I was from a very strong Christian background from the time I was just a young girl . . . I really had a heart that wanted to share my faith with people. And I realized that very few people are ready to hear every point we'd like to make to help them to grow in their faith on the first meeting. Most of them need to know we care before they will ever listen to what we have to say. I've met enough people waiting in prison visitation lines that need to get through security that I realize some of them are not ready to talk a whole lot about their journey. But they are willing to stand there with you and acknowledge their pain. And then the next time you stand with them they might share one thing about their journey. But that day in that ladies' room, I realized sometimes people just need you to cry with them . . . That day I learned how to be quiet instead of always talking.
But I've been developing relationships with some of the wives and the moms and the children at the prison where my son is. We just went kayaking with a woman who is married to another lifer . . . and her 17-year-old son came with us. And that day I didn't get to know the intimidate details of each of their stories. We just had fun together . . .
Even though we weren't sharing what you would say was "a strong Christian testimony" with them that day, we were sharing our life with them. And on every weekend since then, when we have seen them at the prison, we have a bond. We went kayaking together!
So doing something fun together has become so important, before we dump a boatload of advice on people or before we share everything we know about God's Word.
Quesiton: Tell us more about your relationship with Jason. What was it like before he went to prison? What's it like now? What do you talk about when you go to visit him?
CK: Before Jason went to prison, we were a family that did a lot together. He excelled at school and made us very proud of his academic accomplishments. He was one of those young men who liked to do the right thing. In fact, he was obsessive about it. He got involved with Habitat for Humanity. I saw him empty his savings account once for a needy cause . . . One man in our church said, "You know, that Jason Kent is the kind of young man all of us want our daughters to marry." So it was shocking when he was arrested . . .
After his arrest, we had one little Plexiglass window where there was one chair and we would sometimes have up to five people visiting at once around that one chair, yelling, because there were just little holes in the Plexiglass . . . so it was very difficult to communicate, but we certainly formed incredible bonds with each other during that time period.
When Jason's trial took place and he was convicted—after a 5-day trial—of first-degree murder, we saw him be placed back in shackles. Before he left the room he looked in our direction. I knew, as a military-trained young man, he would be very tempted to take his own life that night, a man 25-years-old at the time of his crime being told he would never walk in freedom again in this lifetime. He turned in our direction, and I just mouthed "I love you, son." It was probably the most heart-wrenching experience I ever had as a mother. I honestly believed that night that you could die of a broken heart.  
And we got back to the house, and two hours passed. We could hardly speak. We just held each other and wept. And it was Jason. And he said, "Mom and Dad, they took me back to the faith-based area of the jail . . . and God gave me the ability to stand up and preach. And I said, 'Men, if we walk in freedom in this lifetime, or in the next, we will still one day walk in freedom if we know Jesus . . . "  Jason's call that night gave us hope . . . this life is not all there is. This is just a short blip in time.
Jason has now been incarcerated 14 years . . . and he has a tremendous sense of how short life is, and that what he does matters because this is the time period we have, not only to evangelize, but to mentor. He takes as a mission helping to get men ready for their releases. He is enthusiastic about helping to equip men to be better dads and better husbands and to learn how to run their finances. This is not a job he takes lightly.
At the same time our hearts grieves for the father, the stepmother, and the sister who lost their loved one at the hands of our loved one . . . and I don't think we can ever underestimate the kind of pain they are in all the time. We grieve for their losses . . .
But as long as we live and breathe, we have hope. We always have the "but God" factor. We don't know if God is going to choose Jason as a voice for righteousness behind bars for the rest of his lifetime. We know it would be miraculous if an executive clemency board allowed him to walk in freedom or to have a life sentence of probation . . .
Question: You recently quoted Isaiah 43:19: "See, I am doing a new thing! Now it springs up; do you not perceive it?" What is this new thing that God is doing in your life?
CK: In my life, the new thing that God is doing is to help me to realize that the forgotten members of society—inmates and their families—desperately need a voice . . . I realize that God has given me a platform, and He has given me the opportunity to write books and to speak in radio, and television, and print interviews to be able to be a voice for those who might not be heard in another way. And so I try to be faithful to those opportunities, so citizens who aren't even aware of what's going on in the prison system know what the needs are, where the problems are, where the hurts are, and so they can know how they can help . . . So that's been a huge change for me, because it wasn't even on my radar before my son was incarcerated . . .
I think my life has changed in that I cry more than I used to, and I don't apologize for those tears. And I've discovered that when emotion is genuine, people "get" it. They aren't offended by it. They don't feel like their emotions are being jerked around, because they can tell when it's genuine, and they can tell when it's not . . .
Some people will come to me and say, "Oh Carol, compared to what your family has gone through, I don't have a problem." But I tell them, "If you've had a spouse betray you and leave you for somebody else, that's pain. If you've been diagnosed with cancer, that's pain. If you've had a child born with a disability, or if you're struggling with infertility, or if you've been a part of watching the stock market fall apart and feeling like your financial future is devastated, that's pain." And so I tell them, "Pain is pain is pain is pain." I didn't realize how many people identify with the themes in my books, or with having to relinquish what they love most to the God who loves them more than whatever represents their Isaac. I call it an "Isaac experience."
You might read one of my books or hear one of my speeches and say, "Boy, she's really gotten over it," or, "She's found a way to use it for something productive." Every time I drive to that prison, and every time I see that water tower coming off the horizon in the middle of shrubbery, and I know there are 1,700 men in there behind the razor wire, I have that feeling of, God, why? Why does my son who has so much to offer society, so much to offer to help people . . . why does he have to live there for the rest of his life with no hope of parole? And there are days yet when I throw major pity parties. There are days when I don't answer my phone and I don't answer my door because the pain is too great, and I just needed a day to morn my losses. I don't ever want somebody to think that I'm at a place where I don't feel the pain anymore. I feel it big time.
But I'm also at a place where I can feel the hope, and I see the results of hope . . . God sees the big picture of this puzzle piece of my life today, and He's making something beautiful out of it, even though I can't see the picture completely yet. I can only see those jagged edges.
Question:  What are you speaking on at the conference at First Baptist Church and who should attend? 
Anyone who has ever had questions about the source of faith, hope, or joy should come to this conference.  The day will be filled with great music, inspiration, encouragement, and with many moments of humor.  I'll challenge participants to evaluate where there are in their walk of faith—whether they're in the first sparks of belief in God that are just beginning to flicker, all the way up to a raging bonfire of excitement about doing something that matters for eternity with their lives.  We'll talk about how to grow a wildfire faith that draws others to its warmth and influences those around us to choose an unquenchable faith, even when the firestorms of life come.  Bring your friends, neighbors, co-workers, and relatives to this event.  I'll weave moments of laugh-out-loud moments throughout the content because I think we learn best when we are relaxed and open about our personal journeys. I look forward to getting to know the amazing women of Tuscaloosa!  
To read Carol's full story, visit her website www.carolkent.org.
Carol Kent will be the guest speaker at First Baptist Tuscaloosa's Women's Conference - January 24-25, 2014. Tickets available online: firsttuscaloosa.org/womensspecialevents or by calling 345-7554.
---
---
conference first baptist carol kent
---