Tuscaloosa Children's Theatre presents "Seussical"

Feb 12, 2014 06:34PM, Published by Kitty, Categories: Today, Community
---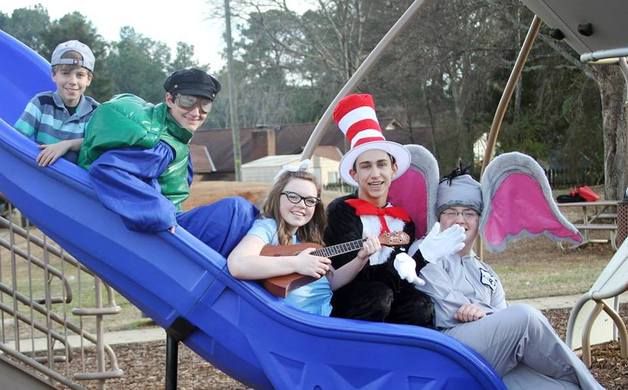 ---
"You're sad? Oh DEAR! Well, luckily for you, the CAT is here!"
That's RIGHT! The Cat in the Hat is back, and up to his usual tricks in Tuscaloosa Children's Theatre's latest production, Seussical. With scenes and characters from 16 of Dr. Seuss's beloved books, there's something for everyone is this toe-tapping musical that will leave you believing that, "Anything's Possible".
Our story begins when the imagination of a young boy, JoJo, summons the mischievous Cat, and the two embark on a journey through the magical world of Seuss. Along the way, we see Horton, Sour Kangaroo, and the Whos, (Horton Hears a Who and Horton Sits on the Egg), Gertrude, Mayzie, and the Bird Girls, (The One Feathered Tail of Miss Gertrude McFuzz), General Genghis Khan Schmitz, (The Butter Battle), and a host of other characters that bring these stories and more to life.
Ninety-nine students from over 17 schools in Tuscaloosa and surrounding areas have been working for the past 7 weeks to bring this show to the stage.  The one huge difference between this show and others that TCT has done in the past is that Seussical is over 90% music. While the characters DO occasionally speak, most of the stories are told through song and dance, which means this cast has had to learn a LOT of music and choreography.  The costumers for the production have also had their work cut out for them since most of the cast members play more than one role.
When asked what he enjoyed most about preparing for the show, Andrew Burdette (who plays the Cat in the Hat and is a senior at Hillcrest High School) had this to say: "I love going to rehearsals for many reasons: hanging out with my friends who also enjoy theatre, seeing all the young children who are just getting a start in theatre and know that they can do awesome and creative things even at a young age, and learning more about acting through the process! I also look forward to seeing all the faces of the children at the school shows light up as they see some familiar characters do some amazing and funny things!"
TCT will not only have 4 performances for the general public, but will also perform the show 6 times for area schools at the historic Bama Theatre in downtown Tuscaloosa. Many of these children who go on field trips to see these productions with their classes are being exposed to theatre and the arts for the first time, which is part of TCT's goal.
Another cast member, Autumn Fuller, who plays the role of Gertrude and is a sophomore at Tuscaloosa County High School, had this to say about the show and her involvement with TCT:
"Being able to play Gertrude is an honor! My first lead role was in Seussical the last time TCT did it (in 2008) when I played the role of JoJo. This show has a very special place in my heart, and is so much fun to be involved with. I remember when I was younger and all of the teenagers helped me through everything and were always so sweet to me. I hope that the new generation feels the same about me and the other teens. I can't wait for us all to perform together for audiences and to hear their feedback. Seussical is a great show that you don't want to miss!"
The show opens for the public on Friday, March 7, and runs through Sunday, March 9. Tickets are all reserved and can be purchased online by visiting www.tuscaloosachildrenstheatre.com,  or at the box office one hour prior to each show time. Tickets prices are $10 for students/seniors, $15 for adults, and $20 for premium seating.
---
---
---