March/April Summer Camp Issue

Mar 06, 2014 11:01AM, Published by Kitty, Categories: In Print, Today, Community
---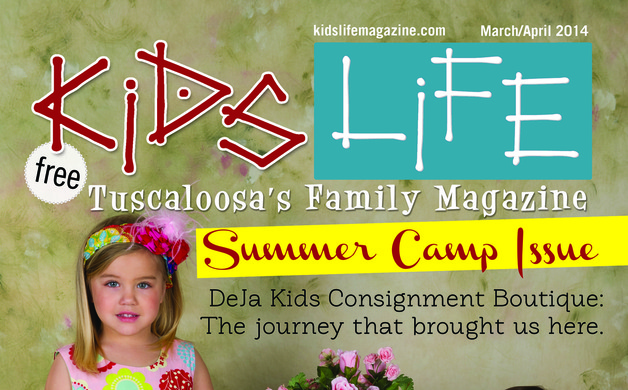 ---
20 years ago local real estate agent leaves the business
and buys a little store called DeJa Vu
When I purchased the store, it had been in business less than a year. With a hand kept ledger and a handful of consigners the journey began. Within 12 months the store relocated to a larger location further down University Boulevard then again the following year across the street.  I remember my thoughts when I first opened, being from a less than wealthy family, that this was such a great idea.  At the time, many people in Tuscaloosa looked down on the thought of shopping resale or even being seen in a consignment store.  Looking back now it amazes me how the times and minds of others have changed.  Whether is was the economy, the growing popularity of resale shopping, or the "Go Green, being frugal equals "being smart" mind set, business was getting better and better.  Still I like to think that the trust and high expectations that we gained over the years has played a big role as well. It was those many long hours, a lot of hard work and sacrifices during those years that got us to where we are today. I never wanted my work to take me away from my children so from very early on when they were standing on the step stool helping run the register I knew that incorporating them into the business was just a "given". Today they play a vital part in running our business and I am an extremely proud Mom.  There is no way that I could have made it this far without them.
In 2009 as the downtown construction began to increase and the customer parking became non-existent, we felt almost booted out of downtown and moved to 15th Street to later learn that it was a blessing in disguise. This blessing was not only for us, but also for our customer and consigner needs as well.   Business was great and we had no complaints the day the landlord walked in and told us the space a couple of doors down was about to be available and ask if we wanted it.  Busting at the seams, I said, "Yes we do"! This was the beginning of "DeJa Kids". Separating the two stores proved to be a great idea allowing us to focus on them as separate stores with different priorities. It was a big success and a big shout out to several managers who helped me out along the way including Mrs. Tracey, Mrs. Virginia, Ms. Jessica and every member of our staff. The next year once again the Landlord walks in to let us know the Salon next to DeJa Kids was moving and we had first choice. I knew this was going to raise our overhead and be an expensive expansion.  I prayed about, thought about, asked for a sign from God and three days later he sent me one. We took that "it's all or nothing" chance, everyone worked really hard and it paid off.  I cannot be more grateful to all my customers, consigners and employees who went through the growing pains with us throughout our journey. We have been truly blessed and owe it all to you guys.  Every time someone walks in that I haven't seen in a few years or there is an out-of-town first time visitor that walks in, looks around, pauses for a second and then says "Wow" it makes my day!
DeJa Vu and DeJa Kids Consignment Boutiques now have over 7200 sq. ft. of clothing and accessories for the entire family. DeJa Kids has tripled in size the last couple of years, offering everything from kid boutique brands, that special occasion outfit to top of the line school/play clothing in infant to tween sizes. We sell items on a seasonal basis but are more than happy to store your out of season items until time to put them on the floor.  With everyone's busy schedules, we try to make it as hassle free and simple as possible for our consigners. We are currently accepting Spring and Summer clothing and shoes, and as always we are accepting mother-to-be clothing, baby gear, and baby furniture. If you are one of our consigners, Thank You, if you're not please feel free to come by on March 8th during our Spring Open House for a visit. We would love to make you a part of our DeJa Family.
---
---
---