The Heart of Homeschooling

Mar 17, 2014 04:20PM, Published by Kitty, Categories: In Print, Family, Today
---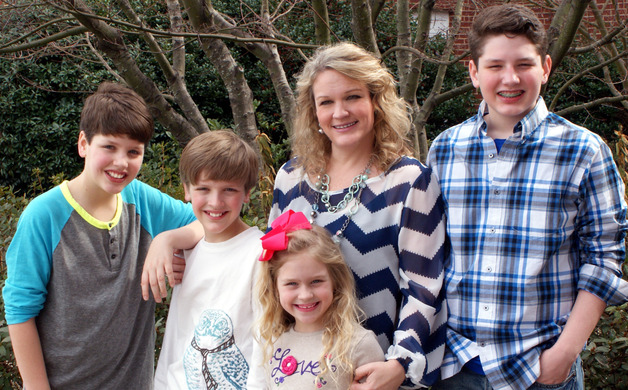 ---
The decision to homeschool my children wasn't an easy one.  Pre-parenthood, I had never even considered it.  Unlike most emotional parents on the first day of school, I didn't even cry when my oldest son started kindergarten.   He was so ready, and I was eager for him to learn.  There were no tears when my next two sons started school, either.  My kids love school!   They made lots of friends and loved their teachers.  I had great relationships with their teachers, and call many of them friends still today.  I was an active participant in school functions, activities, and events.  School was great!  (A big shout out to Walker Elementary for giving my kids such a wonderful start!)  I had no idea what the future was to hold.

As my children grew, I felt God asking me to draw nearer to them.  Although I knew a few acquaintances that homeschooled, I didn't know anyone "close" to our family who did.   It was very much a mystery to me.  Through many prayerful days, I felt like God was telling me to research homeschooling…. just in case I needed it.     I didn't know what this was all about.   In the movie "Evan Almighty," Evan is a common day Noah.   Although God is constantly providing Evan with the materials and tools needed to build an ark, Evan feels it unnecessary, even annoying.  God (Morgan Freeman) won't leave Evan alone until he finally gives in and realizes that he needs to start building this ark, even if it's not currently raining.  I felt just like Evan!!   It's not raining, God!   My kids don't need an ark!
But God's Plan is bigger than we can understand.  At first, my husband wasn't really excited about the idea.   The kids HATED the idea.   They viewed it as a punishment because they loved school so much.   My prayer over the next couple of months was that if this homeschooling thing was in God's Plan, He'd make it right within everyone's hearts.   And He did.  During that time, I stopped working part time as a registered nurse and started staying home.  I researched curriculum and then purchased it.  I reached out to a couple of those acquaintances and asked questions.  Our original plan was to take the kids out of school for the spring semester, and if homeschooling didn't work out, we'd put them back in the next fall.   We all got so excited about the new curriculum sitting in the corner in boxes that we withdrew them after the first 9 weeks of the fall semester. 
That was 3 years ago.  I am excited to be sharing with you in the upcoming months all the blessings that I have received since making that decision.  Has it been all unicorns and rainbows?  Absolutely not, but I simply cannot imagine my life without these last three years of teaching my children at home, and I am thankful for the lessons learned and the little hearts that have been entrusted to my care. 
Terra Kittrell is a stay-at-home and homeschooling mother of Kaleb, 14, Chandler, 12, Ty, 10, and Ramsi Kate, 6.  She and her husband, LaTrelle, live in the Northside community and are members of Church of the Highlands. If you have questions about homeschooling, you can email Terra at tjk627@gmail.com.
---
---
---