The Heart of Homeschooling

May 28, 2014 09:41AM, Published by Kitty, Categories: In Print, Today, Community
---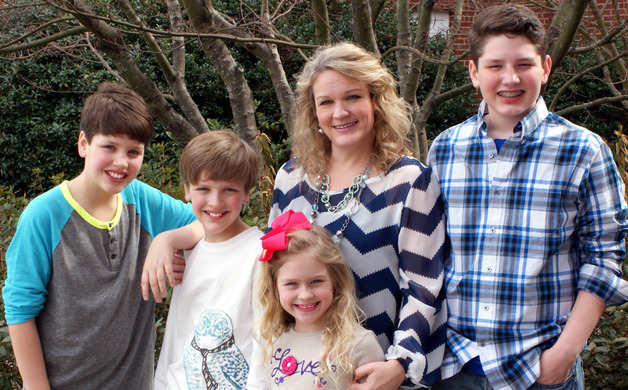 ---
by Terra Kittrell
When I first approached my husband about the idea of homeschooling our children, he had two major reservations:   my sanity and extracurricular activities.   My husband, LaTrelle, was a small town football and basketball star.   While he certainly views the educational side more important for his own children, his school life was wrapped up in sports, and he loved every minute of it.   I completely understood… having lettered in softball and spending my high school years in the marching band's auxiliary.   We both loved school.   What about prom and other activities, he had asked…although our children were far away from the worries of tuxedos and corsages.   Things were different today, I reassured him, and started my research to ease both of our fears, and to learn more about extracurricular activities and socialization opportunities for our children.

One of the first places I was directed was tuscaloosahomeschool.com.   By their own definition, Tuscaloosa Home Educators (THE) is a support and resource group for home educators in Tuscaloosa and surrounding communities.  Through their site, I was able to find out that Tuscaloosa has the following sports available for homeschoolers:  Varsity and Junior Varsity Boys' and Girls' basketball, Varsity and Junior Varsity Boys' baseball and Girls' Softball.  There's also Girl's volleyball, and this year tennis instruction was added.  Homeschoolers are invited to play football and participate in cheerleading with North River Christian School, and Tuscaloosa Christian opened up their band to homeschooler participation.    THE involves a $10 annual fee, and they keep members updated by email and calendar updates of current events.   The Warriors and Lady Warriors are competitive yet inclusive sports teams.  There's also the annual Spring Formal, a prom-equivalent activity open to homeschoolers and their dates each Spring.
My kids' favorite homeschooling activity we participate in is co-op.  A co-op is a gathering of students for fun or educational instruction, facilitated by parents.  Each homeschooling co-op is structured differently.  Some are open to any homeschooled student, and some are open to only those students enrolled in a particular church school.   We attend King's Co-op, and we meet at University Church of Christ.  Our co-op is open to any homeschooler and is held on Fridays from 8:30am until noon.   Co-op is set up into four 45 minute block periods, with a 15 minute snack period in the middle.  For children ages 3rd grade and under, teachers (parents) rotate through their classrooms, bringing them age appropriate instruction on various topics.   For 4th grade and above, students "choose" their classes prior to the semester starting, much like private and public school children choose their schedules.   Parents offer to teach subjects in which they have a particular interest or educational background.  Because I am a nurse, I taught an elementary health class to kindergartners my first year in co-op, and because I took Japanese as my foreign language in high school, I taught a unit on Japan the next.   Some of the other classes that have been offered are just as interesting:  woodworking, art, a career class, Cross Fit, babysitting instruction, orienteering and geocaching, Reader's Theater, and cooking.    Each semester, Japan International Karate Center comes to our co-op location and offers a weekly karate class.   We have a student who will be testing for her black belt next semester!   For high school age students, various science labs and classes are offered to help enrich credit classes taught by the parents.  After each co-op Friday, we have an "After Co-Op Hot Spot" where we gather with friends.   We've done things as simple as picnic and play at various local parks, to more organized activities like bowling, skating, and swimming.  Fridays are full days for us, but my kids live for it!  Our co-op friends also organize various field trips and fun activities such as the annual Talent Show, camping trips, and the annual Back-to-School swimming party at the UA Recreational Pool.  There are several co-ops offered in Tuscaloosa County. Some meet on different days and have different structures, but the goal is the same...to unite students and parents.
There are many other activities, as well.  The list is too vast to include here, but if you or someone you know has a specific question about an activity available to homeschoolers, please email me at tjk627@gmail.com and I can get you pointed in the right direction!
---
---
---