Alabama Splash Adventure

Jul 07, 2014 09:36PM, Published by Kitty, Categories: In Print, Travel, Today, Community
---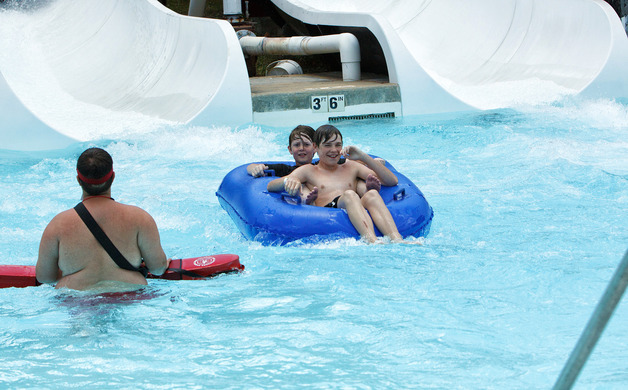 Gallery: Splash Adventure [3 Images] Click any image to expand.
---
---
By Linda Holloway and Ashley Sellers

Photography by www.larryhollowayphotography.com
Alabama's Splash Adventure has gone from the depths of bankruptcy to a successful park almost overnight. The Koch family is investing more than $7 million to purchase and improve the attraction with a five-year strategic plan to develop the water park and amusement park into a top tourist magnet.
Dan Koch, who led the acquisition, is bringing his family's seven decades of experience in the amusement and water park industry to his new home in Alabama. "I am thrilled to be living and working in this community," said Dan Koch.  "Our family wants Alabama's Splash Adventure Waterpark to be the number one choice for family fun and memories for generations to come."
Koch Parks, Inc. has purchased the water park with 89 acres of land, which will aid in the future expansion. The Koch family has a reputation for superior customer service and will operate the park with a special focus on providing safe, family fun for all ages. New attractions include five new rides for the younger set as well as a new Laser Maze Challenge.
Vice President Adam Reiver, said, "The Koch family brings the most important element to this park and that is "heart." Reiver emphasized that focus on safety of the attractions is foremost. "The Koch family has employed the most highly recognized veteran management employees in the amusement park business." More security personnel and cameras have been added as well.
 Splash Adventure is the only full scale water park/amusement park in Alabama where the pedestrian-friendly Main Street reminded me of Disney World. Reiver gave me a tour of the park, and I was impressed with the cleanliness of all the areas.  While enjoying a cool soda at the Pepsi Corner/Soft Serve, I kept noticing the friendly employees frequently wiping down the glass door. Even the FBI would have a hard time finding a fingerprint here.
Reiver escorted me to the famed Rampage roller coaster that had sadly been shut down by the previous owners. There were about 14 expert coaster repairmen scurrying around the wooden structure. Hopefully, the coaster will be repaired by late summer when it will once again be touted as the breathtaking ride thrill seekers enjoy. I was happy to hear the locomotive is being repaired, and the Log Rides will open in 2015.
The birthday rooms are gaining popularity for parties, and be sure and ask about group discounts and catering. The huge amphitheater is where the action takes place. Make plans for the Christian Music Fest on July 12, 2014, with live performances by Francesca Battistelli and Sanctus Real.
 While Larry was snapping photos and I was "relaxing" and enjoying a funnel cake, our adult daughter, Ashley and our grandson, Gunnar, and friend were having a blast exploring the water park.
Appetite for Adventure
Gunnar and Caden, longtime friends and baseball teammates, were thrilled when we arrived at the gates to Splash Adventure.  Although Caden had been to several theme parks, this was his first time at a water park, and Gunnar could not wait to show him the ropes.  Eager and excited, the middle school boys couldn't wait to break away from me to explore the park on their own.
Splash Adventure offers an array of attractions for all interests and age groups; in typical "teen" fashion, Gunnar and Caden made a "Bee-line" for the most adventurous aquatic rides in the park.  Upsurge! was their first stop.  The two thrill seekers opted for single inner tubes instead of the tandem tubes as they charged toward the stairs as if they were armed for battle. Enclosed for the first half of the ride, the most intense moment is when riders are re-introduced to the open air while accelerating down a slide that then catapults you "up" toward the sky!
The boys, not wanting to lose momentum, sped over to Splashdown, a slide that spits you down to circle a gigantic "drain" right before shooting you straight down into a pool of water.  Next, they raced to the nearby Neptune's Plunge—not knowing which way is up, tubing down this curvy "black hole" creates a sense of suspense each time.
Gunnar and Caden continued to "ping pong" from one intense ride to the next while occasionally taking a dip in the Kahuna Waves wave pool and floating along the Warrior River lazy river ride with me.  Working up an appetite, the boys stopped long enough to enjoy shaved ice and French fries, and then they were back to exploring the vast park.  As for food at Splash Adventure, you won't go hungry with the variety that the park has to offer including Italian at Mama Lizetti's, burgers and salads at Chubbie's, chicken and Sirloin burgers at Fin's Surfside Grill, and a plethora of snacks such as funnel cakes, popcorn, and ice cream!
Younger children will enjoy the rides plus Castaway Island and the new Mist-ical Maze—both offer interactive splash time and fun!  As for children under 48", Salamander Bay is the perfect place for wading, playing, and sliding into shallow water  while parents bask in the sun and security of the toddler-friendly environment.
Speaking of parents, Splash Adventure knows how to keep adults happy.  Want the V.I.P treatment?  Rent a cabana! For $90/day, you and up to seven others, can enjoy the view of Kahuna Waves from a, cozy cabana complete with dining table, chairs, lounge chairs, bottled water, and a ceiling fan! You don't have to be a high-roller to feel like one, though; the park also offers several freebies such as free parking, complimentary sunscreen, free access to inner tubes, and free in-park Wi-Fi. Twenty dollars worth of Bonus Cash is loaded onto your armband when you purchase a season pass—loading cash on your armband also means that you don't have to carry cash or your debit card around all day, which is definitely a plus!
You don't even have to get "splashed" at Splash Adventure to have fun. There are plenty of non-water activities to check out such as the Laser Maze Challenge, Wacky Worm family coaster, the Mini Helicopters, Vintage Boats, Junior Bumper Boats and the Rio Grande Train.   Don't want to get overheated?  The park also has huge fans and misting fans throughout, along with air-conditioned buildings such as The Emporium where you can purchase T-shirts, jewelry, cameras and a variety of souvenirs.
Walking back to the car, Gunnar and Caden were tired, but satisfied that they had filled their need for adventure for a while.  Stopping inside an air-conditioned ice-cream shop before leaving was literally the "cherry" on top of a trip that they will remember until we come back—maybe next week!
Fast Facts: Alabama's Splash Adventure Waterpark is located along I 20/59 at exit 110. The park is open daily in July from 10:30 am – 7:00 pm. Check the website for August and September dates and times.  Toddlers two and under are free and admission ranges from $19.95 to 29.95 depending on age. For more information, visit www.alabamasplash.com or call 205-481-4750. 
---
---
travel water park alabama splash adventure
---