Available locally at LifeWay, Barnes&Noble and SupeStore

Jul 13, 2014 02:49PM, Published by Kitty, Categories: In Print, Today, Community
---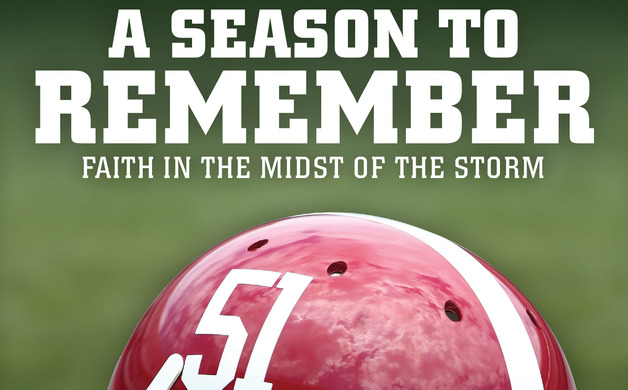 Gallery: A Season To Remember [7 Images] Click any image to expand.
---
---
by Tommy Ford, co-author of A Season to Remember: Faith in the Midst of the Storm
On Wednesday afternoon, April 27, 2011, in just a brief sliver of time, Carson Tinker's life took a quick about-face.

                  With winds churning and the skies above his Tuscaloosa home turning an eerie blackish-gray, the Crimson Tide's long snapper took cover, cramming into a small closet with his girlfriend Ashley Harrison, his two roommates, and his two dogs. Despite warnings from relatives and television reports that a tornado was heading their way, Carson remained positive.
                  "You just never believe that a tornado might really be headed in your direction," says Carson, author of A Season to Remember: Faith in the Midst of the Storm, a new book detailing his harrowing ordeal, his long rehabilitation from multiple injuries, and his being on three Alabama national championship football teams under Coach Nick Saban. "You just always think it's going somewhere else."
                  Unfortunately for Tuscaloosa and the more than 50 people who lost their lives—including Carson's girlfriend— it didn't.
                  In his book, Carson describes that fateful moment:
                  We heard the house cracking and coming apart, windows crashing, walls tumbling. Then, just like that, the roof was ripped off right over our heads, and the darkness of the closet was suddenly flooded with gray, rainy daylight. I could feel us being picked up. It was like having one of those dreams where you're falling, except just the opposite. Falling up. I held on to Ashley with all my might as we were sucked out of the house.
                  The next thing I remember is standing some seventy-five yards away, across the street in the field, screaming Ashley's name.
                  Exactly what happened in between—or how much time had passed—I'll never really know.
                  At no choosing of his own, Carson on that memorable day became the "face" of the deadly Tuscaloosa tornado, at least in the eyes of the Alabama football nation. The E-4 twister's seven-mile path through the heart of town forever changed not only the landscape of Tuscaloosa, but the community's resolve as well.
                  "Because so many people were a blessing to me through my recovery, I made it my mantra to be a blessing to others," says Carson, now the long snapper for the NFL's Jacksonville Jaguars. "That's why I wrote this book. I want to show people how I came from a dark point in my life and how God got me to where I am now."
                  Carson's battle with adversity didn't start on April 27, 2011, though. As a child, he endured both of his parents' bouts with cancer—first his mom's ovarian cancer when he was in the third grade and his dad's battle with melanoma three years later.
"My parents went through some tough times," says Carson, who grew up in Decatur, Ala., but moved to Murfreesboro, Tenn., following the ninth grade. "But they never stopped giving their time and service to others. And, despite their financial struggles because of their sickness, they continued to give faithfully to the church.
"In turn, they were blessed by others. People reciprocated and did things for them. Just when they started wondering how they'd get out of a grim financial situation, a check would just show up in the mailbox. Through my parents' illness, people were such a blessing to them. That's where I first learned about being a blessing."
Carson's book, published by Broadman & Holman Publishers (a division of LifeWay Christian Resources), takes the reader from the day Carson was born—when a tornado blew over his Decatur hospital on a deadly path to Huntsville—all the way to his hoisting the BCS crystal trophy following Alabama's convincing 42-14 win over Notre Dame following the 2012 season.
In between, Carson explains in detail his choice to "live in vision, not circumstance" following the tornado. "One of our team's motivational speakers, Kevin Elko, told us once that when things go bad, we have two choices," he says. "We can live in circumstance, where we mope and complain and have a case of the 'poor me's.'
"Or, we can live in vision, where—despite our circumstances—we choose to move ahead, to live in the positive. I couldn't control what had happened to me in the tornado, but I could sure control my response to it. And my response was to overcome this setback by being an encouragement and a blessing to others.
"I knew that God had put me on a platform. But it was my choice on how I used that platform. I made the choice to inspire, motivate, and challenge people."
In the second part of A Season to Remember, Carson uses the Crimson Tide's 2011 national championship season as the backdrop, weaving in and out stories of his teammates, funny moments, spectacular plays, motivational anecdotes, biblical applications, and—of course—words of wisdom from Coach Saban.
"Just as I personally chose to live in vision following the tornado, so did our 2011 football team," says Carson, who after four seasons as a walk-on earned a scholarship his senior year. "As a team, we dedicated the season to the Tuscaloosa community and the state of Alabama.
"Even after our loss to LSU in the 'Game of the Century,' we never gave up. After that game, Coach Saban told us that we had a choice to make—we could let that loss define us, or we could come together, move ahead, and do something very special. So, when we got the chance for a rematch with LSU in the BCS game, there was no way we were going to lose."
To demonstrate his newfound mindset, Carson has established the Be a Blessing Foundation (www.beablessingnow.com), a non-profit to help people through hard times. All his proceeds from the book will go to the foundation.
"I just want to give back, to be a blessing," he says. "It's my way of saying thank you to all those who've helped me."
A Season to Remember is available locally at LifeWay, Barnes & Noble, Supe Store, and via lifeway.com or amazon.com.

In our photo gallery:
Following Alabama's A-Day game on April 19, Carson Tinker (right) signed books at Tuscaloosa's LifeWay Christian bookstore. At left is co-author Tommy Ford.
---
---
book carson tinker tommy ford faith storm
---