UA School of Music Program Strings Together A Community

Jul 14, 2014 10:21AM, Published by Kitty, Categories: Family, Today, Community
---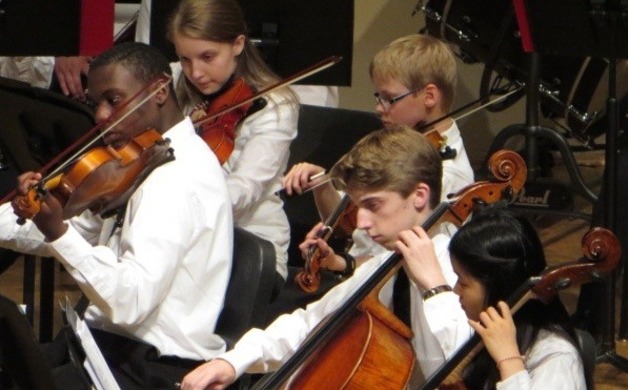 Gallery: CMS [2 Images] Click any image to expand.
---
---
by Courtney S. Fair

Whenever Albert Einstein would arrive at a roadblock while working on quantum mechanics or physics, he would tune up his violin and get swept away in Mozart and Beethoven sonatas to clear his mind and relax. Not only would he play when he needed to step away from work, but he often played with community groups and performed for friends and family.
The Community Music School, located in the Frank Moody Music Building on the University of Alabama campus, is not trying to win a Nobel Prize in physics or researching the general theory of relativity, but its staff and faculty have discovered how to create an atmosphere of musical expression and learning for people of all backgrounds, abilities, and ages.
Every year over 500 individuals from the West Alabama region take lessons, classes and ensembles from the CMS faculty, which is comprised of UA School of Music professors, selected graduate and undergraduate students, and professionals from the Tuscaloosa community. The students range in ages from four to 90 and arrive with various backgrounds and experience in music.
The programs at CMS offers enrollment year-round with most classes meeting once a week at the Moody Music Building. The school offers lessons in strings, percussion, wind, brass, piano, organ, guitar, and voice, as well as yoga for adults and children. CMS also offers Kindermusik®, a thriving and rapidly growing program for children ages birth through seven.
Although CMS has a lot to offer children and adults alike, the string ensembles are one of its largest programs. These ensembles include the Suzuki Strings, the Chamber Strings, the Tuscaloosa Youth Orchestra and the Adult Strings.
Einstein began taking violin lessons at the age of five, much like the four year olds in the Suzuki Violin Program. This group can have children as young as four and as old as high school age, and CMS welcomes families with special needs children into the Suzuki program. Suzuki instruction focuses primarily on ear training and proper technique. They play melodies in unison while standing.
The Chamber Strings ensemble is the first "sit-down" group where the students learn to play in harmony with mixed strings (violin, viola, cello, and bass) and hone in on their music reading skills.
The Tuscaloosa Youth Orchestra, conducted by Professor Blake Richardson, is a full orchestra consisting of students with advanced playing abilities that are middle and high school age. Nearly all Tuscaloosa public and private schools have a student participating in TYO. Richardson said this orchestra has a focused, intensive environment where students not only learn many musical skills, but valuable life skills.
"Over the course of a year in the Tuscaloosa Youth Orchestra, it is astounding to see how quickly students grow in their musical abilities," Richardson said.
Einstein did not particularly enjoy playing the violin when he was a boy, but often said that he did not fully appreciate it until he became an adult. Many adults come to CMS because a loved one has gifted them lessons or they wish to revisit an instrument they once played. There are also many parents that take lessons with their children, proving that one does not have to be a child in order to learn something new or appreciate the beauty of music.
The Adult Strings group is for students 18 years and older and contains a beginning, intermediate, and advanced class. Dr. Anne Witt has been teaching the Adult Strings class at CMS since 2006 and said she loves the energy and interaction of the class setting. Dr. Witt also said that she often hears others wistfully say that they wished to play the violin or cello, or any string instrument.
"Donna Maples, who began in my first class, recently said, 'It's the best feeling in the world to work toward something you didn't think you could accomplish, I'm so glad I did it for myself,'" Dr. Witt recalled.
CMS also hosts a weeklong summer string camp for fourth through ninth graders and an Adult Strings weekend for amateur adults and their teachers from the Southeast.
Adults and children alike can find their musical niche at CMS while uncovering their talents and getting involved with a community of music lovers. Take it from Einstein, "If I were not a physicist, I would probably be a musician. I get most joy in life out of music."
For more information, visit music.ua.edu/community-music-school or call (205) 348-6741. Need-based scholarships are available by application.
---
---
---