Having Family Fun While Extending International Hospitality

Jul 17, 2014 08:50AM, Published by Kitty, Categories: In Print, Family, Today, Community
---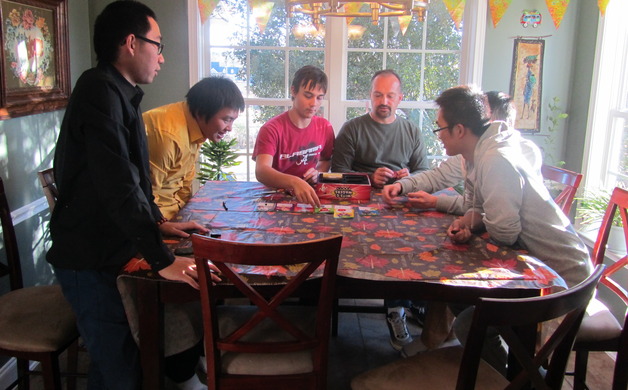 Gallery: TIF [3 Images] Click any image to expand.
---
---
By Ann Marie Brooks

Would you like to bring heartfelt significance in others' lives? Would you like to share some first time experiences with college international students? Would you enjoy having your children learn first hand about other cultures while promoting goodwill between our country and others'?
As another academic year is quickly approaching, your calendar is most likely filling up with numerous activities. You may be planning your holidays, blocking out the weekends for Alabama football or your own children's sports season, dance programs, or concerts. You might be scheduling one last summer trip to the beach or to a nearby lake for a picnic and team fun on the open grass with family and friends. Why not include a guest from another country to join you?
Last fall Robert and Patricia Przybylski, a home school family, met with Charter Morris, director of Capstone International Services at UA, to ask how they might connect with some international students. Morris told them they needed to contact Tuscaloosa's International Friends and how each fall TIF matched students with local Tuscaloosans.
The Przybylski family then attended the TIF orientation last August where they watched a power point about the organization, heard testimonies from veteran friendship families, and left with handouts filled with an array of suggested activities to experience with their students. Next, they joined others from the community at TIF's first event, the "Welcome Party", bringing international students, having requested an American friend, and locals together for their first meeting. Prior to this event the friendship coordinator, Elaine Moore, and her committee, worked to pair the student applications, one hundred fifty-eight, with those received from people in our community.
Patricia said, "Since we had heard it's easier to have more than one student, we requested two students. Then while we were at the "Welcome Party" we met two more students that we enjoyed. When we first had invited all four guys to our home, two of the students asked if they could bring two friends. Now we also have two girls from China."
"For our first outing we took our six new friends to Oak Mountain for a picnic and swimming. They had never been swimming in a lake," said Patricia. "As we were relaxing by the water, one student sighed and remarked, 'Ah, the American life'." This reaction to their outing confirmed they had made the right decision in befriending the students.
Since their initial introduction, the Przybylski family has extended monthly invitations to the students throughout their academic year here in Tuscaloosa. In the Przybylski home the students have shared their culture and even enjoyed cooking some Chinese cuisine for their host family while celebrating their New Year.
 Grateful for the Przybylski's hospitality the students have experienced many firsts here in America and joined their host family in all their traditional holidays. In the fall they carved pumpkins and dressed in costumes. In December they decorated their first ever Christmas tree. At other times through the year, they have been able to relax away from campus for a fun outing at the Przybylski's home to play board games, ride a lawn mower and even try their skill at target shooting.
The family has also involved their students in their family ladies' night and men's night. When Patricia and her daughter, Morgan, were planning for a charity benefiting an orphanage, they invited the girls to help them with their project in making tied blankets. At another time the men went to see a science fiction movie.
If you too would like to extend southern hospitality in your home and around our community, you can join TIF and be paired with one or more students. TIF helps to foster friendships by bringing together people with similar interests and hosting events for all the local families and their students twice during each semester. International students attending Alabama, Shelton State, and Stillman are involved. Through a one time donation of $25, you can help with the expense in hosting the events.
 For anyone interested in becoming a friendship family TIF will have an orientation at Emmanuel Baptist Church on Rice Mine Road, Tuscaloosa, on August 21st from 7:00pm to 8:00pm. If you are unable to attend the orientation and want further information you can find an application online by going to UA Capstone International, click "International Services", then click "Programs and Clubs." You will see Tuscaloosa International Friends listed on the left. Alternatively, go directly to http://is.ua.edu/programs-activities/tuscaloosas-international-friends/. At this section you will find further information and an online application.
---
---
UA host international foreign students
---