Customize Your Ears

Aug 13, 2014 01:14PM, Published by Kitty, Categories: In Print, Today
---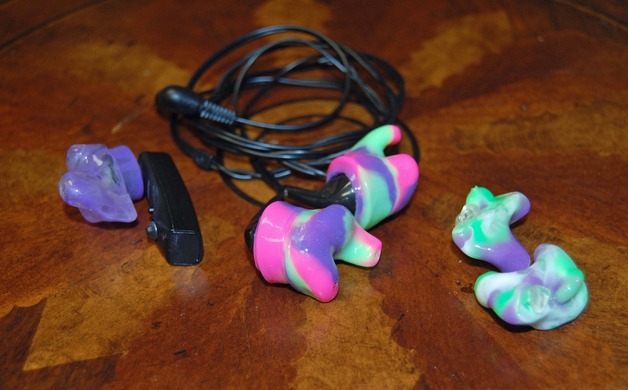 Gallery: TENT [1 Image] Click any image to expand.
---
---
By Christy Albea, Au.D., CCC-A and Nikki Williams, Au.D., CCC-A

Custom molded ear plugs offer hearing protection for a variety of applications from shooting to sleeping.  When you find that ordinary ear plugs just do not work because they fall out, hurt, do not block enough noise, block too much sound, or ruin your enjoyment of music at concerts or on stage, it is time to consider custom molded ear plugs.  Custom molded plugs are made by having an audiologist insert a special silicone material into your ear canals and filling the outer portion of your ear.  It takes about 5 minutes for the impression material to harden at which time the molds are removed from your ears and shipped to a manufacturer for your custom plug order.  Custom plugs can be made for anyone from young children to adults.  Many styles are available in a variety of colors and materials to truly customize your ear plugs.
Different types of custom plugs include:
·      Swim Plugs
Designed for swimming or showering to prevent water from entering the ear canal.  Popular with children and adults who suffer from recurrent swimmer's ear or have tubes in their ears.
·      High Noise Plugs
A superb sound attenuator for someone who needs hearing protection at work or home.  Great for use during yard work, hunting, or sporting events.
·      Musicians' Plugs
The earpiece of choice for performing musicians and concert attendees.  The flat attenuation characteristics allow the wearer to hear accurately - but at a safer volume. Popular with music teachers, DJs, flight attendants, bartenders, waitresses, dentists, and dental workers.
·      Motorcyclists
Designed primarily for motorcyclists to wear under a helmet to help eliminate wind noise.
·      Occupational Ear Pieces
Adapts any "ear bud" style device to a custom mold for a more secure, comfortable fit.  These custom pieces can be made to fit devices such as Bluetooth hands free cell phone devices and ear buds for Apple products.  Children especially love the custom ear pieces for listening to their iPods.  Adults enjoy the comfort and security the custom ear pieces offer when they listen to their iPods at the gym or while running.
·      Sleep Plugs
Designed to promote comfortable and uninterrupted sleep. Great for shift workers and credited with saving many a relationship!
·      Custom Fit Electronic Listening Devices
For the more sophisticated musician or hunter, custom ear plugs alone may not fit their needs.  In these cases, custom fit electronic listening devices would combine hearing protection and amplification.  Musicians' in-ear monitors are popular for live performances or recording studio mixing.  Electronic hunting plugs amplify the surroundings but compress the sound of a gun shot to protect hearing.
People of all ages and lifestyles can enjoy the benefits of custom molded ear pieces.  Whether it is a 4 year old girl with tubes who is taking swimming lessons this summer or an adult who is tired of his ear buds falling out at the gym, there is a style for everyone's needs.  With care, adults can enjoy their custom plugs for several years and many children use their custom ear pieces for 1-2 years before their growth creates a loose fit.  The audiologists at Tuscaloosa Ear, Nose & Throat are happy to discuss your needs and help you select a style that you will enjoy for many years.
In addition to custom plugs, the audiologists at Tuscaloosa ENT assist the physicians in evaluating, diagnosing, and managing hearing loss and balance disorders in adults and children.  Our services are customized to each patient's individual needs for superior hearing healthcare.  Services include hearing evaluations for adults and children, hearing aid fittings, in-house and manufacturer hearing aid repairs, industrial hearing screenings, and balance assessments.
---
---
---