Creating Christmas Traditions

Dec 02, 2014 02:38PM, Published by Kitty, Categories: In Print, Family
---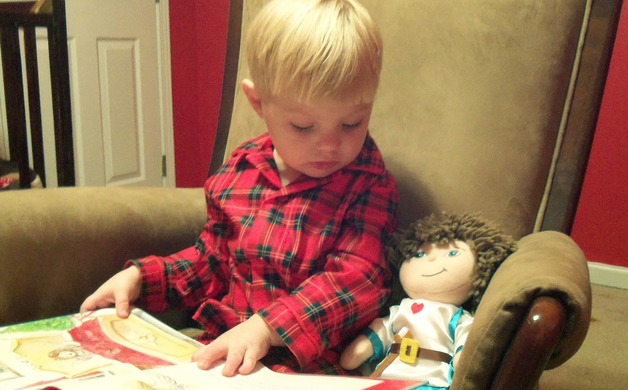 ---
My name is Kaci Lane Hindman and I'm a Christmas addict. I love everything about the holiday from the lights and decorations to the food, gatherings and music, and of course the fact that it is when we celebrate the birth of Jesus. I even set a personal record this year by listening to a few Christmas songs on Pandora as early as late September.
Growing up I always wanted to decorate the tree and cried when it had to come down. I loved being in the kitchen while my mother and granny cooked Christmas food, and there were several holiday movies I had to watch every year. While I did take traditions a little too seriously at times, they helped frame some of my favorite and earliest memories. They especially helped in the harder times, like the year my parents were going through a divorce and the first Christmas after my Papa had died.
Now that my son is 2 years old, I find myself thinking of fun traditions I can create for him, particularly those that put the focus on Jesus rather than simply Santa and gifts. I've always liked the idea of Advent calendars and similar traditions that last all season.
The holidays were soon approaching when I went to a women's conference with my church and spotted The Christmas Angel in the vendors' section. Seeing that they had a boy angel, as well I started reading the box and their brochures.
"So you're like the Christian Elf on the Shelf?" I asked after reading everything.
"We get that a lot," laughed Patrick Dorough. He and his wife Lisa created the concept a few years ago for their own children while discussing Christmas traditions on a road trip.
"We wanted to teach our children the true meaning of Christmas, and instill in them values that would last a lifetime. Before you know it, The Christmas Angel idea literally fell into our laps!"
 Lisa recounts how it started as a tradition in her home back in 2009 before it transformed into a business for all children. "We searched all over for a 'soft' plush angel and had no luck. We ended up at the thrift store and found a tiny, not so pretty, angel in a green dress and yellow yarn for hair. We call it a grandma handmade angel. I wrote a poem that year for my kids, and that was how we introduced our kids to The Christmas Angel concept." 
We were in Nashville at the time, so I thought it was really cool to find out the company was from Birmingham. The Christmas Angel is sold in many states and can be found in boutique stores. However, most sales come directly from the company's Web site, www.yourchristmasangel.com. 
The next day, I purchased my son a Christmas Angel, which comes with a hardback book that introduces the angel and tells how angels are messengers of good news. It also tells how angels played an important role in the most important message of Christmas: Jesus' birth. There was even a calendar of suggestions for 25 days of good deeds to do and how to stage the angel for each event, just like the Elf on the Shelf gets moved around every day.
The company posts lots of ideas for good deeds to their Pinterest board, heartboxllc. My personal favorite is sending a card to a child in the hospital, with the angel sitting beside some stationery. The main Web site also has a blog with more DIY ideas for the holidays and throughout the year. I really love the creativity of putting my own spin on some of the ideas and mixing in my own Christmas traditions specific to my child.
As Christmas draws near, I encourage you to check out the Pinterest board as well as www.yourchristmasangel.com. Patrick and Lisa also enjoy speaking to mom groups and parents about creative traditions that point children to Christ. They can be contacted by email at heartbox2010@gmail.com.
Kaci Lane Hindman lives in Northport, AL, and is the wife of Blake and mother of Lane. She works as a writer, editor, Improv actress and stand-up comedienne, and blogs at unconventionalsouthernbelle.blogspot.
---
---