Community Soup Bowl

Jan 06, 2015 08:26PM, Published by Kitty, Categories: In Print, Community
---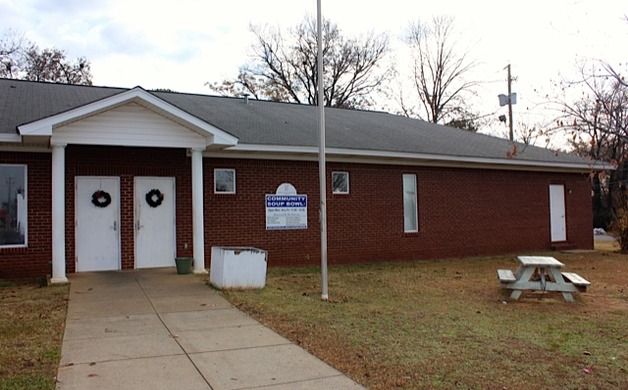 ---
 by Robin Ford

Sharing. That is the topic whenever Amy Grinstead, Executive Director of the Community Soup Bowl, speaks to a group of school children. Amy begins her talk by pulling three suckers from her pocket and asking for three volunteers. When three children come to the front, she then proceeds by giving one child a sucker and another child two suckers. The third child does not receive one from Amy.
At that point Amy asks the group, "Now, what is wrong with this picture?" Immediately, the children loudly comment that there is one child among the three that does not have a sucker and one child has two suckers."  "Ok, then. What can remedy this situation?" Amy asks.
Obviously and quickly, the kids realize that the child with two suckers can share one of his with the child who does not have one. Amy then goes on to explain that sharing is a concept that can apply to food. There are those who do not have enough food at times and there are those of us who can share the food we have. Amy then explains that since opening its doors in January 1983, the Community Soup Bowl has served up thousands of fortifying meals to hungry people in the Tuscaloosa community. She says this is possible due to people in our community making the choice to share. 
It was this very burden of sharing that began in Rev. Ray Pradat's heart more than 30 years ago. Rev. Pradat, then rector at Christ Episcopal Church, inspired the vision of feeding the poor in the Tuscaloosa community. The Community Soup Bowl started as a result of five downtown churches going together in 1981 to explore the problem of hunger in the city.  After a preliminary study, the need was obvious. The First Baptist, First African Baptist, First Methodist, First Presbyterian and Christ Episcopal churches each appointed one staff person and two lay people to make up the 15-member board to form and operate a non-profit corporation with the mission of feeding the hungry. Rev. Pradat and the representatives from the five downtown churches visited several "soup kitchens" and decided to use the "Stewpot" in Jackson, MS as its model. The first six months of operation involved preparing the food at Christ Episcopal Church and transporting the food to a rented building three blocks away for service. Everything then had to be returned to the church to be washed every day.
In the early years, the soup bowl operated from a rental home on Eighth Street, serving lunch five days a week. In 1998, the current soup bowl building was constructed on 1711 23rd Avenue, allowing even more people to be fed. The current structure was built by the generosity of the Tuscaloosa Home Builders Association of Tuscaloosa, a Rhode Island philanthropist and the local community on a plot of land donated by Margaret Strickland. Its current location is just behind the Piggly Wiggly on Greensboro Avenue. The 3500-square foot facility seats 80 people at a time. Meals are cooked and served seven days a week by a staff and volunteers on weekdays, and by rotating teams of volunteers on weekends. On average, around 250 plates are served each day.
Though it originally began with five churches, the Community Soup Bowl immediately gained the support of other churches, organizations, individuals and local businesses. The organization operates with the purpose of "Feeding the Hungry while Serving God's Grace." The mission statement for the Community Soup Bowl is: "We seek to provide a warm & inviting atmosphere by opening our doors 7 days a week to welcome & feed the hungry of Tuscaloosa." Volunteers arrive each weekday in time to serve the meal between 11:00 am and 12:50 pm.
 While substantial financial and volunteer support still comes from the five founding churches, the Tuscaloosa Community Soup Bowl is blessed to receive monetary and volunteer support from countless others that help ensure the continuation of this ministry. Volunteer and community support are critical to the success of the Community Soup Bowl. Please consider sharing your time, food and money to feed hungry people in our city.

Mission Statement  -
We seek to provide a warm, inviting atmosphere by opening our doors seven days a week to welcome and feed the hungry. We seek to offer volunteer opportunities for the Christian Community of Tuscaloosa as they act as the hands and feet of Christ.
Ways to help support the Community Soup Bowl
•   Monetary donations made payable to Community Soup Bowl and mailed to P.O. Box 2277, Tuscaloosa, AL 35403
•   Organize a canned food drive
•   Follow us on Facebook and Twitter to stay informed
•   Call us at 205-752-2421 to volunteer during a weekday lunch
•   Assemble a weekend team to cook and serve.
•   Invite Amy Grinstead to speak to your group.
---
---