The Heart of Homeschooling

Mar 01, 2015 04:58PM, Published by Kitty, Categories: In Print, Family, Today
---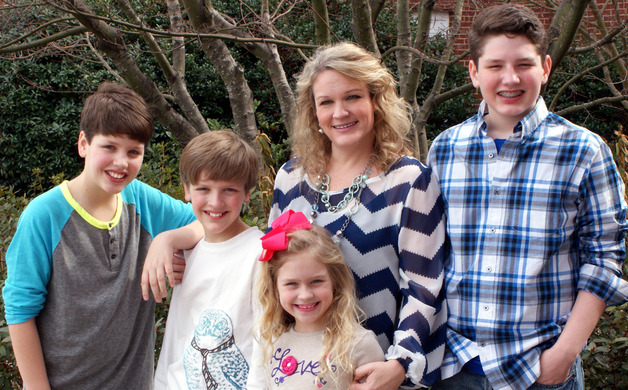 ---
I can't lie.   This semester of homeschooling has been the toughest yet.  We started our school year the same day as public school with the idea of being somewhat settled into our school routine before our new addition arrived.   Our precious daughter, Oaklee, was born into our sweet, yet beautiful, chaos on September 4, 2014.  The plan was to take a short school hiatus and enjoy our babymoon while everyone adjusted.  We were knee-deep in football/cheer season, in which my husband and I both enjoy the honor of coaching our kids' teams.   The baby was only a few weeks old when we received devastating news from family.   My brother was in critical condition, and we needed to make the trip home as soon as we could.   We drove to my hometown of Hattiesburg, MS, mid school week to visit, and then returned home, only to receive the painful call from my mother to tell me of his passing.  We rushed back to Hattiesburg.  A month later, we were back in Hattiesburg, this time to lay my grandfather to rest.  On top of all our loss, my sweet pink bundle has seemingly mistaken her car seat for a medieval torture device.  It's been rough, y'all.
At this point, if my children had been in public school, they would have been way behind.   We simply adjusted our schedule and kept working as much as we could.  Knowing that this year might be hectic due to the baby, I had ordered distance learning for our curriculum.  In each subject, my children watch DVDs of real teachers, instructing them from a personal classroom environment.  There's a short daily lesson followed by practice work and intermittent tests.  My job is to provide all the correct supplies, be available for questions, and to grade daily work and tests.  In our previous years of homeschooling, my job has been as the primary instructor…reading to them and teaching at our dining room table.  This DVD business is much, much different, and, at times, I feel so distant from what the kids are actually learning.   This must be why they call it distance learning?   Anyway, I am thankful that this option exists for situations just like ours.   (You can check out our distance learning curriculum at BJUpresshomeschool.com.)
One late night, I was questioning my daughter about her school work as she sat by my bathtub, while my husband jostled around a hungry newborn, whose cries urged me to hurry up.   I said, "Baby, are you learning anything?   Can you tell me about your science and what you are studying?"    Excitedly, she broke into all kinds of explanations about landforms and climates.   As I listened to her, I breathed a long sigh of relief and said a thankful prayer in my heart.   I already knew they had been learning something this semester, although the bulk of what they've learned isn't on any grade-level list.  My older sons are excellent with their baby sister.   They have learned to change diapers, calm a fussy spell, install car seats and put together miscellaneous baby gear.  They can put together breast pump supplies and pack a mean diaper bag.  I'm super proud of their budding fathering skills.   My children have learned autonomy in their studies.   They've had to follow a schedule and keep up with their own work.  Tonight, after coming in from basketball practice, my daughter headed to her school area to finish her spelling without me saying a word.   I'm thankful they are disciplined and their love of learning keeps them on task.
While times have been stressful and sorrowful, we have been able to find strength in each other.    On a particularly hard day, my oldest son turned in a Bible assignment that had asked him to write a short devotional.  Here's what he wrote:
"Have you ever worn a backpack?   Chances are, you have.   Have you carried a backpack so heavy that you felt your shoulders would fall off?  I know I have.   There is no better feeling than taking that backpack off your shoulders after a long, hard day.   Little do we know, we carry a second backpack.  No, this one doesn't hold school books.   It holds our sins.   Whereas we can take our physical backpack off, we cannot take our spiritual one off by ourselves.   Only God can perform this action,  and only if we ask Him.   In Matthew 11, God says, 'Come to me, all who labor and are heavy laden, and I will give you rest.'  Have you asked God to remove your spiritual backpack?"
God used his writing to speak to me.   My backpack contains sin and stress, and what a relief to know I can just take it off and hand it to the Father!  I'm praying the New Year brings peace and joy for our household, as well as for those in our community.  Here's to happy homeschooling in 2015!
 Bio:    Terra Kittrell is a stay-at-home and homeschooling mother of Kaleb, 15, Chandler, 13, Ty, 11, Ramsi Kate, 7, and Oaklee, 4 months.  She and her husband, LaTrelle, live in the Northside community and are members of Church of the Highlands. 
---
---
---