Tuscaloosa Children's Theatre presents

Apr 07, 2015 01:28PM, Published by Kitty, Categories: Family, Today, Community
---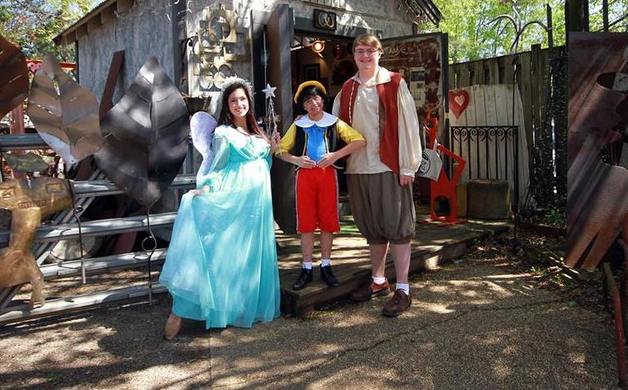 ---
Disney's My Son Pinocchio, Jr.
By Adam Miller, Director
Elisabeth King Photography

How many times have you been told that your nose is growing?  Have you ever been offered a deal with "no strings attached?" Did you ever wish upon a star or let your conscience be your guide?  Thanks to Walt Disney, the fairytale of Pinocchio has become so commonplace that we reference it without even considering the source.  Pinocchio's story is a cautionary tale for young people, intended to instill values such as honesty, loyalty, diligence, and personal responsibility.  There is also a lesson here for parents, though, and that's what this new retelling of the story reveals.
When Tuscaloosa Children's Theatre (TCT) Artistic Coordinator Drew Baker asked me whether I'd be interested in directing Disney's My Son Pinocchio, Jr. last fall, my answer was a resounding, "Yes!" My elder  son, Kai, has been in several TCT productions, so I was already very familiar with the amazing talent and strong rehearsal and production values of TCT.  As the managing director of Theatre Tuscaloosa, I spend all day, every day knee-deep in theatrical production, so it was only natural that this opportunity would be an exciting one for me!
In preparing to direct, the first thing I did was to consult the source material.  No, not the original Disney movie – the original stories by Carlo Collodi.  This Italian author originally published Pinocchio's adventures as a series of short newspaper pieces that were later compiled and expanded into a single children's book in 1883.  I downloaded an English translation to my e-reader and enjoyed sharing the stories with my younger son, Quinn, each night before bed.  We were surprised to learn together that within the first few chapters, Pinocchio had squashed a talking cricket (who becomes Jiminy Cricket in Disney's version) and encountered a fairy with blue hair (the Blue Fairy in modern retellings).
My next step was to learn more about how Disney's My Son Pinocchio, Jr. was developed.  Our production is an adaptation of a made-for-television movie called Gepetto.  The TV-movie aired in 2000 and featured Drew Carey in the title role and Julia Louis-Dreyfus as the Blue Fairy.  In the tradition of shows like Wicked and Rosencrantz & Guildenstern are Dead, Gepetto flips the familiar story of Pinocchio on its ear, and we hear the tale from Gepetto's point of view.  This time our lonely toy maker is surrounded by parents he judges as being less-than-worthy based on the behavior of their children in his toy shop.  Only after Pinocchio is brought to life does Gepetto learn that parenting isn't nearly as easy as it looks.  Given the explosion in popularity of Disney movies being adapted for Broadway, Gepetto was given a facelift and became My Son Pinocchio.  The "Junior" in our title means that this version is for actors 18 and younger.
Our production features two of the most well-known songs from the original Disney movie: "When You Wish Upon a Star" and "I've Got No Strings."  Along with these two classics, Disney introduces new songs including "Toys," "Satisfaction Guaranteed," and "Just Because It's Magic."  Our cast has been working tirelessly under the musical direction of Merry Livingston to make these songs ones you'll be singing long after you've left the Bama Theatre.  Meanwhile, choreographer Ashlyn Lambert has been teaching them  moves that will both delight and surprise.  You'll also be amazed by our whimsical costumes, courtesy of designer Janelle Heinrich, and our marionette-theatre-like set, designed by Brad Lee.  Much of the show's "magic" will be courtesy of props mistress Cyndi Wilson and lighting/sound designer David Jones.  I don't know what we'd all do without our amazing stage manager, Meredith Parr, who is doing an incredible job as she ensures that all 78 of our cast members are in the right place at the right time!
Please join us for the magical, musical journey that is Disney's My Son Pinocchio, Jr.  Kids will love the wonder of this delightful story, and grown-ups might just learn something, too.  Our show runs April 24-26 at the Bama Theatre.  Find tickets and more information at www.tuscaloosachildrenstheatre.com.
---
---