May/June 2015 Issue featuring the TPL

May 07, 2015 08:26AM, Published by Kitty, Categories: In Print, Family, Today, Community
---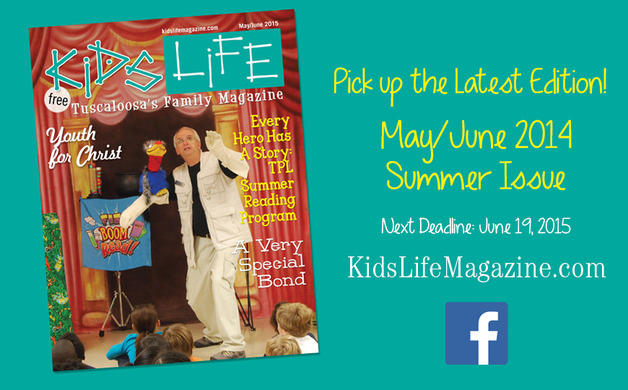 ---
 EVERY HERO HAS A STORY!   
The Tuscaloosa Public Library Summer Reading Program 2015
by Carolyn W. Ezell
photography by Vince Bellofatto

     What's black and white and red all summer?  A sunburned zebra, of course.  And that uncomfortable animal will be one of the few things you probably won't find at the Tuscaloosa Public Library during TPL's 2015 Summer Reading Program.  You will find a live sloth, turtles, frogs, snakes, owls, hawks, a magician, a ventriloquist, puppets and percussion musicians who play unusual instruments such as kitchen equipment.  According to TPL's Assistant Director of Public Services Pamela Williamson, the Iron Giant Percussion musicians also play needles of cacti which she reports sound much like a harp. 
 This completely free summer program kicks off Tuesday, June 2nd, and has three separate but related themes tailored toward the interests of children, teens and adults.  All of these encourage participants to pledge to read a self-defined number of books over the summer months, and all offer incentives, such as thermal lunch bags, for meeting one's goals.  Additionally, participants will receive a free book of their choice by the program's end on July 30th.         
     This year the children's program is entitled, "Every Hero Has A Story!"  In addition to the above activities, child enrollees will have the opportunity to meet local heroes, enjoy storytelling, and create their own superhero cape and mask costumes.  McWane Center staff will provide the first performance of the summer, "Super Hero Science."  They will explore the science behind superhero powers.  How does Spiderman stick to buildings' sides, anyway?  How does Superman fly?
 An abbreviated calendar for the summer's events is offered below.  A more extensive description can be found by referencing www.tuscaloosa-library.org/summerreading or by phoning the library, 205-345-5820.         
 June 2/3                  McWane Science Center "Super Hero Science"
June 9/10                Author Julia Heckathorn of the Search for the Hidden Clover book series
June 16/17              Ventriloquist and Balloon Artist Ron Lighty with Jason & Company
June 23/24              Magician Tommy Johns
          June 30/July 1        NO PROGRAMS
          July 7/8                    TPL Superhero Academy – Be Your Own Superhero
          July 14/15                Tuscaloosa Heroes
          July 21/22                Music from Iron Giant Percussion
          July 28/29                Alabama 4-H Animals from the Columbiana refuge
     Each of these performances will be offered four different times in different library locations.  On Tuesday mornings it will be offered at the Weaver Bolden branch of the library, on Tuesday afternoons and Wednesday mornings at the Main branch, and on Wednesday afternoons at the Brown branch.  Vince Bellofatto, Director of Public Relations and Communications for TPL, reminds all patrons that although the Brown branch is located on the second floor of the PARA building, all library programs are open to the public and one does not have to be a member of PARA to attend.   All performances are family oriented and adolescents and adults are welcome.  Children under twelve must be accompanied by a responsible adult.
     Four new presenters have been added this year.  One of the most intriguing is Author Julia Heckathorn who lives in Virginia with a host of exotic animals including a sloth, an anteater, and a kangaroo.  Ms. Heckathorn and her 'friends' have been featured on NBC's Today Show, in People Magazine, The Washington Post, The London Times, and on Voice of America.  She reports that the proceeds from her books' sales and appearances go toward saving the pygmy sloth from extinction on Escudo Island, Panama.  Ms. Heckathorn describes a passion and commitment for making learning interesting and interactive for children, and for sparking a love for reading and for the environment in those whose lives she touches.  Reading about a sloth in a far-away rain forest is one thing, for example, but sitting in the same room with such an unusual creature forever widens a child's understanding of our natural world.  Mr. Bellofatto reports much satisfaction that library programming is able to offer such life-changing experiences to patrons in Tuscaloosa County.  He also has enjoyed watching children return to the program year after year, joining the Teen program as they mature. 
     The Teen program this year is "Unmask!"   It will include a strong technology component via Teen Tech workshops and the creation of unique personal superheroes, some in preparation of the next Cosplay event.  Creative writing workshops and the Teen Book Club will be held. 
     Adults will be treated to a presentation by Dr. Trudier Harris, author, during their program, "Escape the Ordinary."  This program will also place strong emphasis on genealogy, including a presentation by Dr. John Colletta.  Book discussion groups and additional author visits are planned.
     Gaming for All, Story Time, Superhero movies, and Lego Land are on the schedule throughout the summer.  This year, there will be a special log for mothers who wish to read to their infants.  According to Mr. Bellofatto and Ms. Williamson, the Summer Reading Program is part of the Collaborative Summer Library Program, which allows libraries to offer high-quality summer reading programs to children and families through pooled resources and efforts.  Additionally, TPL's Friends of the Library has provided funding and support to insure local programming is enriching and exciting.  Importantly, summer reading helps children maintain or sharpen skills while school is not in session.
     Sign-up for TPL's Summer Reading Program begins May 11th.   All persons who want to receive incentives must sign up at the library and will be asked to keep a log of books read during the summer months.  As all performances begin punctually, please arrive several minutes early.  Each performance runs approximately forty-five minutes in length with a fifteen minute question and answer period following.  While individuals do not need to sign up to attend performances, those wishing to bring groups will need to register.  Group registration is limited and for information related to this, please contact the library. 
     Last year, 7,100 patron visits took place as part of the Summer Reading Program, which has grown in popularity with each passing summer.   So, what REALLY is black and white and read all summer?  Books!  Thousands of them!  Come and join the fun! 
---
---