Seeing Failure in a New Light

May 27, 2015 09:13AM, Published by Kitty, Categories: In Print, Family
---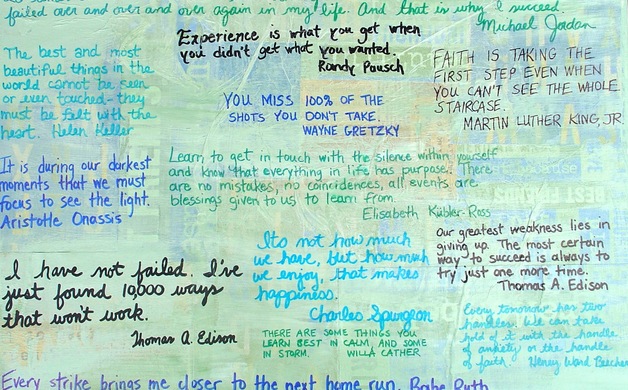 ---
  I recently attended a painting party where we worked on an abstract piece, one that left most of the creative decisions up to each painter. At first I was a little overwhelmed as visual art is not one of my strengths. How was I going to turn a blank canvas into a piece of art without any guidelines? In an effort to ease my anxiety I turned to what I am comfortable with: words. While others chose beautiful floral and still life scrapbooking pages to adhere to their canvases, I pulled the few pages that contained only letters and words.
     After allowing the background to dry we began the next layer of our piece: paint. Again, I barely know how to hold a paintbrush, much less how to use it create a piece of art. I thought about using some of the stencils provided but soon came up with a better idea – one that would later help me remember an important lesson about my painting experience. I would collect my favorite inspirational quotes about shortcomings and failures to write on my canvas.
     In the end, each artist's work was a unique expression of her own talent, personality, and taste. This made me think: why did I believe my lack of visual creativity made me less of an artist? Is this what I'm teaching my children – that their shortcomings are negatives? How can I help them understand they should focus on their strengths, not their weaknesses? As the popular saying goes, "Everyone is a genius. But if you judge a fish by its ability to climb a tree, it will live its entire life believing it is stupid." (1)
     I started making an effort to be a better role model in this area – to rise when I fall – and was pleasantly surprised. Using my children as motivation made the task easier than I had imagined. But I soon started wondering what else I could do to give my children the tools they needed to succeed in life when they are faced with failure. I wanted them to approach failure like Thomas Edison. Once while he was experimenting on a new battery his friend Walter S. Mallory commented, "Isn't it a shame that with the tremendous amount of work you have done you haven't been able to get any results?" Edison's reply still inspires today: "Results! Why, man, I have gotten a lot of results! I know several thousand things that won't work." (2)
     I turned to the scientific research on the subject which has shown one of the best ways to teach your children to see failure as a stepping stone instead of a stumbling block is to allow them to experience it. Novel idea, right? Well yes and no – it seems this used to be common, but in the last 40 years or so, our society has slowly moved away from "adult-centered" parenting to "child-centered" parenting. This approach advocates protecting children from failure because of the self-doubt it can create. The problem with this, of course, is when we send them out into the world, they are going to face failure sometimes. If we don't allow them to "practice" dealing with failure at a young age they certainly will not know the best ways to handle it as adults.       
     But how do we retrain our hearts and minds to allow them to fail when it hurts us more than it hurts them? We must first learn to see failure in a new light ourselves, to truly recognize that it is in their best interests. I believe the first step toward this goal is to dispel the myth that experiencing failure at an early age creates low self-esteem. This is supported by what many recent studies suggest: success builds self-esteem, not the other way around.    
     So, what good comes from experiencing failure at a young age when our self-esteem is developing? Below is a list of skills child psychologists say children can learn from experiencing failure early in life with us by their sides:
1. Tolerating frustration – dealing with failure gracefully
2. Knowing how and when to ask for help – admitting we can learn from others
3. Creative problem-solving – finding new ways to approach tasks
4. Perseverance – trying again, not being afraid of failure
5. Emotional resilience – "bouncing back" after failure
     If you're like me it won't take you long to realize these traits are worth the little bit of pain you experience when your children fall down or lose a game. And there are ways you can help yourself and your children through these times. When they experience failures, try sharing stories about similar experiences you or someone else has had. Find books that teach valuable lessons about failing.
     If your child is eliminated halfway through a spelling bee, have no fear. Praise him for the hard work he did to get that far. Read a quote like this one by Babe Ruth: "Every strike brings me closer to the next home run." (3)
     Of course there will always be those times when you will want to intervene – specifically when allowing your child to fail will cause him great humiliation. If he leaves his science project at home the day of the science fair, it's okay to take it to him. But the library book he left on the kitchen counter – you will probably be doing him a favor by leaving it right where it is.
(1) Many sources credit Albert Einstein with this saying although there is no substantial proof he said it.
(2) From Edison, His Life and Inventions by Frank Lewis Dyer
(3) As quoted in Weird Ideas That Work: 11 1/2 practices for promoting, managing, and sustaining innovation (2001) by Robert I. Sutton
Jane Barron taught elementary school until she had her two boys, now ages 9 and 13. She is currently a stay-at-home mom and freelance writer.

---
---