Heart of Homeschooling: Socialization

Jun 09, 2015 08:22PM, Published by Kitty, Categories: In Print, Family, Today, Community
---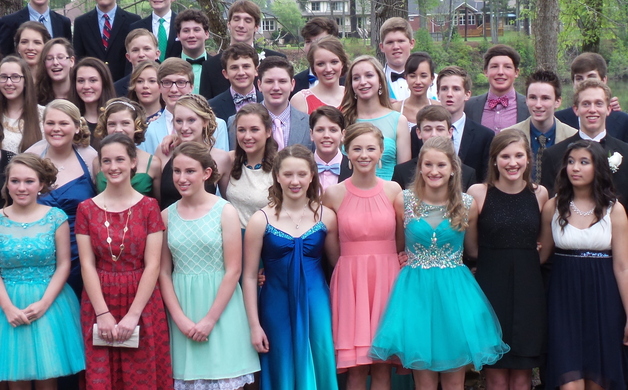 ---
"Aren't you afraid they will turn out weird?"
It's funny, but more than one person asked me this question when I told them I would be homeschooling my children.  At first, I didn't really know how to respond.   At that point, I wasn't far enough into homeschooling to know how they would socialize.  I had spoken with a few friends that already homeschooled, and I saw their kids as happy, well adjusted children, and prayed that God would provide our family with the same.  
First, let's define socialization.   Dictionary.com states that socialization is "a continuing process whereby an individual acquires a personal identity and learns the norms, values, behavior, and social skills appropriate to his or her social position."    Aquires personal identity.    Learns norms.   Values.   Behaviors.   My heart and my Bible told me that these things are learned at home.   Proverbs 1:8-9 says "Hear, my son, your father's instruction, and forsake not your mother's teaching, for they are a graceful garland for your head and pendants for your neck."     In Chapter 31, when a wife of noble character is being described, it says, "She speaks with wisdom, and faithful instruction is on her tongue. She watches over the affairs of her household."   When my children were in public school, they did not face extreme forms of bullying, but I did feel like I was constantly battling the differences between the instruction they were learning at home versus the influence they received from their peers.   Now, looking back, I truly believe that five years of age is way too young for so much outside influence on their personal identity. 
There's a stereotypical misconception that homeschoolers are stuck in their houses all day, wearing long dresses, baking bread with their mother, or chopping wood for their father.   While all of these things are great if that's your choosing, our homeschooling life is WAY different.   Yes… their school work is here, but for us, that's only Monday through Thursday.   Fridays are spent with a group of friends at co-op.   We attend King's Co-Op, and it's a pretty large operation.   There, my younger kids enjoy enrichment classes with peers their age.   My oldest son is in 9th grade, and he participated in a Biology lab this year including dissections and lab reports for credit.   The classes are taught by other homeschooling parents, and my children love it there.   There are field trips and get-togethers.   Some of our friends participate in other similar activities like THE sports and Classical Conversations where they are building strong friendships.  My oldest two boys have cell phones, and they stay in constant contact with their homeschooling buddies via texting.   Sometimes I have to step in a bit and curb the chatting, but I love the friends they've made, and I'm glad they have these positive influences during their school days.  The same sons also attended Spring Formal last week, the homeschool equivalent of prom.   There appeared to be over a hundred kids there!  Through these social events, my kids are forming the same bonding friendships they would develop in a public school setting. 
A friend reminded me that, in the future, my kids will have to live in the "real world."   This real world includes negative influences, difficult people, bullies, and sin.   I'm very aware of that fact, but I want them to be firmly grounded in who they are before they tackle this evil world in which we live.  I want to pour as much positivity and purpose in their hearts as I can, so that they are better equipped to take on the world and the tasks God has set before them.   I can only imagine how much more difficult it would be for them to be positively molded in a negative environment.  I, too, live in the real world.   I sometimes do have to deal with difficulties, but by surrounding myself with Godly people and teachings, I have the strength to be the person God is calling me to be.   Romans 12:2 says, "And do not be conformed to this world, but be transformed by the renewing of your mind, that you may prove what is that good and acceptable and perfect will of God."
Let's be honest.   There's gonna be weird kids.   There's gonna be popular kids.   There's gonna be a whole bunch who fall somewhere in the middle.   Some will be homeschooled and some will be traditionally educated.   When I was growing up, the most popular person was one who was nice to everyone, smart, good looking, and successful.    Today, it seems that sometimes popularity includes bullying, degrading and excluding of others, experimenting with alcohol and controlled substances, and a disrespect for adults and authority.  I've decided that if weird means seeking God and His Will, respectful to adults and peers alike, kind and sensitive to the needs of others, self motivated, determined, confident, and humble…. I sure am praying for them to turn out weird!
About the Author:  Terra Kittrell is a stay-at-home and homeschooling mother of Kaleb, 15, Chandler, 13, Ty, 11, Ramsi Kate, 8, and Oaklee, 8 months.  She and her husband, LaTrelle, live in the Northside community and are members of Church of the Highlands.  You can email her at tjk627@gmail.com.
---
---