July/August 2015 Issue

Jul 08, 2015 05:42PM, Published by Kitty, Categories: In Print, Community
---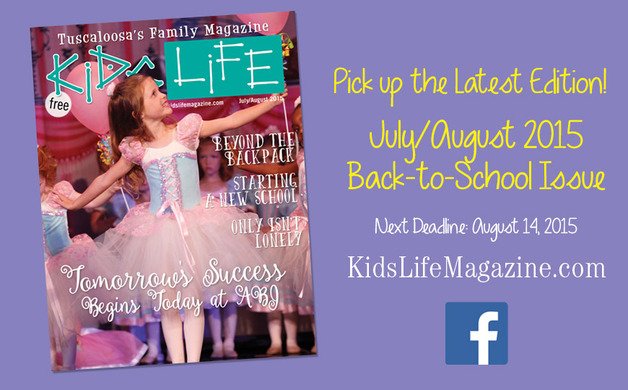 ---
Tomorrow's Success Begins Today


It isn't any wonder why dancers from all over West Alabama choose the Academy of Ballet & Jazz (ABJ) year after year for their dance training. Providing exceptional instruction to her students in a loving and nurturing environment has been the number one priority since Susu Hale Prout first opened ABJ in 1977. Each student who walks through the doors of ABJ is given individualized attention and parents can feel confident that their children are being treated like the special gifts that they are. A focus on honing in on students' particular needs and strengths helps create an everlasting love of dance within each student. The special relationships created inside the studio walls often last a lifetime.
One of those special bonds began 15 years ago, when 4-year-old Rebekah Gaither enrolled in her first dance class at the Academy of Ballet & Jazz. Rebekah's mother searched for a place where her young daughter could engage in physical activity. ABJ's Creative Movement class, a ballet and tap combination, was a perfect fit. What Rebekah's mother did not realize was that her daughter would not only receive the activity she was hoping for, but that her child would fall completely in love with dance.
As she got older, Rebekah's dedication to dance grew stronger. She and her mother would make the 45-minute-drive from Centreville several times a week to ABJ where Rebekah thrived in her ballet, tap, jazz and contemporary classes. At the age of 9, she was asked to join ABJ's company where she competed with other dedicated dancers from the studio. At the age of 14, Rebekah became a student teacher in ABJ's Apprenticeship Program. In this program, students who are interested in learning how to teach dance get the opportunity to work alongside the talented faculty and assist younger students in classes. On May 8, 2015 Miss Gaither starred as Belle in ABJ's musical ballet Beauty & the Beast.
"Dancing at ABJ has been one the best experiences of my life," Rebekah says. "They have opened doors to experiences I never dreamed of…training under master teachers from around the world, traveling all over the country with the company, making so many friendships and instilling in me that if you work hard at something anything is possible."
Although Rebekah may be graduating from ABJ, she is sure to carry with her all that she has learned during her time there. Most recently, Rebekah was selected to join The University of Alabama's Crimson Cabaret dance team.
"It is so wonderful to see your students go after their dreams and to know that you had a part in helping them to achieve their goals," Ms. Susu says. "We are all so very proud of Rebekah and will be cheering her along at UA."
ABJ Faculty
Susu Hale Prout has trained hundreds of dancers, many of whom have chosen dance as a career path. Her highly trained staff, who have all acquired a college degree or have danced and taught professionally, work together to create the most beneficial and enjoyable classes for their students ages 2.5-18.
Creative Dance Program
Designed for dancers ages 2.5-6, Ms. Susu's hand crafted preschool dance curriculum is the perfect combination of structured technique and self-expressive creativity. ABJ's weekly one-hour Creative Movement and Pre-Combo classes are composed of ballet, tap, jazz and tumbling. ABJ also offers an upbeat, high-energy Hippity Hop class for students ages 4-6. With their extensive schedule, ABJ is a perfect place for your youngest children to explore the magical world of dance.
"As a parent, I couldn't be happier about the skills my daughter has learned in her dance class. As a toddler, her coordination has improved and what she has learned is being retained. We love her teacher and Emma just adores dancing! –Catherine Ikard MD, Parent of 3 year old Emma
Elementary Program
Six-10-year-old students can find the perfect place in ABJ's Elementary Division. They offer several options of classes at various levels to suit each dancer's desires and needs. Classical Ballet, the foundation of all dance styles, is recommended for all students. Aspiring dancers may choose from ballet, ballet/jazz combination, tap, hip hop, musical theater, and contemporary classes can help students to achieve their goals in dance.
"It's not the best dancer that impresses me the most but the best student of dance, the one that shows me that they want to be the very best they can be more than anything else. How a dancer approaches class is a window to their character, a reflection of the kind of life they want to live and person they want to be."- Francisco Gella, International Master Teacher & Guest Choreographer at ABJ
Spring Performances
Each year the Academy of Ballet & Jazz presents six amazing productions at the historical Bama Theatre in downtown Tuscaloosa. Dancers at ABJ are given the opportunity to showcase all their hard work and training through professional-caliber performances. No matter what age, ABJ's dancers always have an incredible experience at the spring performances that include exquisite costumes, professional sets, and souvenir programs.
"I am in awe of and totally honored by all ABJ does."- Crosby Thomley, Legendary Tuscaloosa Photographer & Honorary ABJ Guest Performer


Registration
The talented faculty and friendly staff at ABJ are thrilled to start the 2015-2016 season of dance. ABJ offers over 70 classes per week to dancers ages 2.5-18, in ballet, jazz, tap, hip hop, musical theater, and contemporary. The state-of-the-art facility includes three spacious studios with observation windows and special sprung flooring created to protect dancers' from injury. Susu's Tutus, an adorable dancewear boutique, is located onsite for all your dancer's apparel and accessory needs. ABJ offers easy online registration at their updated website, danceabj.com. Feel free to give them a call at 205.752.5124 or visit the studio. One of their helpful staff members will gladly assist you and answer any questions you may have.
Pictured Above: 
Top: Rebekah as Belle in her final year at ABJ 
in the 2015 Gala Performance of Beauty and the Beast.
Middle: Rebekah and Ms.Susu after her first recital at ABJ
Bottom: Ms.Tessa with one of her preschool classes at ABJ.

---
---