Kentuck's Call for Artist

Jul 17, 2015 03:22PM, Published by Kitty, Categories: Community
---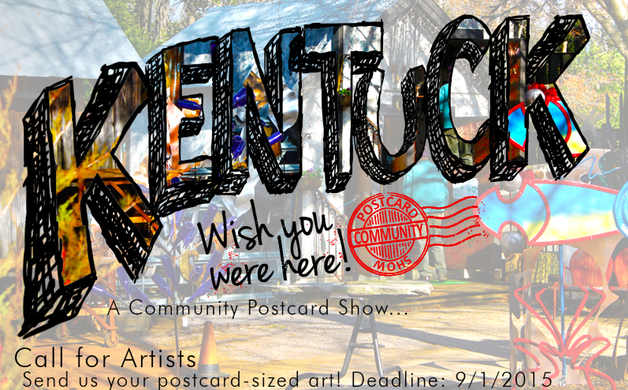 ---
Kentuck Community Postcard Show September 3-25, 2015
DEADLINE FOR ENTRY:
September 1, 2015  
1) Create a postcard-sized original piece of art.
 Standard postcard sizes are required: 6 x 4 inches MAXIMUM (see detailed size, medium & material requirements below).
2) Include complete information on the back of your card:
a) name, b) address, c) retail price, and c) artwork title.
 This will be used to print a guide to the exhibit, and to send your payment to if your postcard sells!
3) Mail your postcard in an envelope via Regular First Class Mail
to the following address:
Kentuck Art Center
503 Main Avenue
Northport, AL  35476
Or
bring it by the office in person, Tuesday – Saturday, 10AM – 4PM. Kentuck Office, Clarke Building, 1922 5th Street, Northport.
ARTWORK REQUIREMENTS
ORIGINAL WORK:
Postcards must be signed, handmade originals. A printed promotional postcard does not constitute an original piece of art and will not be accepted. And please, nothing perishable, toxic, or otherwise harmful.
DIMENSIONS/FORMAT:
This is an exhibition of postcard-sized art, so your artwork should resemble that (art on one side, your info on the other). For the overall look of the exhibition, it's important that the cards are close to each other in size. This is key to including as many cards as possible. The maximum size allowed is 6 x 4 inches. Please try to stick to standard postcard sizes/proportions. Slightly smaller versions are fine.
NO JURY, NO THEME (OPEN EXHIBITION):
Any professional or amateur artist 18 years or older in reach of our voice is invited! Although there is no jury and no theme, please send your best work. As children may be present, we ask that you consider making the subject matter appropriate for all audiences. The definition of "appropriate" is up for debate, but please use common sense.
NUMBER OF SUBMISSIONS PER ARTIST:
Each artist may send up to 6 pieces of artwork. The number of cards shown will depend on overall participation and available space. Our goal is to show one card per participating artist, and cards may be rotated, or replaced as they are sold. Beyond that, we cannot say. Please enter early.
DEADLINE & FEES
ENTER EARLY:
Postcards must be received at the above address by September 1, 2015 to be included in the exhibition. Late entries will not be accepted. Allow enough time for the USPS to get your entry to us! If there is a problem or concern, please contact us at kentuck@kentuck.org.
NO PARTICIPATION FEES:
There is no fee to enter.
ARTWORK PRICING:
You set the sale price and let us know. You may mark the piece "NFS" if the piece is not for sale. You will receive 70% of your sales from the exhibit. Kentuck will receive a 30% commission. Payments for sales will be processed no later than 30 days after the closure of the exhibition.
SHIPPING
SHIPPING METHOD:
Please ship your work, well protected in an envelope, via regular first class mail.
LOCALS:
Drop your work off at our office at 1922 5th Street in Northport, AL.
 WHAT HAPPENS NEXT
ARTIST RECEPTION:
There will be an artist reception at the exhibition opening September 3, 2015 from 5PM to 8PM. This reception will be held at the Kentuck T.E.M.P. Gallery in the Clarke Building at 1922 5th St, Northport, AL, 35476. Y'all come, and bring friends!
AFTER THE EXHIBITION:
Include a self-addressed stamped envelope with your artwork if you want the work returned after the exhibition, or pick the work up by October 9, 2015. Any unclaimed art after this date will belong to Kentuck.
BOOK:
It's possible that a book (or other publication) may be produced. This will remain at the discretion of Kentuck, time and resources allowing.
LAST WORD
TERMS OF USE:
By participating in this exhibition, you agree to our terms. This means your art could be used for promotional purposes, or included in a book or publication which may be sold to help raise funds for Kentuck. If you do not agree to these terms, please refrain from participating.
Thank you for participating in Wish You Were Here.
We look forward to receiving your beautiful postcards!


Questions? www.kentuck.org/postcards
---
---