September/October 2015 Issue

Sep 02, 2015 08:40PM, Published by Kitty, Categories: Teens & Tweens, In Print, Community
---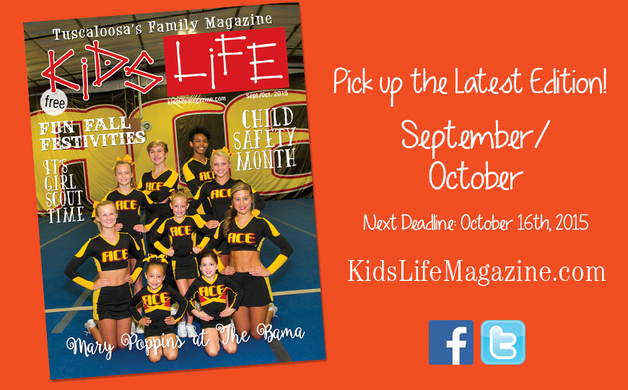 ---
 ACE of TUSCALOOSA - MORE THAN CHEERLEADING
ACE of Tuscaloosa, formerly known as Cheer Authority, West Alabama's Premiere Cheerleading Training Facility, has been training young cheer athletes in Tuscaloosa for many years now.  It offers training in tumbling, stunting and cheerleading for all ages and levels.  With members hailing from as far as Fort Payne, Thomasville, Birmingham, and Mississippi, ACE of Tuscaloosa is home to many cheerleaders with former members having gone on to cheer at schools such as The University of Alabama, UWA, UAB, USA and Shelton State just to name a few.
Not only is ACE of Tuscaloosa home to the ACE Tribe competitive teams, but also many area schools use the gym as their primary location for advanced instruction.   Some of these schools include Echols Middle School, Duncanville Middle School, Sipsey Valley Middle and Varsity teams, Brookwood Middle and Varsity teams, and Hale County High School.  The 12,000 square foot facility, along with cutting-edge instruction, and a dynamic atmosphere of encouragement makes ACE the ideal choice.
The staff and athletes at ACE of Tuscaloosa are more than just cheerleaders, they are a family.  Proof is a statement by Jessica Wilson, "For the last 5 years ACE of Tuscaloosa has become a second home to my girls. Christa Sanford, an owner of the gym, and her coaches are like family to us.  Being part of the ACE family has been a wonderful experience."  
As an owner, Christa Sanford, finds it rewarding to watch such strong relationships build.  Christa has a strong passion for the sport and has been a cheerleader since a young age.  Christa said,  "These athletes are like family to our staff, they believe in us as much as we believe in them.  Its an honor to watch them grow up and make their goals and dreams a reality. Not just through their skill or cheerleading, but as young people in life."
ACE of Tuscaloosa aims to provide top level instruction, but more importantly, life skills, values, and relationships that will last much longer than cheerleading! "One of our main goals in our competitive teams is to teach them the value of respect and leadership to help them grow as individuals outside of cheerleading. We also hope to teach that through commitment and dedication the athletes can do anything they set their mind to," says Christa.  The coaches have the same passion as these young athletes and it's so rewarding to watch them grow.  Another mother, Elayne Neubert, states, "My girls look to Christa as an older sister.  She has taught them much more than just cheerleading.  They are learning about leadership, responsibility, being a team member, and commitment.  I am certain all of these traits will help them excel in life and a career."
Bill and Lori Colburn write: 
Our experiences with this gym began when our youngest child, Sydney, was 2 years old.  We enrolled her in a basic tumbling class.  At four years of age she joined the Cheer Authority Wizards competitive cheerleading squad.  Just a few months after tryouts, our oldest daughter, Ashley, was in the gym working on her tumbling when Coach Christa, needing a replacement for her senior level four squad, asked her to join the team.  Ashley continued competing throughout her high school years.  She benefitted from her time on the squad in many ways in addition to the obvious improvement of her cheerleading skills. Her confidence and self-esteem were boosted.  She met girls from other schools and developed friendships that lasted long past her days competing. Sydney, at three years old, soaked up all the instruction her coaches could give.  She wanted to be in the gym every day.  She amazed everyone with her skill level at her young age, learning a back handspring before the age of five and a standing tuck before her seventh birthday!  As in any sport (and if you are one who believes cheerleading should not be considered a sport, I could do an entire article proving otherwise), acquiring skills is just part of the equation.  To be successful requires developing a mental toughness.  We've hit plateaus.  We've had struggles.  But with good coaching, our daughters progressed through difficult times to higher levels.
Coaching is the key.  Over the many years we've been with ACE, formerly Cheer Authority, we have been blessed with excellent coaches.  The level of instruction cannot be matched.  Although we've had numerous coaches, there is one constant, Christa Sanford.  She managed the gym when we began years ago and is still there today as the owner.  Christa coaches the Shelton State Cheerleaders, winners of eight consecutive national championships and shooting for their ninth!  She has coached the US National team for two years and is very well known and respected in the cheerleading community.
Christa sets the bar high for herself, her coaches, and her teams.  What sets her apart is her genuine concern for her athletes.  She wants them to grow and be the best they can be, not just as cheerleaders but as people.  She talks with them about things such as how to present yourself to others, appropriate behavior, setting goals, importance of academics, college searches, etc.  In other words, she encourages the athletes to be well rounded, successful people.  These are life lessons.  I can't think of a better environment for my daughter as she matures into a young woman.      
 Although most of this article has been about competitive cheerleading, don't think that is all that this gym is about.  No one should feel intimidated about coming here.  The coaches work with high school squads.  They provide tumbling classes for individuals at all skill levels and private lessons for those wanting extra attention.

ACE of Tuscaloosa also offers classes designed for all ages and skill levels ranging from preschool to college-level athletes.  There are also private lessons available for extra personal attention.  ACE of Tuscaloosa is also the perfect place to fine-tune your skills in time for cheerleading tryouts at your school. 
ACE of Tuscaloosa is the place to be if you not only want to learn to cheerleading but to be successful in life. 
ACE of Tuscaloosa, is located at 2517 29th Street, Tuscaloosa, Alabama 35401.  You can reach them by phone 205-633-1616 or email christasanford@acetribe.com.  Check out the web www.acetribe.com, or find them on facebook or instagram.  
Article written by Elayne Neubert, Jessica Wilson, and Bill and Lori Colburn
---
---