September is Child Safety Month

Sep 07, 2015 07:50PM, Published by Kitty, Categories: Health+Wellness, In Print, Family, Today
---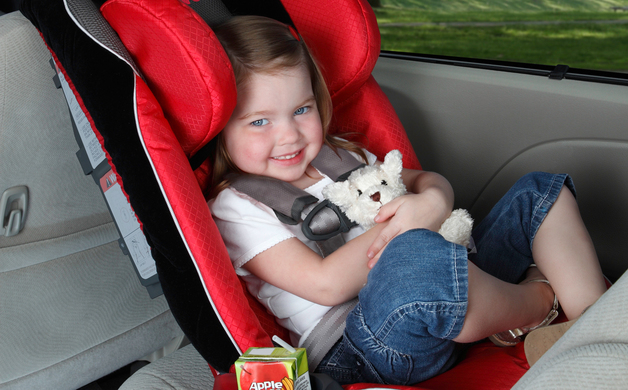 ---
by: Allana Pinkerton, Global Safety Advocate for Diono
How many car seats does one family need? Because there are so many car seats to choose from, selecting the right one may seem a little overwhelming. It's important to know that car seats are required by law when transporting your child in a vehicle. All car seats must meet the same federal safety standards. Parents can be sure that all seats on the store shelf meet these minimum requirements. Typically, more expensive car seats do have added safety features above and beyond the federal safety standards. Or they may have added convenience features, higher quality fabrics or unique designs.
The laws in Alabama do not require a child over the age of six to be in a car seat. However, it is important to know a child older than six is safer in a car seat or booster seat. They typically do not fit properly in just a seat belt and may incur serious injury during a car crash. In this case, go above what the law requires in order to keep your little one safer in a car. http://cpsalabama.org/2006%20Alabama%20State%20Law.pdf
Children grow at different stages and ages when it comes to fitting them properly in a car seat.
·       Infant Only Car Seats: Typically fits newborn to 1-1/2 year-olds depending on the model. Secured in a base or on its own with a seat belt or lower connector strap installation. Only faces the rear of the car.
·       Convertible Car Seats: Typically fits newborn to 3-4 year-olds depending on the model. Faces the rear or the front of the car. Rear-facing is five times safer, even for toddlers.
·       Combination Car Seats: Typically fits 2-7 year-olds. Only faces the front of the car. Use harness to maximum weight and then converts to booster mode.
·       Booster Seat: Typically fits 6-12 year-olds. Use only the adult seat belt to secure the child. 

·       All-in-One or 3-in-1 Car Seats: Typically fits newborn to 9 year-olds. They face the rear or the front of the car. Use the harness to maximum weight and/or height. Then it can be used as a booster seat with the adult seat belt securing the child.                  
As a general rule, when you install a car seat with an internal harness, they should be installed with either a seat belt or the lower connector straps, not both. The installation should be tight enough so the seat moves less than one inch side-to-side and front-to-back when you grab at the belt path. Help with installations is available in Tuscaloosa and Northport. Information can be found at http://www.safercar.gov/cpsApp/cps/ak/3/findfitting.htm?q_State=AL&q_Zip=#c_H
Here's a surprising fact about children and car seats: An average twelve year-old may still need to ride in a booster seat! It's important not to skip the booster stage. This is when kids start to debate the issue with you that they are not a baby. And they are correct. However, they are not adults either and seat belts are designed to protect adults properly.
 Myth buster! Car crashes are more likely to happen on the highway when cars are traveling faster. Actually, most crashes happen close to home and on rural roads. Busy intersections with stop signs and traffic lights also have a high rate of crashes.  Whether you are close to home or going on a road trip, it's important that you and your child buckle up for every ride.
Myth buster! When riding on an airplane, using a car seat is not necessary.
While there are no laws requiring car seats on an airplane, using one may keep your child safer during rough take offs and landings or during turbulence. Laws of physics do not change on an airplane. In fact, they increase to the point where it is impossible to hold on to your child. Not only will your child ride safer, but the two of you will be more comfortable with everyone riding in their own seat.
Nobody gets in a car and thinks, "Today I will have a crash." Prevention is the key so make it a habit to buckle up every ride. And remember, we have to sit tight to stay safe!
---
---