Moundville's Native American Festival Returns October 7-10, 2015

Sep 09, 2015 12:59PM, Published by Kitty, Categories: Family, Community
---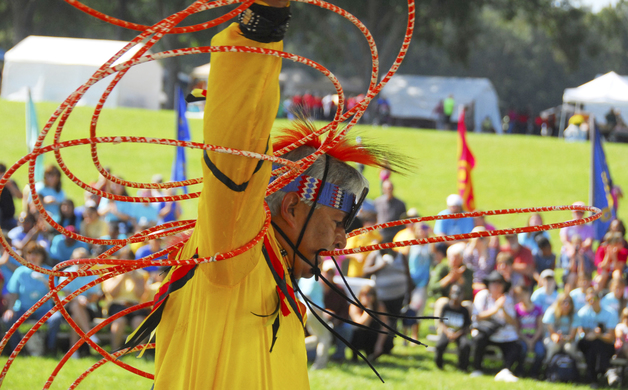 Attached PDFs
---
---
  Like the rest of UA, the Moundville's Native American festival celebrates homecoming this October 7-10, 2015. Now in its 27th year, most people participating in the festival have return to it time after time. The festival celebrates another type of homecoming as well. Cherokee, Muscogee, Choctaw, Chickasaw, Tuscarora and Alabama-Coushatta people, whose relatives were forcibly removed to Oklahoma or Texas in the mid 1800s.
Most Southeastern Indian people know that the mounds were built by their prehistoric ancestors. Although archaeologists don't know what these mound builders called themselves – they refer to both the culture and the time period as Mississippian. Stories told by traditional people, both living and from oral histories recorded by the United States Bureau of American Ethnology, frequently relate to symbols found on Moundville pottery.
Formerly from the Native American Music Award winning group Ulali, Pura Fé Crescioni is a Tuscarora guitarist, singer and songwriter. While she usually plays the blues with a native twist, she also loves to compose and sing songs with a very traditional feel. Utilizing computer play back equipment, she layers her voice and other sounds together, producing haunting melodies that echo the voices of the ancients. Although a few Tuscarora remain in North Carolina, many were forced to leave and relocated in New York and Canada.
The Chickasha Hithla dance troupe (Oklahoma and Texas) perform stomp dancing, one of the oldest and most traditional types of dances for many Southeastern Native American tribes. Chikasha Hithla literally translates to "Chickasaw dancers." Initially performing at the 2012 festival, the group officially formed in 2013 to educate, preserve and restore Chickasaw traditions. They've been coming to the festival ever since, most especially because of their rapport with their audience. According to group leader Winn Harjo (Chickasaw – Seminole – Ada, Oklahoma), "The first time we came to Moundville, everyone enjoyed the festival and the beautiful site and museum. Now, we have to turn away people that want to dance with us there because so many of them have heard us talking about how great it is."
The Mystic Wind Choctaw Dancers also been coming to the Moundville Native American Festival since 2012. Led by Daniel Issac of Choctaw, Mississippi, the group performs Choctaw social dances, many of which imitate animals. Issac's group also demonstrates a lively kind of drumming frequently found at powwows, a popular Native American event that focuses on Indian culture in general. He also bring
Rebecca Alex (Alabama – Livingston, Texas) makes sophisticated jewelry from ground and polished semiprecious stones. Since she's retired, she's been able to join Lyndon Alec, a Coushatta is our favorite hoop dancer and one of our longtime performers. According to Rebecca, who's been to the last three festivals, "I'm always excited when we get to go to Moundville. The mounds connect me with who I am. We still have some relations in Alabama, so it really is a homecoming all the way around for us!"
Amy Bluemel will spin stories for visitors, both on stage and at the storytelling arbor nestled away by the park's recreated Indian Village. Amy is a member of the Chickasaw Nation of Oklahoma and lives in Joshua, Texas. Other performers include flutist/storytellers Billy Whitefox, Charlie MatoToyela, Jimmy Yellowhorse, Pura Fe and Sydney Mitchell.
Multi-talented Shell Nelson also shares Cherokee stories on stage, intermingling them with her original songs. When Nelson isn't on stage, visitors can see her living history display where she recreates herself as a noblewoman from around the 1300s – the time when Moundville was at its peak. Raised in the Kolanvyi Community, Paula is a multimedia visual/textile artist, performance artist, singer/songwriter and published poet. Her creativity lends itself well to her 13-year career as a living history educator as is evident through the quality of her displays and historical clothing. Well-known in the Southeastern Indian communities as a performer and songwriter specializing in composing songs and lyrics in the Cherokee language, Nelson has a discography of four CDs to her credit and she has won numerous awards for her art and publications. Most recently, she has received certification through PBS as a cultural educator through musical media and teachers all over the nation have access to her music and performances to utilize as a teaching tool for children and adults.
Living Historian Diamond Brown and his wife Sandy (Eastern Band of Cherokees) will set up a display which includes a traditional bark shelter, a type of structure that could well have been used during prehistoric times. Immensely talented, Brown teaches visitors about historic and precontact Cherokee culture, using a multitude of artifacts he's fashioned. Sandy Brown is an accomplished fingerweaver. Without a loom, she painstakingly fashions sashes typical of the 18th and 19th centuries in a manner similar to, but much more complex than, braiding. In addition to sharing about their culture, the Browns also discuss various Cherokee lifeways including basketry, pottery making, fire making and hide tanning. Diamond is a strong advocate for the environment, many of his demonstrations illustrating "green" technologies used by Native Americans for thousands of years.
Another new addition to the festival's living history ensemble is Pedro Zepeda, an educator with the Seminole Tribe of Florida. Pedro Zepeda demonstrates Southeastern-style woodcarving from the 19th Century and earlier. Clubs, bows, stickball rackets, sofkee spoons and children's toys are a few things he carves. While working, he talks about the historic tools he uses as well as life in Florida during the 1800s – a time of great turmoil and change for the Southeastern Indian people.
The festival will be open from 9 a.m. to 3:30 p.m. Wednesday and Thursday and 9 a.m. to 5 p.m. Friday and Saturday. Admission to the festival is $12 for adults; $10 for seniors, $8 students; and free for children ages 5 and younger. Group discounts with reservations are available. For more information, or to make group reservations, phone 205/371-2234.
---
---