Monkey Joe's Opens Friday, September 18th

Sep 15, 2015 08:28PM, Published by Kitty, Categories: Family, Today, Community
---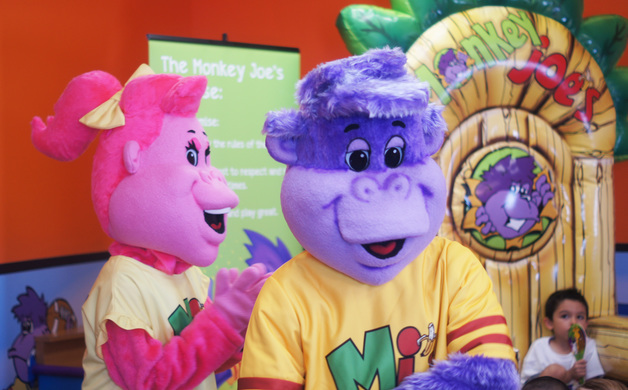 ---
 NEW CHILDREN'S ENTERTAINMENT CENTER MONKEY JOE'S COMBINES FAMILY, FUN AND EXERCISE
Monkey Joe's, a popular inflatables-filled indoor play and party center that provides families with engaging activity and entertainment, bounces into Tuscaloosa with its official opening at 200 14th Street, Suite 2 on Friday, September 18.  Local residents and franchisees Shane Spiller and Jonathan Walker are bringing Monkey Joe's to the Tuscaloosa community after seeing a need for a party and play facility for young children and families. 
"I am thrilled to open Monkey Joe's in Tuscaloosa," explains Shane Spiller, owner of Tuscaloosa's Monkey Joe's. "It's rare to find a family-friendly destination that provides both enjoyment and exercise for kids. We can't wait to bring this value and much-needed family entertainment to the Tuscaloosa area."
Walk into Monkey Joe's and you will find an 11,500 square foot space with bright décor and wall-to-wall inflatables, providing fun in the form of bouncing, sliding and jumping. With a main play center and a separate Toddler Zone for children two and under, Monkey Joe's is suitable for all kids 12 years-old and younger. The Toddler Zone offers soft play elements and interactive panels designed to emphasize key aspects of developmental learning, incorporating all five senses into play.  In addition, Monkey Joe's will offer more than 20 arcade games, so kids can be kids and play to redeem prizes. 
The facility also provides a variety of party packages, group sales and fundraising opportunities. A proven favorite, birthday parties, can accommodate small and large groups. Birthday party packages cover all your party needs, including courtesy set-up and clean-up, invitations for your guests, a dedicated Monkey Joe's party host, drinks, paper plates, cups, tablecloth and utensils.  In addition, Monkey Joe, the brand's mascot and a fan favorite, makes an appearance at birthday parties and throughout the facility during regular play. 
"There is something for every member of the family at Monkey Joe's," continues Spiller. "According to the Center for Disease Control, the recommended amount of exercise a child should get per day is 60 minutes.  At Monkey Joe's, children can engage in that much-needed physical activity while parents can socialize in a space that is not only in clear view of their children, but relaxing as well."
All Monkey Joe's locations have committed to full jump sanitation from Swisher Hygiene, the country's leading provider of commercial hygiene services. The service is intended to reduce exposure to germs and cross-contamination for all who visit and play at Monkey Joe's, making it a cleaner environment than public playgrounds, schools, daycares and amusement parks. Monkey Joe's has also developed its own Access Child Control System (ACCS) to create a safe environment for kids to play and parents piece of mind. Children receive arm bands matching them to their parent.  These arm bands are adhered from the minute the child steps into Monkey Joe's, and are checked by Monkey Joe's employees upon exiting the facility.
"Safety and cleanliness for the families who enjoy our facilities is a top priority. From the time our guests enter and are processed through the SACCS to when they play on the first inflatable, we strive to offer peace of mind to parents by offering the highest standards of safety and cleanliness," explains Sonny Crumpton, brand leader for Monkey Joe's.
With 53 locations nationwide, Monkey Joe's has proved to be a promising business venture. "We're excited about Monkey Joe's success and contribute it to the core values of the brand, extensive corporate support and finding the perfect franchisee partners," continues Crumpton. "Monkey Joe's is a unique concept that strives to combine fun, family and exercise in a safe and clean environment."
The Tuscaloosa Monkey Joe's is located at 200 14th Street, Suite 2.  Operating hours are Monday - Thursday, 10am – 7pm, Friday & Saturday 10am. – 8pm and Sunday 12:30 pm – 6pm. The store phone number is 205-462-3763.
About Monkey Joe's
Monkey Joe's is a fun and exciting inflatable-filled indoor facility that provides families with engaging and interactive activity and entertainment -- all day, every day (no special occasion necessary!).  Today Monkey Joe's operates more than 53 facilities.
---
---
---