A Missed Assignment

Oct 28, 2015 09:58AM, Published by Kitty, Categories: In Print, Family, Today
---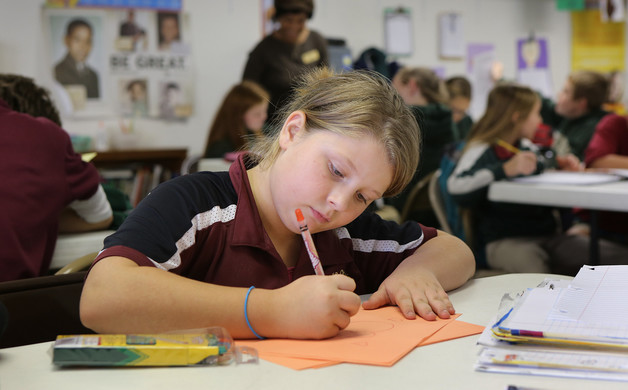 ---
Backpacks are ready, pencils sharpened. We will probably look well dressed for a week before we revert back to "workout" clothes. That's in quotes because no one is going to be "working out" in elementary school, but just in case… we look the part!
I love the beginning of school and the excitement of new school supplies, new teachers, new classmates, and kindergartners with freshly appliqued apples on their t-shirts. We, as parents, have hopes and dreams of what the year will bring for our kids and maybe some nerves as we walk them to their classroom the first day. But soon, we will see how much they absolutely love it. And even if they don't, even if this year proves difficult in one way or another, they can still grow as individuals if we as parents use the teaching moments we are given.
THE GREAT CATASTROPHE
Eventually, if your children are like mine, they will forget to do a homework assignment. And when they remember that they have forgotten it, it will likely be at 7:30 am on the day it's due. He or she will run downstairs and plop down on the kitchen stool and with sheer panic, and the blood completely drained from their face, they will say something like, "I didn't do my homework, and it is due today!" It will be unintelligible, and it will take you another five minutes to translate what was just said. By now it is 7:40 and you have just a moment to decide how to handle this situation. What you do next has far more to do with the future than you might recognize, so listen up! 
What might at first seem like a total disaster is actually an awesome opportunity! So congratulations! Let this article serve to prep you now by considering the alternatives you can take and the outcomes that will result based on the choice you make.
OPTION 1
The first option might seem most obvious and your default go-to. You could help them finish the assignment and then check them into school late. They would have the assignment completed and the problem would be solved, and well, you would be their hero.
But what is this option really teaching your child?
They will learn that you are there for them and that you will not let them fail. Which on paper sounds good, but is it really? They have not learned responsibility and going forward there will be a lot more rescue operations needed by you to help them out. From that moment on, homework time will be an all hands on deck experience. Picture yourself now sitting down with your 9th grader to make sure he or she has completed their assignments, and ask yourself if this is your desired outcome.
OPTION 2
Another option is to send them to school on time without their homework assignment, but with a note to the teacher.  In the note, you can explain you are very sorry your child does not have the assignment, and provide an excuse.
There are many excuses, however, very few legitimate ones. Teachers do not like this. This thwarts the lesson they are so diligently trying to teach our children… RESPONSIBILITY.  After all, elementary school is not just about learning multiplication tables and sentence structure; it is also about learning very important life skills like how to treat your classmates, how to respect authority, and how to be responsible human beings.
The "excuse option" could come back and slap us in the face in the future, because what it indirectly teaches is entitlement…a "character" trait that is desirable to no one.
THE ULTIMATE CHOICE
There is a third alternative. It's a hard one, but it will pay dividends. You can tell your child you love them and you are very sorry they forgot to complete the assignment, but unfortunately there is no time to finish it before school. You might even say that you hope this will serve as a learning experience for them about being more responsible with their assignments. They will cry and pitch a fit, and it will take every bit of self-will you have to keep from putting on your mom cape and coming to the rescue.  However, consider the long- term outcome.
Your child will learn responsibility! You will not likely have to sit down with this child in 9th grade to go over homework, because he or she will do it on their own! One bad grade will not matter in the whole scheme of things. Consider the lesson learned above the grade earned.
A bad grade in 9th grade when it contributes to an overall GPA is much worse than a zero for a missed assignment in second grade. And as much as we might like to, we can't go to college with our kids. So the sooner we teach them responsibility, the better. 
The next time you find yourself in this situation, see it as what it really is, an opportunity for your child to grow and a chance to learn a little independence and lots of responsibility. Then, pat yourself on the back! You did a good job mom!
Kimberly Mason is a local mother of four and a Senior Manager with Beautycounter. She and her husband Stephen, and their four kids, are members of Church of the Highlands, where Kimberly attends Highlands College.
---
---