November/December 2015 Issue

Nov 03, 2015 07:58PM, Published by Kitty, Categories: In Print, Family, Community
---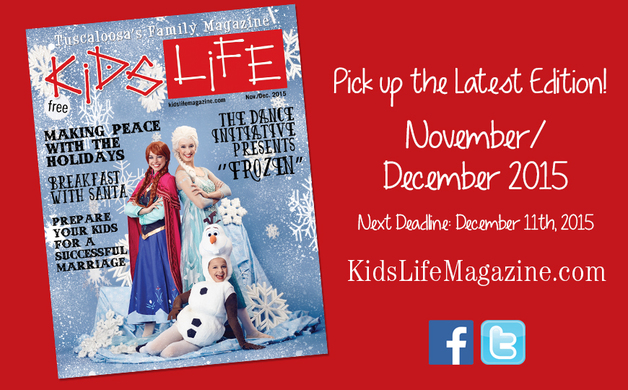 ---
THE DANCE INITIATIVE presents "FROZEN"..…a beloved tale told through dance
This year's holiday season, make plans to come see "FROZEN", an exciting dance rendition of the wildly popular animated film from 2013.  The Dance Initiative is presenting their own interpretation of this tale through the original choreography of Rebecca Tingle and Melissa Verzino.    
This beloved tale is loosely based on the Hans Christian Andersen fairy tale "The Snow Queen". Tingle and Verzino have taken inspiration from the movie as well as the original fairy tale for the choreography that translates the story into dance.  Audiences will be sure to enjoy the portrayal of the well-loved sister heroines such as Anna and Elsa played by local dancers, Jayci Kalb and Madelyn Link, along with the silly antics of Olaf. danced by Sarah Moore.  With a cast of around 75 members, dancers of all ages will endear the hearts of audiences with their performances of popular songs such as Icicles, Rock Trolls, Citizens of Arendelle and much more.    
"We cannot say enough about our Board of Directors and amazing parent volunteers," says Verzino.  "From costumes to complicated set pieces, they have rallied together committees to help us pull together this production. We think this will be our best holiday production yet."
Dance Initiative Board President, Debbi West said, "It's so exciting to see the children in the show coming into rehearsals.  I love their enthusiasm when they see new costumes or get new choreography.  These children are loving the show and cannot wait to share it with the public."  
 Since its formation in 2012, The Dance Initiative has produced two original Holiday Performances entitled "Where Are You Christmas?" featuring over 75 dancers from the community in each show in 2012 and 2013.  This year's production of "FROZEN" will be held at the Central High School Theater on December 11-13 with 4 public shows and the addition of 4 school performances for Tuscaloosa City and County students.  "We could not be more excited about the opportunity to perform four school shows this year.  We have been overwhelmed with the response and our cast and crew cannot wait to share this amazing show with all the students," says Suzie Link, school show liason and former Board President.  Ticket information can be found on The Dance Initiative's website, www.thedanceinitiative.com.  Tickets go on sale November 1st.  
The Dance Initiative, a 501(c)(3) non-profit organization, believes in the idea of "paying it forward" and is proud of its ongoing dedication to give back to the community. Each year, a local charity has been selected to be the recipient of gifts/donations that have been given by the cast members.  The donations are then incorporated somewhere within the framework of the show and afterwards donated. For instance, the first year's performance incorporated a scene about supporting The Salvation Army.  The second year, Toys for Tots was the recipient of toys, games, and sporting equipment as part of the backdrop for a wacky "Black Friday Shopping" scene.  This year, The Dance Initiative is proud to benefit Read Bama Read with donations of books to be used in the library scene in Frozen.
In addition, the organization feels passionately about it's outreach program, CHANCE TO DANCE, which provides opportunities for quality dance instruction for young dancers who may not have the resources to participate in more formal instruction. The ultimate goal for CHANCE TO DANCE is to identify young dancers in the community who would benefit from scholarships that would enable them to pursue more formal dance training. The Dance Initiative believes that Tuscaloosa has untapped cultural potential and exposure to the art of dance in all its forms is a movement that will greatly enrich our community.  The Dance Initiative has just awarded its first CHANCE TO DANCE scholarship for an entire year's tuition for a 6 year-old girl who is now taking ballet and jazz.
In 2013, CHANCE TO DANCE began with free after school classes at the Faucett Brothers activity center for boys and girls. In July of 2014, the first class had over fifty students participate.  Next, The Dance Initiative sponsored a community wide event on National Dance Day, inviting young and old to participate in dance instruction of all kinds, face painting, free food and drinks, prize give-a-ways and performances from The Crimson Cabaret, The Stillman Dance Team, The Crimsonettes, local Junior High and High School Dance teams as well as the local Dance Companies from The Dance Centre, Academy of Ballet and Jazz and Dancing Stars. To wind up the year, our volunteers sponsored A CHANCE TO DANCE Christmas Jam at the Benjamin Barnes YMCA afterschool program where the children learned some smooth dance moves and performed at the end of the day for their parents.                                                                                                
All in all, The Dance Initiative has flourished through the support of tireless volunteers, local businesses and financial supporters who have the shared vision to promote dance in Tuscaloosa.  Rebecca Tingle, Co-Artistic Director says,  "Our greatest desire is to enrich the lives of these young dancers with quality training and place them in a loving environment that is both professional and educational.  We want to provide these talented dancers with every opportunity we can that will develop and nurture their pursuit of the art of dance."
---
---