ABJ Gives Back "The Giſt of Dance"

Nov 14, 2015 04:20PM, Published by Kitty, Categories: In Print, Family, Community
---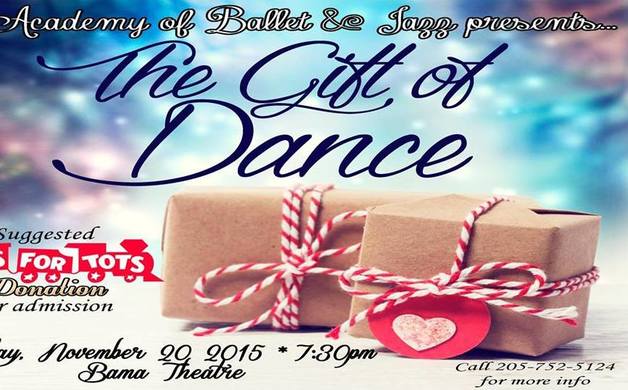 ---
Since she began dancing at the age of 3, Susu Hale Prout has always known that the art of dance is a gift. Her love of this gift brought her to open her own dance studio in 1977 and the Academy of Ballet & Jazz has been thriving for the past 38 years. The emotional gratification that dance can give to the performer and the audience is her favorite aspect of this incredible art form. To kick off the holiday season, it is her desire to share this gift with the Tuscaloosa community. She has inspired the ABJ Company comprised of 70 dancers to use their talents to not only enlighten audiences but also promote philanthropy through the true action of giving. You and your family are invited to an evening of inspirational dancing and holiday spirit at the historic Bama Theatre on Friday, November 20th at 7:30pm. A suggested donation to "Toys for Tots" is encouraged as admission; however admission is free because this a true non-profit event. Through their beautiful talents and generous spirits, the Academy of Ballet & Jazz's ABJ Company presents "The Gift of Dance."
This will not be the first charity event the ABJ Company has participated in this dance season. They have been sharing their gift of dance since September. Several members contributed their
talents to the 7th annual "Tapping Out Cancer" event presented by Dancers Fighting Cancer held at the Alabama Theatre in Birmingham, AL. Sharing the stage with several area studios and professional dancers around the country, this organization helps raise awareness for childhood cancer. The ABJ Company dancers thoroughly enjoyed their time performing two routines and meeting young cancer survivors. While they knew their performances were enjoyable to this special audience, the real treat was enjoying an evening of dinner and dancing with them afterwards. ABJ teen student, Lucy Rogers, says "Participating in the Dancers Fighting Cancer event gave me the opportunity to support several close friend and many other kids fighting cancer with something that I love to do—dance. I hope to always be able to use my passion for dance to help fund finding a cure for this terrible disease while bringing a smile to people's faces." Like Lucy, all of ABJ's participating dancers left the event feeling inspired and encouraged, realizing that they can make a difference and bring joy to others.
On November 10th at the Cypress Inn Pavilion, the ABJ Company members presented two routines at the "Bama Against Bullying" Fashion Show. The goal of this event was to raise awareness about bullying, an all too often occurrence today's children and adolescents are facing amongst their peers. A mother of an ABJ Company dancer, Lana Pickrell, says "Bama Against Bullying was a wonderful fundraiser for our girls to be involved in because it is benefiting Tuscaloosa City Schools Halt Anti-Bullying Program. This event helped give our youth the confidence and courage they need to stand up to those that are bullying and stand beside those that are bullied. I am very grateful that my daughter Chloe Lois has an opportunity to be a part of this. It makes my heart happy for these girls to rock individuality, spread kindness and stand up to bullying." ABJ dancers are excited to participate in a charity that stands up for a cause that's important to so many of them. As middle school and high school age students, they all closely understand the social pressures many of their peers face on a daily basis.
Through out the month of November ABJ will also host a canned food drive at the studio to help ensure needy families in our community do not go without over the Thanksgiving holiday. Awards will be given to ABJ's dance classes who collect the most cans of food. Their goal is to collect 400 cans among their 60+ classes.
On November 20th Susu Hale Prout and her faculty hope you will join them at the Bama Theatre for "The Gift of Dance", an evening of spectacular performances by the ABJ Companies. This family filled event will be full of dancing and cheer and it will be the perfect way to get into the holiday spirit. Admission to "The Gift of Dance" is free, however a donation to "Toys for Tots" is suggested. The "Toys for Tots" campaign provides deserving children gifts on Christmas morning. At the show event, the dancers and audience will be encouraged to share in the philanthropy through various activities set up in the Greensboro Room at the Bama Theatre. This 90 minute show is sure to be enjoyable for all ages.
The audience is guaranteed to leave with jovial spirits as they prepare to kick off their own season of giving for the holidays. Understanding that their art form is way more than talent, ABJ dance parent Lori Rhodes says, "When my daughter can use her talents to bless others in some way, that's where the real life lessons are learned. I want her to be the best dancer she can be, but more importantly, I want her to the be the best human she can be. Dance allows her to give back to this community in s o many ways and for that I am so thankful."
Come join the fun as ABJ presents "The Gift of Dance" on Friday, November 20th at 7:30pm at the historic Bama Theatre in downtown Tuscaloosa. As ABJ teen dancer, Fiona Dorr emphasizes that "It is such an honor to be able to do what I love while also giving back to the community at the same time. I'm so very grateful to ABJ for opening these opportunities up to me and my fellow dancers. I hope that as many people as possible can receive the same joy from dance that I do when they watch this show. It's truly a gift to present it and I h ope the audience enjoys our performance of "The Gift of Dance."
---
---