Heart of Homeschooling

Nov 14, 2015 04:29PM, Published by Kitty, Categories: In Print, Family, Today, Community
---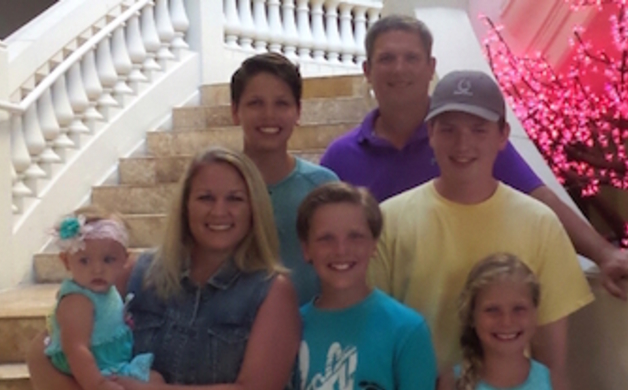 ---
Let's go ahead and get this out of the way.  I am the least patient person on earth.  Seriously.  Even when I'm pretending to be patient on the outside, my brain is screaming, "Hurry up!!!!"  I have a low tolerance for screaming, whiney, or unruly children.  I like things done my way… you know, the RIGHT way.  These qualities would probably be why my husband looked at me like I had three heads when I mentioned that we should think about homeschooling.  He knows me better than anyone, and he had concerns about how the kids and I would do being home together continuously.  He'd come home from work many a pre-homeschooling day and find the house a mess, me in pajamas and a messy bun, begging for a break.  I couldn't blame him for doubting, and I had my doubts, too.   Still, I knew God could help me make it work.   I prayed that He would build me up, enable me, and change in me these undesirable traits.
Deuteronomy 6:6-7 says, "And these words that I command you today shall be on your heart.  You shall teach them diligently to your children, and shall talk of them when you sit in your house, and when you walk by the way, and when you lie down, and when you rise."  All day, God said.   Not just when I was feeling crafty or energetic.   God has called me to lead my children diligently…and constantly.  His Word began to give me purpose and strength.  You know when the kids were pushing my limits the most?   When we lacked structure.   When we weren't working towards a goal.  Near the end of summer break, most parents can be heard saying, "Man, I can't wait for school to start back.  These kids are driving me nuts!"   Homeschooling moms feel exactly the same way.   We can't wait until our days are filled once again with the structure of a schedule and the guidance of a curriculum.  I never thought about the fact that it wasn't the kids' actions that were making our lives chaotic and disorderly, but rather my lack of diligence in guiding them that allowed chaos to grab foothold in our home.  When we are all busy working toward a common goal, our homeschool days are actually very calm, content, and peaceful.
Homeschooling is very much like parenting an infant.  Anyone who has trudged through the first year of parenting knows that very few of the tasks of motherhood are pleasant.  Broken apart individually, not many people would say that changing diapers, getting up all hours of the night, being spit up on, or washing extra loads of laundry is any fun at all.  Packing diaper bags, buckling car seats, and cleaning out a forgotten sippy cup of milk isn't enjoyable, either.  However, all the annoyances of those tasks pale in comparison to the sound of the first coo, or the sight of the first smile.  The uttering of "mama" in the voice of preciousness or being the receiver of a drool-filled kiss somehow makes all those mundane tasks worthwhile.  Day to day, homeschooling can be filled with those same type tasks.  Individually, no one really wants to grade tests, make out lesson plans times four kids, or review assignments.  I don't like it, anyway.  But to hear your child read for the first time, or spit out the quadratic formula, or beam after naming all the countries in South America… those are the moments that make homeschooling joyful.  "Therefore, my dear brothers and sisters, stand firm. Let nothing move you. Always give yourselves fully to the work of the Lord, because you know that your labor in the Lord is not in vain."      1 Corinthians 15:58
While I was praying that God would use me to teach my children, something I never expected about being with my children every day was how God would use teaching them to change me.  My service to them has become an act of worship.  When I've taken the time to see just how much my pouring into them means to my Father, I've become more patient, more tolerant, and more encouraging.  He created me for them.   Through purposefully shaping them, He continues to shape me.   "For when two or three gather in My Name, there am I with them." Matthew 18:20  When I gather with my children at our dining room table, and we learn His Word, His scientific creations, or His mathematical equations, we worship together in the presence of God, and when I truly allow myself to be in that Presence, I don't feel like I'm stuck in the house with kids all day.   I feel purposed, renewed, and at peace.  "May the God who gives endurance and encouragement give you the same attitude of mind toward each other that Christ Jesus had, 6 so that with one mind and one voice you may glorify the God and Father of our Lord Jesus Christ."  Romans 15:5-6
I'm certainly not perfect.  Most days, I don't yell much at all, have everything neatly crossed off our daily planner, and have something yummy in the Crock Pot for supper.  Some days I can make June Cleaver look like a slacker.  Other days, I'm still in PJs and a messy bun, sending SOS texts to my husband to bring something home for supper, and not showing many signs of productiveness.  Remembering that educating my children is a marathon and not a sprint, I carry on, knowing that God will keep working in me, so that He can keep working in them.
"Now may the God of peace, who through the blood of the eternal covenant brought back from the dead our Lord Jesus, that great Shepherd of the sheep,  equip you with everything good for doing his will, and may he work in us what is pleasing to him, through Jesus Christ, to whom be glory for ever and ever. Amen."  Hebrews 13:20-21
About the Author:  Terra Kittrell is a stay-at-home and homeschooling mother of Kaleb, 15, Chandler, 13, Ty, 12, Ramsi Kate, 8, and Oaklee, 1.  She and her husband, LaTrelle, live in the Northside community and are members of Church of the Highlands.  You can email her at tjk627@gmail.com.
---
---