The ACT will present A Christmas Story at The Bama Theatre Dec. 11-14

Dec 02, 2015 10:10PM, Published by Kitty, Categories: In Print, Family, Community
---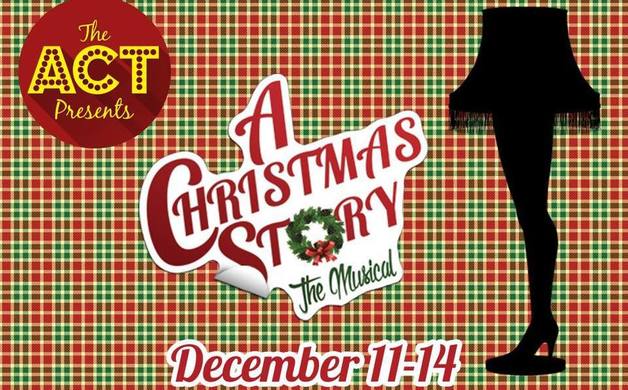 ---
A Christmas Story
is a holiday favorite of young and old.  Everyone remembers the Red Ryder carbine-action BB gun, the leg lamp, and the phrase "you'll shoot your eye out!" from watching the movie through the years. 
A Christmas Story
the musical is based on the movie classic, and got rave reviews during its run on Broadway in 2012. 
Set in the 1940s in the fictional town of Homan, Indiana, A Christmas Story follows 9-year-old Ralphie Parker and his quest for the Christmas gift to top all Christmas gifts – an official Red Ryder carbine-action 200-shot Range Model air rifle.  Despite getting rejected at every turn, Ralphie plots scheme after scheme in order to achieve his ultimate goal.  Fans of the movie and newbies alike will love the iconic scenes – Flick getting his tongue stuck to the flagpole; Randy and his snowsuit; the bullies, Farkus and Dill; the leg lamp award; the bunny suit; the Chinese restaurant; Christmas dinner; and many others.  
Audiences of all ages will enjoy the story and music of A Christmas Story.  From gentle ballads to show-stopping full ensemble numbers, the show is full of great music from start to finish.  Audiences will love "You'll Shoot Your Eyes Out," an ensemble tap-dance number that features Cole Cabiness and Sarah Beams.  "Ralphie to the Rescue" and "It's A Major Award!" are sure to be favorites as well. 
The cast of A Christmas Story is another great blend of ACT veterans and newcomers.  Harvey Lipscomb plays Jean Shepherd, the narrator of the show, while the Parker family is played by Lowell Urban (the Old Man), Nikki Bechtel (Mother), Ben Richey (Randy), and Jake Whipple (Ralphie).  Other town children include Caleb Burdette (Schwartz), Josh Ellis (Flick), Farris Turner (Mary Beth), Carrye Ann Rainer (Esther Jane), Jake Williams (Scut Farkus), Landon Wyatt (Grover Dill), Maggie Fields, Caroline Gibson, Joie Steele, Wylie Walker, and Konner Ward.  Sarah Beams (Mrs. Shields), Bibi Steinke (Shwartz' Mom), Renae White (Flick's Mom), Jennifer McMillan, Helen Smith, Lori Sims, David Blackwell (Santa), Andrew Smith, Dan McGuire, Nick Bomar, Harrison Thompson, Cole Cabiness, and Christopher Lebeauve play other townspeople in various roles. Margaret Crowe, Eva Hutto, Rachel Waddell, Cason Cooke, Mary Ella Wood, Virginia Hutto, Caden Cooke, Edi Andoe, Aiva Bechtel, Aiden Blackwell, Amagee Sims, Andrew Sims, Emmy Beggs, Ayana Veal, Christian Bowens, Carly Pugh and Addison Hudnall play a variety of roles, including elves, lamp dancers, and cowboys. 
A Christmas Story is directed by Joey Lay, Artistic Director for the ACT.  Joey wears many hats for A Christmas Story, including director, set designer, and lighting designer.  The production team includes Johnathan Lyons, musical director; Alisha Lay, choreographer; Devon Henschel and Ben Miller, stage managers; Todd Roberts Costume Design and Sharon Cooke prop designer.
A Christmas Story will run December 11-14, 2015, at the historic Bama Theatre (http://bamatheatre.org) in downtown Tuscaloosa.  Performances will be at 7:30 p.m. on Friday, Saturday, and Monday, and at 2:00 p.m. on Saturday and Sunday.  A Monday morning school show will give classrooms in Tuscaloosa a chance to see the show.    
Tickets are $20 for adults, $18 for seniors, $16 For students and $14 for children ages 12 and under.  Tickets and information are available at http://theact.info or 205-393-2800.
---
---