HMS Essay Contest – Martin Luther King, Jr.: Hero To ALL People

Jan 13, 2016 09:56AM, Published by Kitty, Categories: Teens & Tweens, In Print, Community
---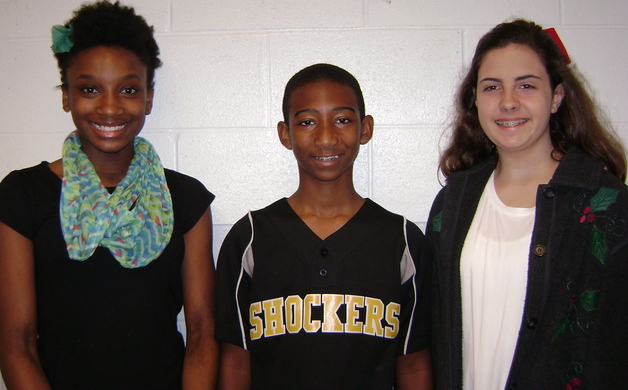 ---
HMS Essay Contest – Martin Luther King, Jr.: Hero To ALL People
As part of my work at Hillcrest Middle School, I've been able to work with a group of students who helped to design and publish a school newspaper.  As part of the newspaper, we teamed up with Kids Life Magazine to host an essay contest with the topic "Martin Luther King, Jr.: Hero To ALL People."
Students from sixth, seventh, and eighth grades had the opportunity to submit an essay on the topic during the first part of December. I was excited to see what they came up with and then blown away by the thought that obviously went into these pieces.
The top three essays are included here with a picture of our winners. It was a tough competition, but the top three essays were written by Jeremy Lowther, Journee Coleman, and Sarah Hinton. There were also two honorable mention winners – Katie Traeger and Amaria Jackson. These students will also be interviewed for an article in our school newspaper when school begins after the holiday break.
Enjoy…and find some hope for our world!
Top Essay – 1st place, Jeremy Lowther
                  Martin Luther King, Jr. was many things. A dreamer, a thinker, a protester. He was also a hero. A hero for not just African Americans, but for all people. He worked hard to change this world. He wanted to make this country equal because he believed that all people should be treated fairly. He also wanted to make the country united so that it was true to its name, The United States of America.
                  Martin Luther King, Jr. was a dreamer like you and I. He didn't like something about the world so he worked hard to make a difference. Martin Luther King, Jr. was a peaceful protester who stood up and spoke up for all people. He did not want the United States to be segregated. He made this dream come true.
                  Martin Luther King, Jr. is famous for the work that he did in the civil rights movement. However, he also helped people in poverty as an anti-poverty crusader. He also was organizing a march in Memphis for fair pay before he was assassinated. His speech for fair pay for garbage workers was similar to the famous March on Washington speech, "I have a dream."
                  Throughout his lifetime, Martin Luther King, Jr. worked hard for all people and proved to be a hero, not just for African Americans, but for all people.
2nd place – Journee Coleman
Martin Luther King Jr. was a Hero because he did the things everyone believed were impossible, and he was a strong man. I'm not describing a superhero from one of the comics, but an average man who believed in change.
                  Martin was a strong leader and hero because of one of the things he believed in strongly was non-violence. It takes a lot of tolerance to be non-violent especially when people around you don't do the same. That is what so many of us respect and also a thing that we struggle with. Many people view MLK as a hero because of his love for people and not just one kind but all, leading him to do the unthinkable.
                  Some people may ask where he gets strength from. I mean all heroes have a story even the fictional ones. Martin wanted harmony between all people. Martin didn't like when one group pf people where higher or more appreciated than the other. He saw this giant wall called segregation and wanted to take it down and build a new one called equality were everyone of all kinds are on.
For many people like I was, who are fearful of being themselves and standing for what they believe in and getting bullied but don't have the courage to confront bullies. Martin Luther King is someone they would look up to and say that he was so bold even when fear was looking him straight in the eye. We hope that one day we will stand up and be brave like he was when he spoke his beliefs to more than 200,000 people on the Lincoln memorial.
                  Through Martin's life was cut short by the hatred of the world, his movement still lives on, and when we look at the news today and see bombings, shootings and natural disasters we will need people like MLK to rise up and be the hero. You can even start small by standing up and being yourself. Change the world or even be the change.
3rd place – Sarah Hinton
                  Martin Luther King, Jr. was an African American minister who led the Civil Rights Movement in 1964. He stood up for African Americans so that children and adults could have equal rights. I think Martin Luther King, Jr. was a hero to ALL people because he changed people's thoughts on African Americans. White people thought that African Americans were not as good as them, but we know that is not true. Just because people have a different color skin doesn't mean that they should not be friends and socialize with each other. I am so glad that my friends and I don't attend different schools, use separate restrooms, or even drink from different water fountains. If it were still the way it was back then, I wouldn't have some friends from other races like I do now.
                  Martin Luther King, Jr. wanted people to know that African Americans deserve the same rights as anyone, and that we are all God's creation and should love each other – even if we have different skin colors. I think it was a bad choice to separate African Americans and whites because the kids also grow up to hate each other, and then it continues for generations. When people hate each other, it turns into total chaos, and it leads to fights, riots, etc. Before Martin Luther King, Jr. stood for what was right, people acted on their hatred. Some people wouldn't think twice about doing something bad to the other race; that's how bad it was. But after that one man stood up and spoke up about why this hurts others and why we need to do something about it, people could begin to see that the world needed a change. Even though there were still issues to work through, Martin Luther King, Jr. gave people hope that somehow and someday things were going to change for the better.
                  Without a doubt, Martin Luther King, Jr. changed the whole world's perspective on African Americans and helped to improve race relations in America. Because of his efforts, a law passed in 1965 for African Americans to have the right to vote. Afterwards, King was assassinated in 1968, but he has not been forgotten. He is known as one of the greatest African-American leaders in history and certainly left the world a better place for all of us. If Martin Luther King, Jr. had not led the Civil Rights Movement, then I would not even know some of my closest friends. I'm thankful that he helped all of us to see and love people for their hearts – not the color of their skin. I hope my essay inspires you to look around and think about how you can be the next hero to make a change and leave the world a better place.
Kristin Jacks is a teacher at Hillcrest Middle School. She can be reached at kjacks@tcss.net.
PHOTO: Left to right: Journee Coleman, Jeremiah Lowther, and Sarah Hinton

---
---