Young Cancer Survivor Celebrates A Fresh Start!

Jan 15, 2016 05:51PM, Published by Kitty, Categories: Health+Wellness, In Print, Family, Today, Community
---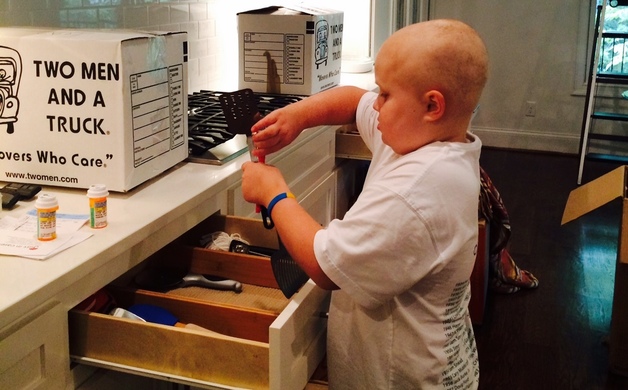 ---
By Cara Walker
In the bright white kitchen of a newly built house in Northport, Alabama, a pile of unopened gift bags looms in the corner on the dining room table. The methodical crunch of a knife drowns out the distant voices of the Food Network floating in from the living room, and the air is filled with the smell of bell peppers and the spirit of new beginnings.
For 12-year-old Fuller Goldsmith, who wields the knife proudly over his culinary creation, this is no ordinary birthday – it is one marked by family, food and freedom.
It is one of the first birthdays in over eight years that he hasn't spent in the hospital, undergoing chemotherapy or prepping for surgeries and treatments. Since Fuller was diagnosed with leukemia at the age of three, he has overcome a relapse and a bone marrow transplant. Now he can finally spend the day with his parents and sister, doing what he loves – cooking.
Like many young boys, Fuller wanted to be just like his dad, and at the age of four, just after his diagnosis, his interest in food began growing as Fuller watched him.
"My dad used to do tailgating and he would always cook every weekend, and one day I wanted to help him," Fuller said.
Throughout Fuller's illness, he helped out more and more until this interest developed into a full blown talent. His mother, Melissa, says cooking was one of the things that helped him the most during his long battle with cancer.
"As he had long hospital stays, he watched nothing but Food Network, and each time he was discharged he would have a list of menus he wanted to try," Melissa said. "He often wanted to go straight to the grocery before coming home."
 Fuller would spend countless hours watching his favorite shows and studying menus from different restaurants to try out recipes once he got home. During his recovery from his bone marrow transplant in November 2014, Fuller and his family had to stay at Children's Hospital in Birmingham, Alabama, for six months, but Fuller still wanted to cook. Allison Leaver, the Child Life Specialist at Children's, was able to set up a makeshift kitchen for him in the activity room so he could make food for all his nurses to try. Fuller would give her and other staff members a grocery list, and they provided him with all the supplies he needed.
 "The best part was still being able to cook even though I was in the hospital," Fuller says. "It helped the time go by faster."
When the Goldsmiths built their new house last year, they let Fuller have complete control over the layout of the kitchen, as it seemed he would be the most frequent chef. Since going into remission, Fuller orchestrates dinner time at the Goldsmiths almost entirely by himself, much to his mother's delight, who admits she cooks only when necessary.
"It used to be my mom would cook, and I would help her, but now she helps me," Fuller said.
"Now I'm the sous chef," Melissa said.
As he gathers the rest of his supplies for lunch, he walks past a collection of prescription bottles and pill boxes neatly arranged on the left side of the countertop to his designated spot in the kitchen, just right of the sink. A cutting board and knife set rest there, waiting for him to continue chopping – his favorite thing to do.
It isn't unusual for Fuller to spend Saturdays in the same spot, cooking all day long, despite his mother's concerns.
"Sometimes I do let him go overboard. He always wants to cook a million different things," Melissa said. "We have way too much food, and it's just the four of us, so we're calling friends saying, 'Would you like some of Fuller's wings? Would you like some of Fuller's salmon cakes?' Just giving food away because we always have too much. But you know that's part of the fun. Right, Fuller?"
Even though Fuller has been in remission for a little over a year, remnants of his illness still linger. Because of long term steroid use, he now has several fractures in his spine that cause him a lot of pain. Cooking, however, is the one thing that keeps his mind off the pain and motivates him to get up, Melissa says. One recent Saturday, Fuller spent the entire afternoon whipping up a spread of food for the family and suffered severe pain in his back as a result of standing up all day.
"He realized he had done too much, but nothing much slows him down."
As Fuller drizzles his homemade champagne vinegar dressing over a plate of fresh pasta salad, he grins shyly.
"It was worth it."
FULLER'S FUND

A little over a year after Fuller's diagnosis in April of 2007, the Goldsmiths decided to set up a charity fund in Fuller's name to help other children with long-term illnesses and their families at Children's Hospital.
"Children's does a great job of the medical side of taking care of the kids and making sure they are well, and they were wanting to start a program called Hope and Cope, which just takes care of everything else outside the medical realm," Melissa said. "So we really found an interest in that because we saw a need – you know when a child is diagnosed, the whole family is impacted and we wanted to help families as much as we could."
In 2009, the Goldsmiths held a children's fundraising event called Fuller's Festival, where they raised over $100,000 in one day.
Fuller's most recent event was on August 24, 2015, when he had the opportunity to be the guest chef at Southern Ale House. The Goldsmiths are regulars at the restaurant, and the owner, Justin Holt, approached the family with the idea.
"It was a great way to bring attention to Children's, make some money, and let Fuller do what he's passionate about," Holt said.
Fuller was able to create his own specialty menu for the evening. Customers could pick from items like chicken bruschetta, grilled fish with mango salsa, or Salisbury steak. Fuller says the biggest hit were his "Fuller crazy brownies," which are filled with Rolos, M&Ms and Reese's Pieces.
"We ran out of those in the first 30 minutes," Fuller said. "I had to make some more real quick."
The Goldsmiths have been responsible for raising awareness and keeping the Hope and Cope program going at Children's. Since 2009, they have raised over $250,000.
For more information on the Hope and Cope Program, please visit www.childrenal.org/hopeandcopeprogram. To help further fund the program, click the Donate Online tab and designate Hope and Cope Program on the online form.
---
---