Outstanding Performances by Northridge High School Band

Jan 18, 2016 09:16PM, Published by Kitty, Categories: In Print, Community
---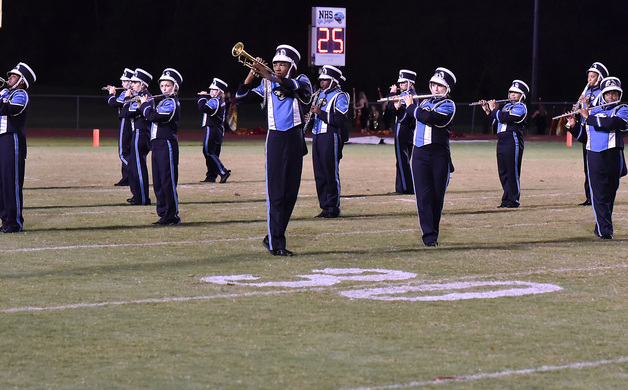 ---
As an educator AND former band geek, the Northridge High School Marching Band has me impressed enough to giggle like …well… a school girl. Yes, my oldest daughter is a member of the band, but even more than that, she's a member of a group of students who make the world a better place.
How? First off, these kids work HARD! Most people don't realize what it takes to successfully pull off a half-time show. The hours spent in the blistering sun during the summer, weeks before school starts back. Practicing music at home during their free time. Memorizing music and steps and direction and pauses. Staying late after school several days a week to continue practicing and honing their show – all the nuances and pieces that ultimately come together in a fun and often moving display of music and choreography.
Work ethic. That's what it boils down to, and it's a commodity that is too often vanishing.
More than just a "Marching Band"
Marching bands like NHS also do more than just play during half-time at football games. They compete in competitions around the nation, being judged on all the aspects of their show that you can imagine and a few you'd probably never think of. They march in parades, providing music in homecoming, holiday, and special events through-out the year.
Let's be honest, who wants to go to a parade that has no marching bands in it??
I used to love it when football players in high school would tell me "without the football team, there would be no band." Really?? You think we spend those kinds of hours working ourselves half to death just to play a couple of songs on a football field a few times? Not likely…
Marching bands also blend beautifully into concert bands. These groups perform in competitions as well, pitting themselves against standards of excellence that are as time-honored as they are rigorous and demanding. Northridge has both a concert and symphonic band that perform each year. Members of these bands perform around the state, bringing home awards and accolades.
Concert band members compete both with their school and individually in a myriad of possible events – district-level contests, state level-contests, solo and ensemble, and honor bands at various colleges around the country. These are activities that students prepare for, often on their own time at home, and travel to on their own dime.
These are the musicians that go on to provide the music that is a background to so much of our lives. When was the last time you saw a TV show or movie that didn't have background music almost constantly? My husband and I watched an old TV drama on DVD recently before background music was used very much. I don't mind telling you that it was just…weird.
Northridge Band – a model of inclusion
As a special education teacher, my favorite part about the NHS band is their inclusion. And I don't just mean the usual stuff, though they mostly certainly do have a diverse group of students across race and religion.
This SPE teacher gets all giggly happy over the inclusion of the band with member Melissa Walker. Melissa is a student at NHS who plays clarinet. She was in the homecoming court as a senior this year, and looked quite ravishing, I might add. Oh, and Melissa also happens to have Down's syndrome. Does this sassy girl let it slow her down for a minute? Nope.
Having watched my daughter and others help/encourage her to make her "marks" in the half-time show as well as the celebrations for a job well done, I don't mind telling you that it brings a tear to my eye and warm, silly feelings of happiness.
Most of us can remember a time when students with Down's or any major disability were shut away in small classrooms, not to be seen or heard from by the general population. Inclusion in education has its faults, certainly, but in this area…it's a big, fat WIN all the way around. We are raising a generation of people comfortable around differences in people of all ability levels. It's a beautiful thing to witness.
Representing Tuscaloosa and the state of Alabama
 As many in our community may know, NHS Marching Band was invited to perform along with other bands during the half-time show at the Sugar Bowl in New Orleans, LA. Many bands applied, and Northridge was chosen and given the opportunity to represent our area and state.
The band traveled to NOLA for a fun-filled and jam-packed few days after Christmas. While there was time for fun events like tours and a fantastic masquerade ball, there was also work involved. The band competed in a marching competition the day before the Sugar Bowl as well as learning and preparing a brand-new show together with other bands for half time the next day.
After leaving before dawn on Dec. 29 and participating in near-constant activities for four days, these dedicated young musicians loaded a bus AFTER the Sugar Bowl to sleep on the way home and arrive back in Tuscaloosa during the wee hours of the morning on Jan. 2. Folks, that's what you call dedication to excellence. And yes, I'm giggling as I type…
Kristin Jacks is a teacher and resident of the North River community. She can be reached at kjacks@tcss.net.
---
---