A Catholic School Becomes Like Family

Feb 01, 2016 08:54PM, Published by Kitty, Categories: In Print, Community
---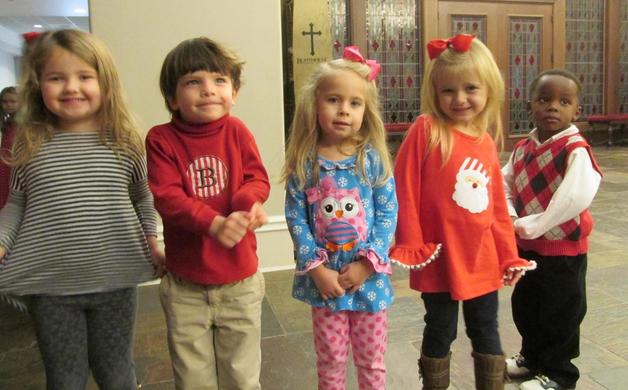 ---
A Catholic School Becomes Like Family
 by Laurie Mitchell, Director of Advancement, Holy Spirit Catholic School
It was once said, "It takes a village to raise a child". With that in mind, we understand that parents choose carefully the means by which their children will be educated. Helping children reach their full potential takes the nurturing of the family as well as the community around them through mentors, role models, teachers, and friends. By providing stimulation, offering opportunities, and helping the children of our society to recognize their responsibility to become productive citizens, our community plays a vital part in helping families to raise their children. Catholic Schools have worked with families to help provide a nurturing learning environment, high academic standards, enrichment opportunities, encouragement so that students can excel in their talents, and Christian values in order to recognize a responsibility of continuous service to others.
 There are many reasons parents might choose a Catholic school to help meet the continuing educational needs of their children. It might be because of the balanced academic curriculum that promotes life-long learning, or the technology and enrichment opportunities that enhance the educational experience; perhaps it's because of the emphasis on moral development and self-discipline and commitment. Catholic schools cultivate a faculty and staff who are dedicated, caring, and effective in providing a safe and welcoming environment.  Parental and family input and involvement is encouraged in the ongoing education of students so that the Catholic school becomes an extension of the family.
 When it comes to the village raising a child, a commitment is necessary by all of those involved. It takes sacrifice from families and educators- after all education comes at an expense both monetary and with time consumption.  Based on the average public school student costs of $12,054 per student each year, Catholic schools have provided a savings of $24 billion each year for the nation based on the National Catholic Education Association 2014-15 Annual Statistical Report on School Enrollment and Staffing.  Many parents have realized that benefits gained through a Catholic School education is well worth the investment for their child's future. And so when deciding what is best for your family, whether it's the public school system, private sector, or homeschooling, thought has to be put into what the student will gain out of their educational experience for the long run.
 Catholic schools across the nation will celebrate Catholic Schools Week January 31-February 6, 2016. The theme of "Catholic Schools: Communities of Faith, Knowledge and Service" encompasses several concepts that are at the heart of Catholic Education. The schools are communities, a small family but also members of the larger community of home, church, city, and nation. Faith, knowledge and service are three measures by which the Catholic school should be recognized. During Catholic Schools Week focus will be placed on celebrating the parish, community, students, vocations, faculty, staff, volunteers, and families throughout the week in order to recognize all of those whose efforts ensure the success of our students. Everyone is invited to come and see what Catholic Schools are all about at the Holy Spirit Catholic School Preschool and Elementary Open House on January 31, 2016 from 12:15-1:30 pm and the Middle/High School Open House on Wednesday, February 3, 2016 from 3:30-5:00 pm.  Meet teachers, visit classrooms, and learn about the academic expectations, enrichment activities, fine arts and sports programs, field trips, service projects and extra-curricular activities that help our students to become well rounded individuals.
Accept the Mission – Share the Spirit.
We wish everyone a Happy New Year - from our family to yours.  Together we can make a difference in a child's future.
---
---