March/April Summer Camp Issue!

Mar 05, 2016 09:27AM, Published by Kitty, Categories: In Print, Family, Community
---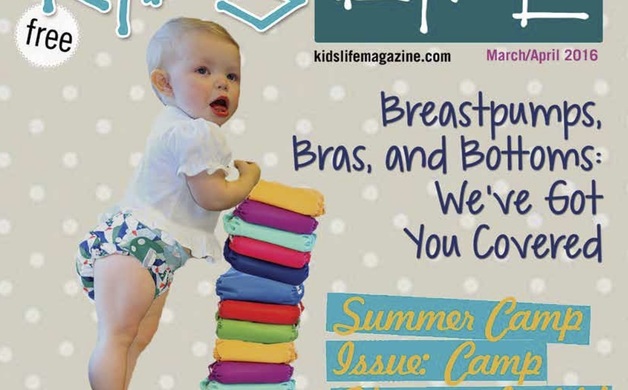 ---
Welcome to our 2016 Summer Camp Issue!
Check this link throughout the Summer for our up-to-date Directory of Summer Camps & Programs.  http://www.kidslifemagazine.com/pages/summer-camps

FEATURED ON OUR MARCH/APRIL COVER:
Babytalk Store: Breastpumps, Bras and Bottoms: We've Got you Covered
 by Christine Cover
edited by Mary-Caroline Benson, and Kayla Love
Far more multifaceted than your average baby store, Babytalk Store offers a dazzling variety of mom and baby items.  Not only does it carry the cute stuff that everyone is eager to shop for, like darling clothes, cuddly toys, and luxurious baby blankets, but it also offers the practical items that parents need, including Preggy Pops to ease nausea, baby carriers, and the Nosefrieda "snot sucker" for cleaning baby's nose.  And yet, Babytalk Store manages to go one step further by specializing in breastpumps, nursing bras, and non-disposable diapers.
BREASTPUMPS
One of the first questions asked at the Obstetrician's office is: "Do you plan to breastfeed or bottle feed?"  For those that plan to breastfeed, a second question quickly arises: "Do you need a breastpump?" But why would a breastfeeding mom need to pump?  
The most common reason mothers use a breastpump is to empty their breasts while away from their baby.  This is especially important for mothers who work outside the home. The pumped milk can be stored for baby to drink at a later time.  It also gives dad a chance to feed baby. Some mothers compile a stock of frozen breastmilk which they continue to use after the baby has been weaned from the breast.
Another reason a pump is especially useful becomes apparent around the third day after giving birth, when the real milk "comes in".  A sudden increase in milk occasionally makes it difficult for baby to latch onto the bigger breast.  Pumping off a little milk resolves this situation.  Milk supply soon levels out so this is not a persistent issue.
Twenty years ago there was not a lot of talk about breastpumps...except for the fact that they were awful.  Happily, times have changed!  Design improvements have made breastpumps far more comfortable and much faster to use.  Even better, the majority of new mothers are now covered 100% for a double electric breastpump through their medical insurance.  Mothers who do not have coverage for maternity care may still have pump coverage. If you have BlueCross BlueShield insurance, Babytalk Store can check your insurance coverage for you at no charge.  For those with coverage, Babytalk Store can also file your claim at no charge.
Babytalk Store recommends that expectant moms pick up their pump about a month before their baby is due.  Is your baby due sooner than that?  No problem!  Some moms pick up their pump much closer to their due date or even after their baby is born.  Babytalk Store stays fully stocked with pumps by Medela and Hygeia so moms can pick up a pump with no notice. Trained staff can provide moms with one on one instruction on how to use their new pump.  Although most clients live locally, Babytalk Store files for, and ships pumps to, moms all over Alabama. For more information contact Babytalk Store at (205) 333-1594 or by email insurancepump@babytalkstore.com.
Babytalk Store also carries the full line of pump accessories and replacement parts, and can check your old pump to ensure it still has good suction.
 BRAS
 Many women are wearing the wrong size bra.  This becomes an important issue when women are pregnant or breastfeeding.  In fact, it can become quite an uncomfortable situation!  There is no set time when moms will need a new bra during pregnancy.  For most it will be during the third trimester but some find their growth pattern requires a new bra much earlier.  Fortunately, there are some excellent bras on the market with good stretch to accommodate a pregnant mom's changing size. A properly fitted softcup bra is very comfortable to wear while pregnant, and also is a good initial nursing bra.  Several styles are available.  Underwire bras are very popular but they are not recommended while nursing, as the wire can block milk ducts.  
One of Babytalk Store's best sellers is the hands free pumping bra, which allows mom to have her hands free while using her breastpump.  Be sure to stop by the store, get measured and see which bras are going to be the best fit for your lifestyle.
DIAPERS
What typically comes to mind when cotton diapers are mentioned?  Saggy flannel covered bottoms? Getting stuck by sharp diaper pins? Dunking poopy diapers in the toilet?  Well, not anymore!  Modern day diapers are well fitting, have snap fasteners, and can be laundered in your washing machine. They are made in an array of colors and patterns that can complement your baby's outfit.  Even though they are cute, why would anyone choose to use them over the modern day convenience of disposables? First, consider the cost.  Once you have your collection of non-disposable diapers, with their adjustable sizing, you are finished buying diapers.  Period.  You can save thousands of dollars!  In fact, many moms include diapers in their Baby Registry at Babytalk Store and never have to buy a single diaper.  Second, babies have far fewer diaper rashes than when using disposable diapers. Parents often ask if their baby will be able to continue using non-disposables if they enroll in daycare.  Babytalk Store is currently compiling a list of local daycare facilities that allow non-disposables.  
Many parents are interested in using non-disposables but just feel they do not have the information they need.  Babytalk Store offers a monthly diaper class, at no charge, to cover all the information you need, answer your questions, and provide a discussion forum for moms already using non-disposables.  There is also a related newsletter and blog.  Contact Babytalk Store for more information or see the blog at:
https://babytalkstore.3dcartstores.com/Happy-Talk-at-Babytalk-_bc_29.html.
Babytalk Store offers so much more than you might expect.  Stop by and see what you have missed.  Be sure to sign up for their Baby Registry so your friends can buy all those wonderful baby products for you. And gift wrap is free! Don't live close by?  You can see the entire selection of products and sign up for your registry online at www.babytalkstore.com.
---
---