Capitol School's Summer Explorations

May 04, 2016 09:41AM, Published by Kitty, Categories: In Print, Family, Community
---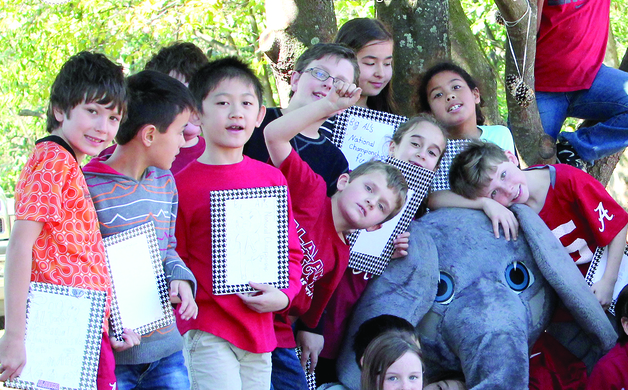 ---
     Stroll down a hall and you're likely to hear a classroom of students practicing the pronunciation of Chinese nouns. In another building, you might notice a young woman reviewing college astronomy notes on her laptop.  Look into another class to see chefs preparing a recipe.  Just a typical school day.   Except, of course, those students learning Chinese are 7-year-olds, the girl studying AY 101 is a high school sophomore and the "chefs" are 4-year-olds!
This is The Capitol School, and there is nothing typical about it. 

A Tuscaloosa tradition since 1993, Capitol School has been the summer school home to thousands of children preschool through High School age.  The two-week sessions of Summer Explorations begin May 31 and end on August 5.
Multi-age classes are available mornings from 8-12 or afternoons from 1-5.  Students can enroll for both morning and afternoon sessions to span the entire day.  Teachers arrive at 7:30 and stay until 5:30 for working parents.  Choose just one session or up to 10 sessions to fit your needs.   Enroll for nine classes by May 27th and receive the tenth class free.  Most classes are $203 for approximately 40 hours of fun-filled instruction.
Preschool classes include:  Nursery Rhymes, Fairy Tales, Cooking, Mozart & Movement, Dinosaurs, A Bug's Life, Math, Solar System and German.
Choose from 34 elementary classes including:  Archery & Hunger Games, Science of Music, Puppets, Tour of Europe, Chinese, Super Science, Authors & Illustrators, Geography, Legos and Math.
Secondary students can enroll in ACT Boot Camp, prepare for PSAT or take high school classes in English, math or history.   
      When Dr. Barbara Rountree was a College of Education faculty member at the University of Alabama, she dreamed of a school where teachers could use the latest research to help children learn.  Co-founder, Margaret Hill was a Tuscaloosa County public school teacher who earned her Master's and Educational Specialist degree at The University of Alabama.  Together, they founded The Capitol School in 1993 with 46 students ages 5 – 11.  Twenty-three years later, the school has almost 200 students ages 1 month through high school graduation.
'The Capitol School is a multiple ability school,' Rountree said. 'Research indicates that a child might be an absolute whiz in geography and have all the spatial intelligence in the world and be a great artist, but have a disability in reading. Another kid might be reading three grade levels above, but might lag behind in math.'
But at Capitol School, instruction is tailored to meet individual needs -- so the teachers ask, 'How is this child smart?' instead of 'How smart is this child?'  The school bases its programs on the Multiple Intelligences research by Harvard professor, Dr. Howard Gardner.
The private school is located downtown on historic Capitol Park.  While two of the six buildings are some of the oldest in Tuscaloosa County, the interiors are filled with technology.
During the school year, the study of languages is key for Capitol School's mission to educate responsible citizens of the world.   World languages are not limited to the upper grades as at most schools.  Instruction starts with toddlers  learning German, Spanish, French and Chinese. 'Linguists around the world concur that the earlier children learn a language, the better,' Hill says. It is the only foreign language program of its kind in Alabama.  International storytime is open to the public on Fridays at 10:30 a.m. and features a different language each week.
Children's music lessons includes violin, piano and general music.   Each student has two art lessons a week in small groups of only 12 students.
       Capitol's Dual Enrollment/Dual Credit Programs requires high school students to take college courses. This semester, students (ages 15+) enrolled in Astronomy 101 and 102 and/or Math 125.
    Martina Stuetz has lived all over the world – from Austria, South Africa & Hungary.  Stuetz's daughter will be a senior next year at Capitol School.  'Our daughter is happy and receiving a top-notch education,' she said.  Capitol is a fully accredited, international school.
         Through the years, students from more than 68 countries have attended Capitol School.  This diversity is celebrated April 26 at the annual International Festival on Capitol Park.
 Capitol School has made a mark in academic circles, garnering accolades as a model school in a recent issue of the prestigious American Educational Research Journal. For her out-of-the box thinking, Rountree was named one of EDUTOPIA magazines's 'Daring Dozen', an honor given to those 'who are reshaping the future of education'.
Register online for Summer Explorations at www.thecapitolschool.com or call 758-2828.
---
---