University Church Preschool: 20 Years of Growing

Jul 06, 2016 06:49PM, Published by Kitty, Categories: In Print, Family, Community
---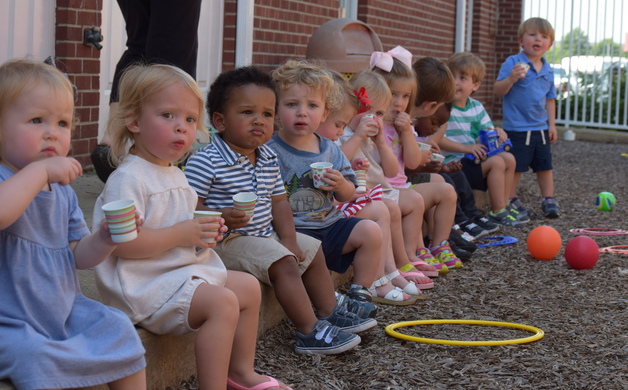 ---
University Church Preschool: 20 Years of Growing in Body, Mind, & Spirit
"Train a child in the way he should go, and when he is old he will not turn from it"- Proverbs 22:6.  
University Church Preschool has been teaching, nurturing, and loving children for twenty years.  Our first group of preschoolers are now young adults embarking on exciting careers. We are extremely proud to have played a part in their development during their formative years. It is our hope that many of our former students, parents, teachers, and directors will join us on Sunday, August 28.  There will be a come and go reception from 2:00-4:00 at University Church of Christ to celebrate 20 years of growing in body, mind and spirit!
Since its beginning in 1996, University Church Preschool has set high standards by providing our students with a highly qualified and talented staff, facilities that are safe and inviting, and a curriculum that is developmentally appropriate and motivating.  Our first director Sally Heineke, set the groundwork for excellence and continuing in that tradition has been Maurine Jones, Mary Mike Sullivan, Emily Williams, Angie Sanders, Mindy Barksdale and Sandy Graham.  Our teachers are highly qualified with education ranging from associate degrees in Child Development to Master's degrees in Education.  Professional development is on-going providing our teachers and directors with innovative teaching strategies for our preschoolers.
Our facilities are age appropriate and have recently undergone renovations that have upgraded the security and safety of our students.  Preschoolers enjoy two fenced in playgrounds with equipment especially designed for large motor play.  During inclement weather, we have an indoor gym available for play.  Our children have access to riding toys, balls, and an assortment of age appropriate equipment.  Classrooms are specifically designed for preschoolers including reading lofts and bathroom facilities.
University Church Preschool strives to provide a highly qualified curriculum for our students.  The focus of our curriculum is inquiry based, utilizing meaningful moments of play and social interaction.  Exploration of math, language, literacy, art, and science are a part of the daily routine.  We use developmentally appropriate practices in the classroom, and provide opportunities for children to construct their own learning through hands-on activities.  Our students participate in Chapel where they meet together each morning to sing and learn Bible stories to encourage their spiritual development.  A music teacher and physical education teacher provide our students with singing and movement enrichment activities.  Our older children participate in Soccer Shots in the fall.  Students participate in the St. Jude Trike-a-Thon to foster social responsibility in giving to their community.  It is our ultimate goal to foster each child's physical, emotional, social, linguistic, aesthetic, and cognitive development by providing them with daily opportunities to grow in body, mind, and spirit.
University Church Preschool has devoted twenty years to providing students with a solid foundation for future academic success.  Please join us as we celebrate our 20th anniversary in training children in body, mind, and spirit on, Sunday,  August 28.  For more information about our Preschool please visit our website at www. universitycofc.org or contact our preschool directors, Mindy Barksdale and Sandy Graham, at 553-3776.
---
---